By Jeff White (jwhite@virginia.edu)
VirginiaSports.com
CHARLOTTESVILLE, Va. — The memories left no permanent scars, but they haunted Holden Brown throughout the offseason. Each of the University of Virginia men's soccer team's final two games last year ended, after 110 minutes of play, with a shootout.
Brown, the Cavaliers' goalkeeper, didn't stop a penalty kick in either game. The first was against Syracuse in the ACC semifinals, and the second against Marshall in the NCAA tournament's second round.
"I wasn't at my best and it hurts really bad, letting your teammates down," Brown recalled. "They tell you it's not your fault, but you wake up in the middle of the night and you're dreaming of it."
A 6-foot-4 senior from Zionsville, Ind., Brown authored a different story Monday night in front of an appreciative crowd at Klöckner Stadium. In the 58th minute, with Virginia leading No. 20 Maryland 2-1, Brown dived to his right and knocked away Luke Van Heukelum's penalty kick. The game ended 2-1, and Brown received much-deserved plaudits afterward.
"He saved us tonight," senior forward Leo Afonso said.
"I really wanted to show my team that I can do it," Brown said.
UVA and Maryland have storied traditions in this sport, and for decades they were ACC rivals that met every year in Charlottesville or College Park, cities separated by about 130 miles. That ended when Maryland left for the Big Ten after the 2013-14 academic year.
In 2018, '19, '21 and '22, the Wahoos and the Terrapins played each other at Audi Field in Washington, D.C., but until Monday night they hadn't met at Klöckner since 2013. (Virginia will travel to College Park next season.)
This is one of college soccer's great rivalries, and emotions ran high Monday. Seven yellow cards were handed out on a hot, humid night.
"It's been a while since we've played each other home and home like this," said George Gelnovatch, a former UVA star who's in his 28th season as head coach at his alma mater. "It brings back some intense memories, no question about it."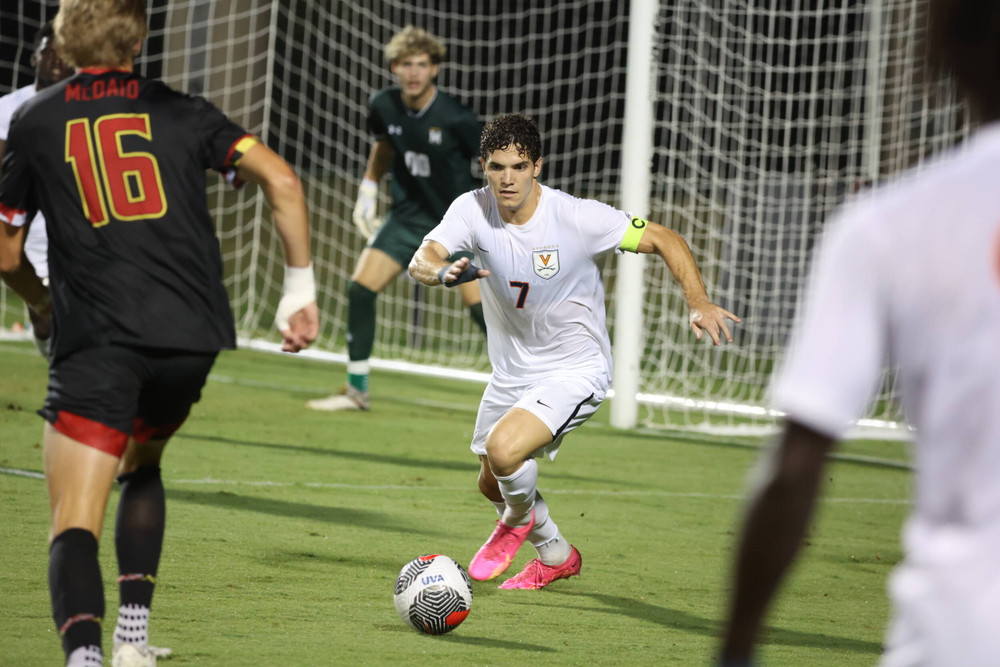 In the 13th minute, UVA's Umberto Pela was taken down in the box, and Afonso converted the penalty kick to make it 1-0.
The Terrapins (1-2-1) tied the game about 40 seconds later, but the Hoos quickly regained their composure. In the 18th minute, forward Mouhameth Thiam's left-footed strike put UVA back on top, 2-1.
In game like that, Afonso said, intensity plays a huge role. "We scored and they raised it," he said. "And then after they scored, we had to raise it even more, and then we went after them and Mo got a turnover and scored a brilliant goal. So I think it's just that intensity level. You have to be on every single play."
Thiam, who grew up in Senegal, is a transfer from Oregon State, where he made the All-Pac 12 first team last season. He'd collected two assists but hadn't scored a goal for UVA until Monday night.
"It felt great scoring my first goal as a Cavalier," said Thiam, who goes by Mo. "I hope I can score many goals for this team."
He knew nothing about the UVA-Maryland rivalry when he arrived on Grounds this summer, but his teammates filled Thiam in. The Terps routed the Cavaliers 6-1 at Audi Field last season, and Gelnovatch's returning players hadn't forgotten that loss.
"Each year is a learning moment and a learning curve," Brown said. "I'm a senior now and so I thinking about last year, the way we lost it, I don't want that to happen again."
The Cavaliers had multiple opportunities to extend their lead Monday night but couldn't do so, which made for some harrowing sequences late in the game as Maryland pushed for the equalizer.
"Unfortunately, their goalie made a couple of good saves to keep it 2-1," Brown said, "but I have full trust in my defense. It got a little bit hectic at the end, but we did the job. Bend don't break, as they say."
Gelnovatch said: "When the two good teams are playing and one team is winning by one goal, the last 15 or 20 minutes just gets hairy. The other team starts to take chances, and how well we defended and dealt with that was great today … You never want to do that, but it's a pretty good exercise. I'm just super happy to get the result."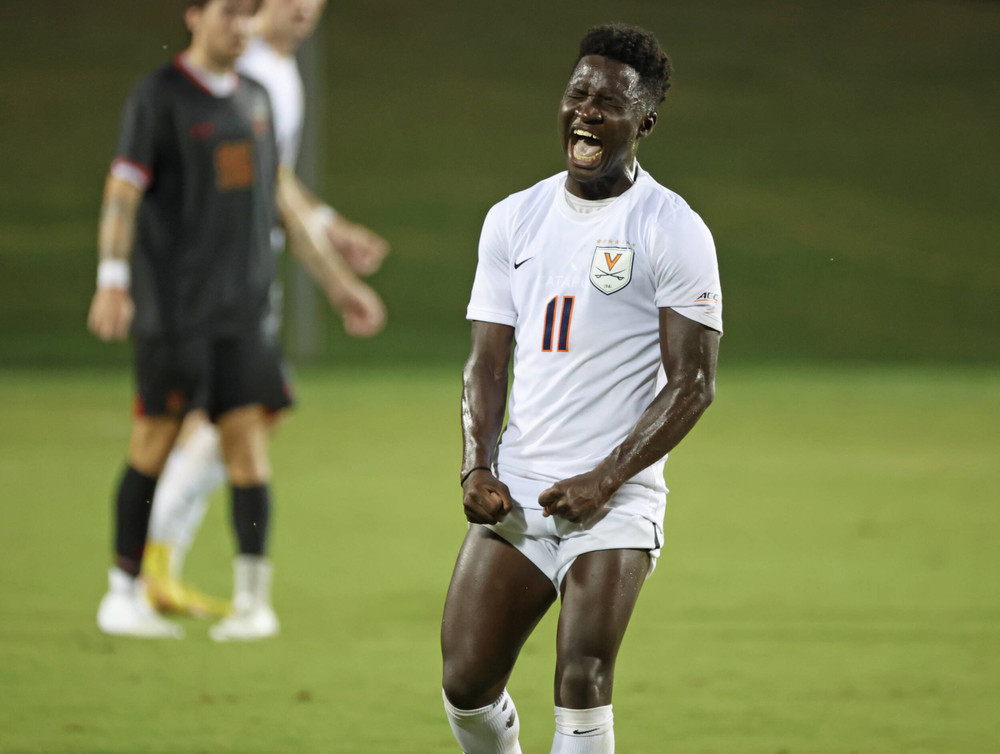 The Hoos came into the season ranked 15th nationally but dropped out of the polls after a 3-1 loss to Loyola Marymount on Aug. 27. Virginia's roster includes more than a dozen newcomers, including starters Thiam and Stephen Annor Gyamfi, and the coaching staff had little time in the preseason to fully evaluate them.
"I'm still trying to figure it out," Gelnovatch said. "There's still some things that I'm trying to figure out and that are gonna change for the better. But there's some depth on the team."
Gelnovatch said he "shuffled some things around" for the game against LMU, and "we got sucker-punched in the mouth. I'm going to take some blame for that one. But for the most part, we're playing pretty well."
Virginia rebounded from the loss to defeat George Mason 1-0. The Cavaliers dominated that game, but "we've got to get that second goal," Gelnovatch said. "We're good enough and creating good-enough chances that we've got to get that second goal, because then the roof starts to cave in [on the opponent]. You get the third one, or just take the air out of the last 20 minutes. And this team is good enough with Mo and Stephen and Leo. The chances that we're creating are good enough to get those second and third goals."
The win over Maryland showed the potential of this Virginia team, Brown said. "One hundred percent. We have a couple new guys, and we're getting the final pieces. Now we just need that connection, and you can tell based on this that it's coming."
A small group of Maryland students stood behind the goal UVA defended in each half and taunted Brown. If their jeers bothered him, he didn't let on. In the 90th minute, Brown made his fourth and final save and took his time before punting the ball downfield as the final seconds ticked off the clock.
"Great feeling," Brown said. "We knew at that point that it was ours, and it was just satisfying knowing that the three points were ours."
UVA opens ACC play Friday night against Duke (3-0-1) in Durham, N.C. The Hoos will carry the momentum from a signature win with them to Tobacco Road.
"I'm going to sleep well tonight," Gelnovatch said with a smile before heading home from Klöckner.
To receive Jeff White's articles by email, click the appropriate box in this link to subscribe.