By Jeff White (jwhite@virginia.edu)
VirginiaSports.com
CHARLOTTESVILLE, Va. — Jay Woolfolk was among the crush of University of Virginia students on the hill at Scott Stadium when the Cavalier football team ran out of the tunnel before its Sept. 9 home opener.  That's when it truly hit him: An important chapter of his life had ended.
"I was like, 'Wow, I did that last year," Woolfolk said on a recent afternoon at Disharoon Park.
He did it in 2021, too. A graduate of Benedictine High School in Goochland County, Woolfolk enrolled at UVA that summer on a football scholarship, with the understanding that he would join the baseball team for the second semester.
In his first two years at the University, he backed up starting quarterback Brennan Armstrong in the fall and pitched out of the Cavaliers' bullpen in the spring.
Woolfolk sees now how demanding that schedule was. "I guess during the moment you don't really realize it, because you're just having so much fun doing it," he said. "It was fun being with two different type of cultures, because you're getting closer with so many more people. Looking back on it, I'm glad I did that, but at the same time I can't believe I did it."
He knew that at some point during his college years he probably would need to choose one sport or the other. That moment came this summer, when Woolfolk bid good-bye to football.
"You look at how quarterbacks throw a ball and you look at how baseball players throw, and it's two different things," Woolfolk said. "I did feel a little bit like I needed to really focus on one thing, because my whole life I never focused on one sport."
Had he opted to keep playing football, Woolfolk would have competed in training camp for the starting job at quarterback. Such an opportunity, he admits, was not easy to pass up.
"Who doesn't want to be a starting QB at a school?" Woolfolk said.
He spent long nights weighing his options and consulted numerous people, including his family and UVA head baseball coach Brian O'Connor. In May, he'd been invited to try out for USA Baseball's Collegiate National Team, and it occurred to Woolfolk that if he could reach that level of success as a part-time player, he might be able to do much more if he devoted all of his athletic energies to baseball.
"So that was the biggest thing," he said. "It was one of the hardest decisions in my life, because you build bonds with people. It's not even because of the sport. You just build so many friendships and create a brotherhood. I saw [his football teammates] every day for two years straight, and now I'm not seeing them as much. That was probably the saddest part of leaving."
During his first two falls at the University, Woolfolk rarely made it up to the Dish. "Football was so time-demanding," he said. But Tony Elliott, an avid baseball fan who took over as head football coach in December 2021, never tried to dissuade Woolfolk from playing that sport in the spring.
"It was good seeing him like that," Woolfolk said. "Not a lot of coaches would allow that. They'd be like, 'If you're a football player, you better be full-time football.' "
When he let Elliott know he was giving up football, Woolfolk said, it "wasn't a thing where he questioned me or anything. It was more just like, 'Yeah, I understand.' He understood what my potential was in baseball, and I'm thankful for that."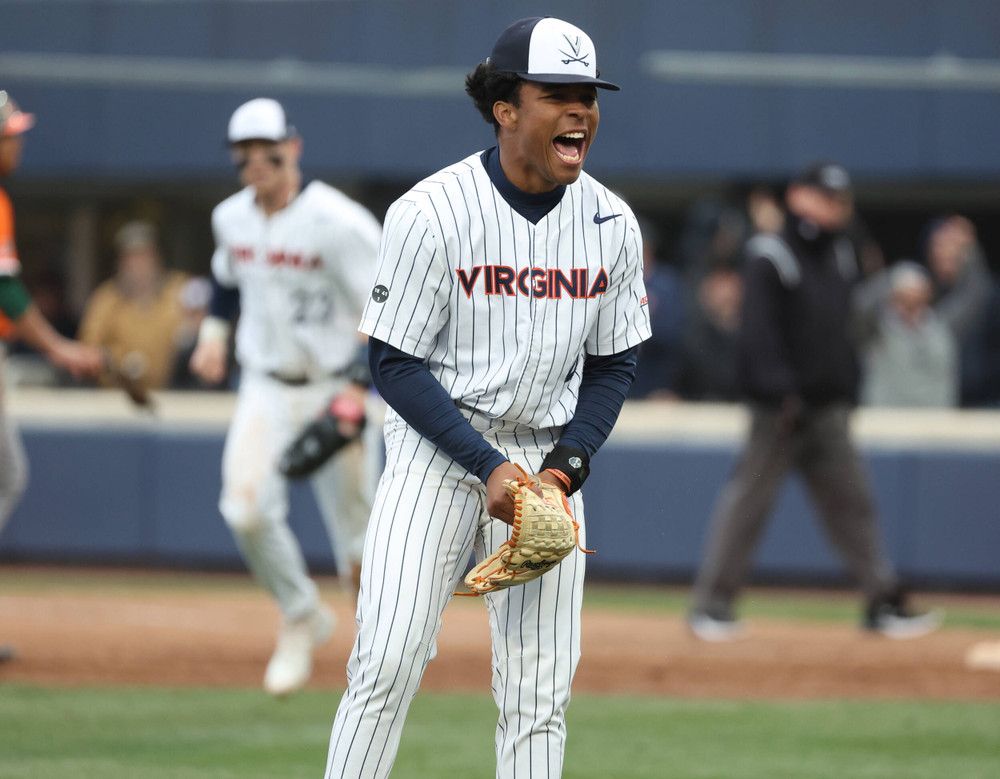 This is the first time since Woolfolk began playing sports as a young boy that he's concentrated on only one.
"It's fun," he said. "I figured out what I want to do for the rest of my life, at least till I'm done playing. It's been a great, great time here in the fall, meeting here with the coaches and absorbing everything, all the information that I can. I usually only get a spring with them, so it's hard to really absorb all the information, but now it's baseball year-round."
A 6-foot, 200-pound right-hander, Woolfolk earned Freshman All-America honors in 2022, when he made 28 appearances and struck out 55 batters in 37.2 innings.
As a sophomore last spring, he took over as the Wahoos' No. 1 closer. In a team-high 30 appearances, he posted a 2-1 record and 2.91 earned-run average, with 38 strikeouts in 34 innings. Opponents batted .203 against Woolfolk, who hopes to have a different role on the pitching staff in 2024.
His goal is to be a starting pitcher for the Hoos, and "that was a big reason why I had to give up football," Woolfolk said. "I don't think you could be a starter playing two sports."
On a recent Wahoo Central Podcast episode, O'Connor said the key for Woolfolk this fall "to learn how to manage a game. It's different if you come in for one or two innings [out of the bullpen]. When you have to face that lineup a second and third time around the order, it doesn't a lot of times come down to what your stuff is; it comes down to how you manage situations. And that's learned through experience."
Woolfolk gained more experience in that role Monday when he started an Orange & Blue World Series game at the Dish.
"We're stretching him out quite a bit this fall and pitching him in as many innings as we can for him to have those learning opportunities," O'Connor said. "We'll see where it shakes out in the spring, on how he does and how everybody else on the staff does, to do what's best for the entire team, but it's great having him out here every day. He made this decision that he felt was best for him for this year and for his future, and he is an incredibly delightful young man to have in the dugout every day and to be around every day, and I know his teammates are excited that he's with them every day."
Woolfolk said: "I would love to be a starter …. but I look at it like, if that's not the role Coach wants me to be in, then I've got to suck it up and do whatever I can to get the team back to Omaha and win it."
In June, the Cavaliers made the program's sixth appearance at the Men's College World Series. Woolfolk pitched in each of Virginia's two games in Omaha, Neb. In the first, he came in with the score tied and the bases loaded, with one out in the bottom of the ninth inning. The first batter he faced hit a sacrifice fly to center field to lift Florida to a 6-5 victory.
In the second, Woolfolk retired both batters he faced as Virginia, trailing 4-3, held TCU scoreless in the top of the ninth. But the Cavaliers couldn't push a run across in the bottom of the ninth and were eliminated.
He was inserted into an unenviable situation against Florida, but "in sports, especially baseball, not everything goes your way," Woolfolk said. "It was a blessing that Coach even trusted me to put me in that situation. That's one of the reasons why I came to UVA, because Coach O'Connor just has so much trust in his guys, and when you get put in that situation, it's not like he's trying to make you fail. He's just telling you, 'I trust you to get to get us out the situation,' and that was the biggest part for me."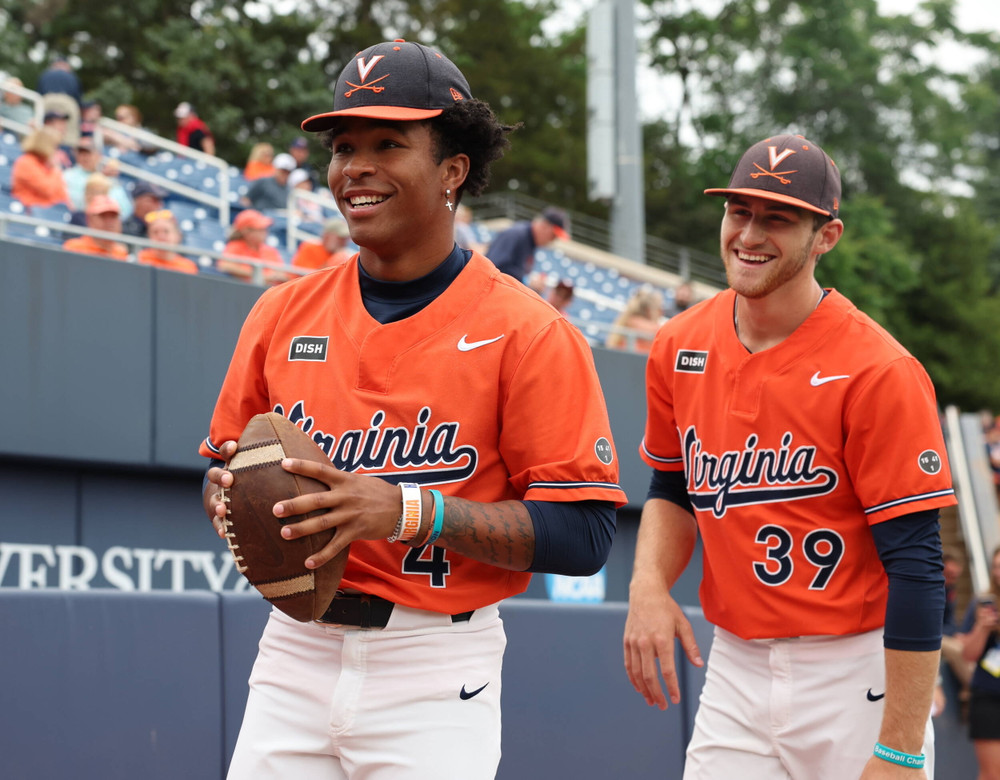 Not long after the team returned from Omaha, Woolfolk and UVA shortstop Griff O'Ferrall were among the 31 players named to USA Baseball's Collegiate National Team. Team USA played two five-series this summer—one against Chinese Tapei and the other against Japan—and Woolfolk pitched well in four relief appearances.
"It was one of the best experiences I've ever had in baseball, other than Omaha," Woolfolk said. "You're competing with the best dudes in the country. Every dude up there is a high draft pick. There are no slouches up there. You can't look at a guy [on Team USA] and be like, 'Oh, he's an average player.'
"No, every single one of them was really, really, really good and really talented. Competing against them also gave you confidence in yourself. If you're doing well against those high-caliber players, you know you can do it against anyone. I think that's where I took my next step in playing baseball, getting that confidence boost."
From a team that finished 50-15 last season, Virginia lost several key players, four of whom were selected in the Major League Baseball draft: Kyle Teel, Jake Gelof, Ethan O'Donnell and Connelly Early. Still, the Cavaliers' talent pool is far from depleted.
Returning position players include O'Ferrall (.396 batting average last season), Ethan Anderson (.375), Anthony Stephan (.329), Casey Saucke (.299), Henry Godbout (.286) and Harrison Didawick (.252). In addition to Woolfolk, pitchers back from last season include Jack O'Connor, Bradley Hodges, Evan Blanco, Kevin Jaxel, Cullen McKay, Angelo Tonas and Chase Hungate.
"I think this team is going to be really gritty and hard-working," Woolfolk said, "and I think we have a great chance of going to Omaha again. There's no doubt in my mind that we can do that if we just follow what the coaches want us to do, because they have a great plan for us every year. They teach us hard work and discipline and everything, and that's what gets you to Omaha. It's not all about the talent. It's all about the little things that get you to Omaha."
In his two seasons on the UVA football team, Woolfolk appeared in nine games and totaled 245 yards passing and 104 rushing. When seventh-ranked Notre Dame visited Scott Stadium in November 2021, he became the first true freshman to start a game at quarterback for UVA in 44 years.
Woolfolk, an American studies major, is living this year with three football players—Malachi Fields, Bryce Carter and fellow Benedictine graduate Dillon Tennyson—and his connection to the program remains strong. During games at Scott Stadium, though, his perspective has changed. No longer is he on the sideline or on the field.
Even so, Woolfolk said with a smile, "in my head, I'm still like a little quarterback. I call out the reads and stuff. It's funny, because I know what they're running sometimes. It's definitely different, though."
One thing that hasn't changed: his love for his former teammates.
"I wish the best for that team," he said. "They're still my brothers, no matter."
To receive Jeff White's articles by email, click the appropriate box in this link to subscribe.