By Jeff White (jwhite@virginia.edu)
VirginiaSports.com
CHARLOTTESVILLE, Va. — In the wrestling room at Memorial Gymnasium, Jack Gioffre and Michael Gioffre rarely square off on the mat, and not because one is significantly bigger or better than the other. The explanation lies elsewhere.
"It's very dangerous having twin brothers wrestle each other, especially at this competitive a level," University of Virginia head coach Steve Garland said. "It's almost always going to end up with somebody throwing fists."
Garland speaks from experience. He and his brother, Dan, are fraternal twins who had their share of clashes. Moreover, two members of Garland's staff at UVA—associate head coach Travis Paulson and assistant coach Trent Paulson—are identical twins.
The Gioffres are fraternal twins. Michael entered this world one minute ahead of Jack.
"Big bro," Michael said, smiling.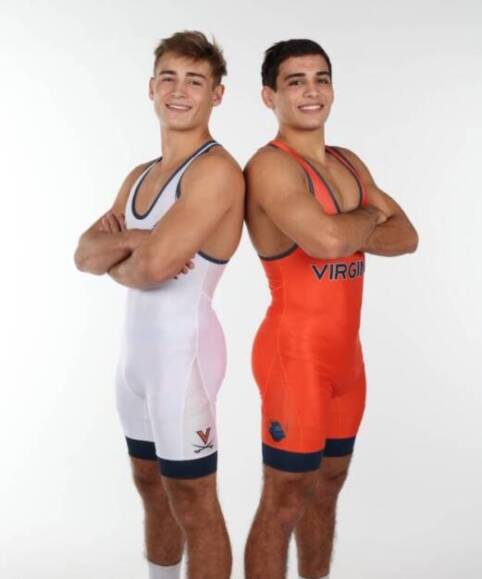 The brothers grew up on the West Coast. They're from Clovis, a Central California city about 10 miles outside Fresno.
"Growing up, we'd definitely fight a lot," Jack said. "Brothers just fight in general, but when you have a twin, you fight more. Usually things are more competitive."
Michael said: "Usually it has to do with wrestling. Outside of wrestling, I'd say we don't really fight that much."
California is known for turning out major-college recruits in numerous sports, including football, basketball, baseball, soccer and volleyball. It's not considered a hotbed for wrestling, but the sport is popular in several cities, Clovis being one of them.
"It's the best wrestling area in the entire state," Garland said.
The high schools in Clovis put "a lot of money and time into wrestling, and they produce some really good kids out of there," Jack said.
One of those products was the twins' older brother, Logan, who's on the team at Missouri. Another was Rocco Contino, a junior in Garland's program at UVA.
Contino, like all three Gioffre brothers, starred at Buchanan High School, and his association with Virginia helped the Wahoos land Jack and Michael.
"I honestly didn't really know anything about UVA until Rocco committed here," Jack said. "One day I was like, 'Dude, what the heck? Why UVA? I've never heard of it.' And then he ran down the whole school, showed me all the history, the academics, how great everything was here. And I was like, 'Dang, that's a good choice.' So fast forward a year. We start getting recruited by them, and the rest is history, I guess."
Garland said he remembers Trent Paulson and former assistant coach Jack Mueller "coming into my office and just raving about the two of them and saying, 'We've got to get these guys.' But Rocco was definitely the connection."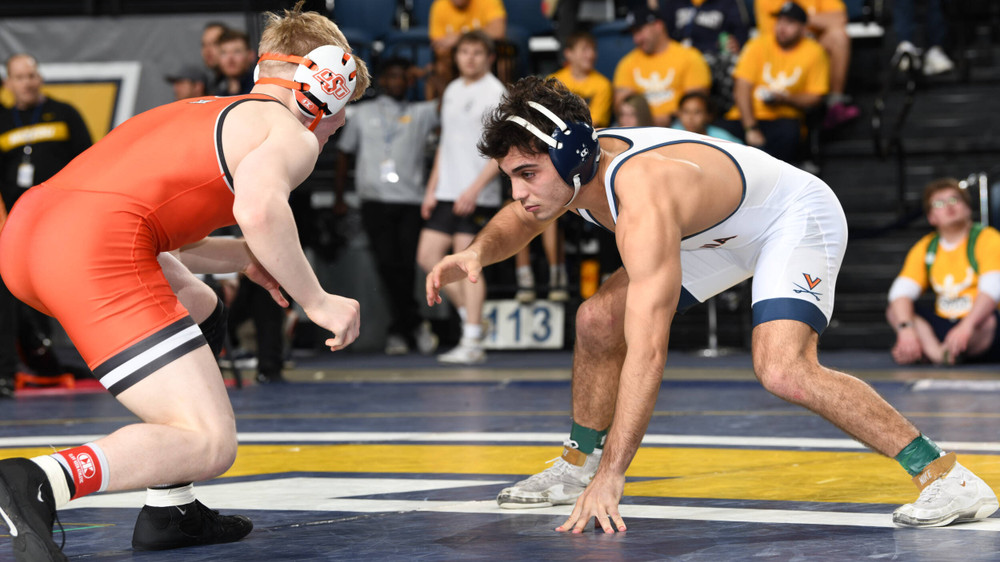 As young wrestlers, the Gioffres had competed several times at the Virginia Duals in Hampton, but otherwise they were unfamiliar with this state.
"I didn't even know Charlottesville existed," Michael said.
That changed in 2019, Michael said, when he watched Mueller upset top-seeded Sebastian Rivera to advance to the NCAA final at 125 pounds. "That's when I first found out about UVA," Michael said.
Their parents had no objections to their college choice, even if Clovis is some 2,700 miles from Charlottesville.
"They wanted us away from home, my dad especially," Jack said. "I remember talking to my dad [about nearby colleges], and he was like, 'No, get out of state and go somewhere far, get a good education, go to a good program.' "
The Gioffre twins were high school seniors in 2021-22, when they helped Buchanan capture its sixth straight state championship. (The Bears made it seven in a row last winter.) Whether their high schools are public or private, big or small, wrestlers in California compete in the same state tournament, and "I would argue that's by far the toughest way to win a state championship," Garland said.
The COVID-19 pandemic forced the cancellation of California's state tournament when the Gioffre twins were juniors, but each capped his senior year with a state title: Jack at 132 pounds and Michael at 138.
At Virginia, Jack moved up to 141 and Michael to 149 last season. Each stands about 5-foot-6, but "Michael has always, ever since we were little, just wrestled the weight class above me," Jack said.
Under an NCAA rule that went into effect in 2022-23, a wrestler who competes in fewer than six matches for his team in a season can use that as a redshirt year. (A wrestler may also compete unattached in that season without affecting a potential redshirt).
"It's one of the rare rules that the NCAA has instituted that everybody was really happy about," said Garland, who's in his 18th year as head coach at his alma mater. "It's a really good rule."
Jack and Michael each gained valuable experience in 2022-23 while retaining a year of eligibility.
Michael placed fifth at the Southern Scuffle and finished the season with a 12-5 record. Jack opened his career with a win in UVA's dual meet with No. 15 Northwestern and later went 3-2 at the Southern Scuffle. In his final match in that tournament, Jack lost 2-1 to 11th-ranked Dylan Droegemueller of North Dakota State.
"It was an absolute battle," Garland said.
Jack posted a 4-2 record in 2022-23. If not for injuries, he would have wrestled in more matches. He separated his shoulder and injured his AC joint when he crashed his scooter on the way to practice early one morning. Then, in early January, he broke a bone in his hand and didn't compete again last season.
Even so, Garland said, the brothers "both had really, really good years last year for the sample size," and each is battling for a starting spot this fall. Virginia opens the season Nov. 4 at the Southeast Open in Roanoke.
"We've got great guys in and around their weights as well, and a lot of guys that are pushing for those spots and gunning for those spots," Garland said, "but based on what we saw last year and based on what we saw when we recruited them, we think really highly of them."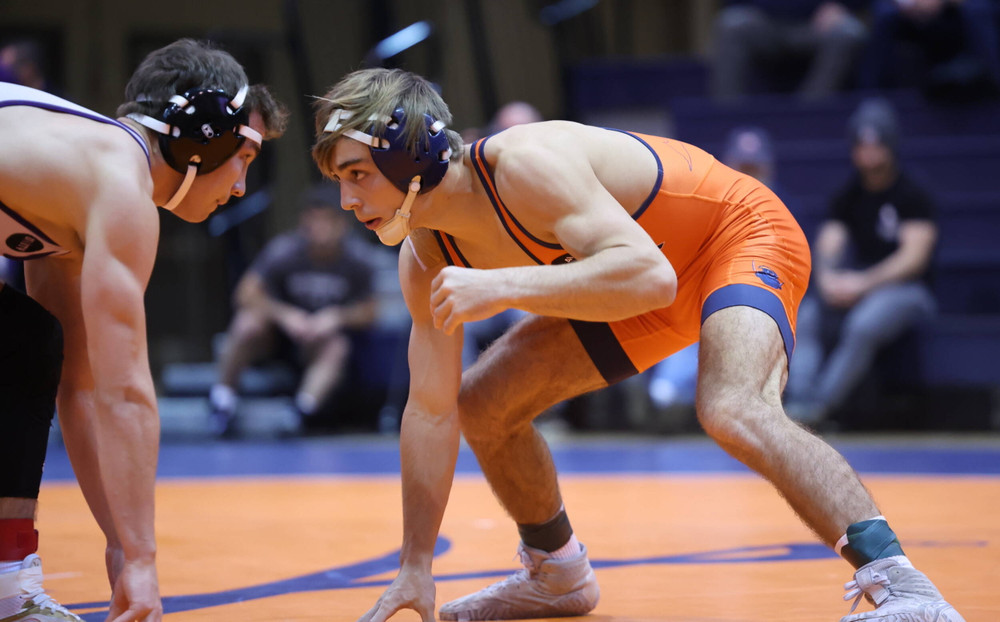 Growing up in Clovis, the Gioffres competed in a variety of sports—baseball, football, swimming, and gymnastics among them. "Gymnastics I'd say was the biggest help for us," Jack said, "for our body control, leveraging, strength."
Having diverse athletic experiences was beneficial, Michael said. "It helps so much when you're older, just your athleticism and your hand-eye coordination. I think that's just a big factor as you get older. Some kids you see just wrestle their whole lives."
Wrestlers often requires enormous self-discipline, particularly when it comes to diet. UVA student-athletes use the dining hall at John Paul Jones Arena on most weekday evenings, but the Gioffres don't stop by regularly.
"It's easy to overeat, because the portions are unlimited," Jack said in the press room at JPJ. "I stay away. Especially when it gets into the heat of the season, I won't be here much, maybe once a week."
Coaching the twins, Garland said, has been a delight. "One of most enjoyable things for us is how awesome they are outside the four walls of the wrestling room. Jack is absolutely hysterical. He's really intelligent, and he's got a great sense of humor. Everybody on the team loves him. And then Michael, he could have his own TV show. Not everybody is old enough to get this, but he reminds me of one of the characters on 'Welcome Back, Kotter.' He's not even trying to be funny, and he's funny. He's also a really hard worker."
The Gioffres are living apart this year, but not because there's any animosity between them. Still, they're highly competitive twin brothers, and that leads to the occasional scrap. Which begs the question: When a fight breaks out, who wins?
"It's 50/50," Jack said, smiling.
To receive Jeff White's articles by email, click the appropriate box in this link to subscribe.