By Jeff White (jwhite@virginia.edu)
VirginiaSports.com
CHARLOTTESVILLE, Va. — In men's basketball, the reigning ACC Defensive Player of the Year is again shining at that end of the court for the University of Virginia. But senior guard Reece Beekman might not be the only Cavalier to contend for that award this season.
Through four games, 6-foot-8 sophomore Ryan Dunn leads UVA in steals (13), blocked shots (nine) and rebounds (31). He tied the program record with seven steals in Virginia's win over Florida last week in Charlotte, N.C., and Dunn put on another show Thursday night at John Paul Jones Arena.
He totaled 15 points, five rebounds, four blocks, three steals and two assists in the Wahoos' 62-33 win over Texas Southern. The points and blocks were career highs for Dunn. Beekman, a 6-foot-3 senior, had four steals and a career-high three blocks, along with eight points.
"I thought our energy was excellent," UVA head coach Tony Bennett said, "and I thought Ryan really energized or invigorated us with how hard he was playing."
No one who watched the game is likely to soon forget a sequence that showcased Dunn's breathtaking athleticism and quickly went viral on social media. Midway through the first half, he stole the ball at Virginia's defensive end, dribbled up the court and then took off. Dunn jumped over TSU's Jaylen Wysinger, who bravely tried (and failed) to take a charge, and threw down a dunk that brought the crowd to its feet.
"That highlight dunk was definitely crazy," UVA guard Dante Harris said.
Dunn, who's from Freeport, N.Y., a village on Long Island, arrived at Virginia in June 2022 as an unheralded recruit who was considered a redshirt candidate. But the coaching staff saw that No. 13 "brought this energy that we couldn't deny," Bennett said, and Dunn ended up averaging about 13 minutes per game for a team that earned a share of the ACC's regular-season title in 2022-23.
From that team, Bennett had to replace five players who started at least 15 games apiece. Dunn knew his role would grow as a sophomore, and he prepared accordingly.
"I put in a lot of work this offseason," he said. "I put in a lot of work all my life, and it's just now starting to come to fruition, and it's starting coming to light, but I can never take a day off. That's how I've been all my life. Just keep working and working."
Dunn said he prides himself on "bringing that energy and that passion every single day." His defense remains ahead of his offense, but he's averaging a team-high 10.8 points and shooting 60 percent from the floor. He's only 2 for 8 from 3-point range, but he's improved his free-throw shooting and went 8 for 9 from the line Thursday night.
"I've been trying to get confidence in my free-throw game," Dunn said. "Just step to the line, shoot those shots and be OK with missing some. I'm glad that it's now coming to fruition, but I gotta still keep working on it."
To see the progress Dunn has made is "a joy to me," said Bennett, who's in his 15th season at UVA. "That's one of my favorite things ever in coaching: watching a guy just go after his game and take another step. And he's got more steps, as all these guys do. But I love that."
The Hoos lived with some of Dunn's freshman mistakes in 2022-23, Bennett said, and "he's starting to kind of sand [down] some of those areas now and become sounder and more skilled in areas through all the work, and you just keep chipping away at that."
Texas Southern (0-3) struggled with Dunn's size and quickness. "He's got good strength as well and toughness," said head coach Johnny Jones, who previously held that position at LSU, "so he was a little bit of a matchup problem for us. Unfortunately, a lot of his damage obviously was done at the free-throw line tonight, but his physicality allowed that because he went in the air and created opportunities for himself."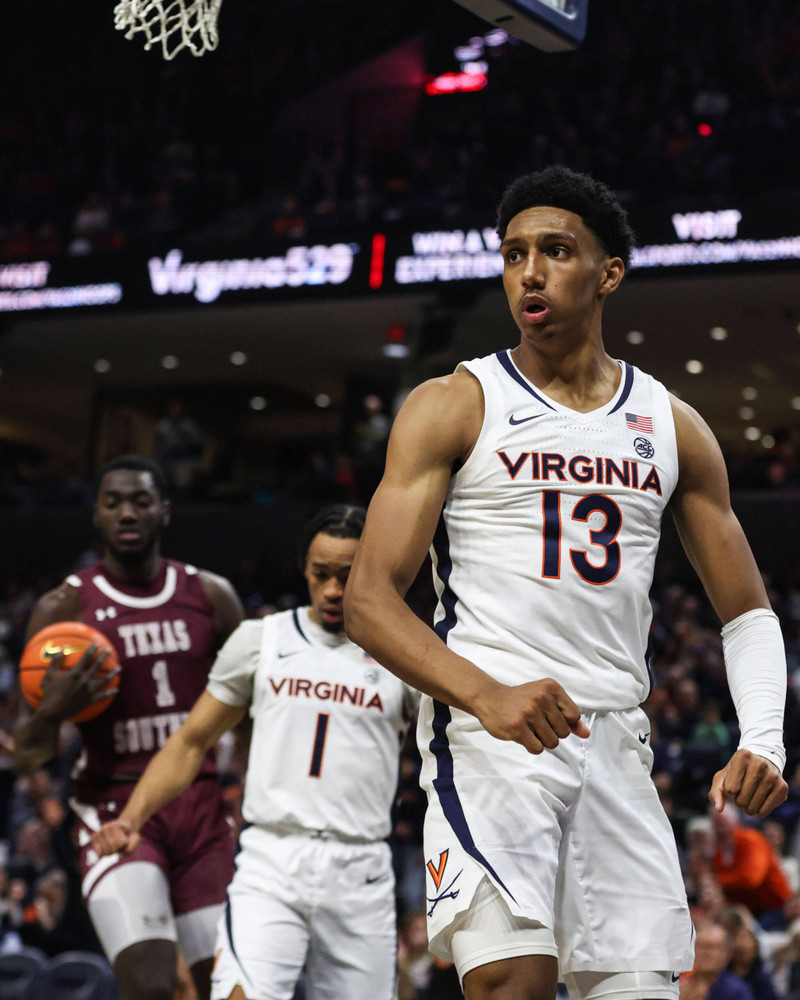 This was the second game in three nights for Virginia (4-0), which played without starting guard Isaac McKneely. A 6-foot-4 sophomore who's second on the team in scoring (10.7 ppg), McKneely sprained his ankle late in the first half Tuesday night against North Carolina A&T.
With McKneely out, Harris moved into the starting lineup against Texas Southern, and the transfer from Georgetown made a team-best two 3-pointers in a game that the Hoos blew open in the second half. The Tigers fell to 0-3.
"Over the course of the game, I thought our heart and energy maybe took a toll on them," Bennett said.
Texas Southern came in averaging only 53.5 points per game and, not surprisingly, had little success against Virginia's Pack Line defense, making only 12 of 46 (26.1 percent) shots from the floor. For the first time in program history, UVA reached double figures in steals (13) and blocks (10) in the same game, but the stat sheet flattered his team, Bennett said.
Virginia gave up 13 offensive rebounds and turned the ball over 11 times. The Cavaliers' ability to come up with steals or blocked shots helped limit TSU to three second-chance points, but a bigger, stronger opponent would have done more damage.
"We've got to ingrain the habits [to a point] where there aren't those breakdowns," Bennett said. "So I thought there were too many breakdowns defensively and too many breakdowns offensively … You can't just rely on a guy to make some great plays individually. Again, as you keep going up the ladder against bigger teams, that won't fly. So that part I was disappointed in, but really excited about how hard the guys played."
The Cavaliers leave Saturday for Florida, where they'll play two games in the Fort Myers Tip-Off.
Virginia, Wisconsin, West Virginia and future ACC member Southern Methodist make up the event's Beach Division. UVA takes on Wisconsin at 6 p.m. Monday in a game to air on FS1. The winner will meet SMU or WVU in the Beach Division championship game Wednesday at approximately 8:30 p.m.
The Hoos are allowing an average of 51 points per game, and opponents are shooting 33.5 percent from the floor.
"We're flying around really well," Dunn said. "We're recovering a lot, and although that's really good for us, I know we're gonna play against way better teams. We have Wisconsin coming up, we have SMU or West Virginia. They're great teams. And some of the lapses that we've had, we can't have against those teams. Coming into ACC play we can't have those."
The Hoos will address those flaws in practice, but "I'm very proud that we're able just to fly around and get those steals and get those blocks" Dunn said. "We'll always have breakdowns, but if we're able to recover that's a great sign for us. So as long as we're able just to tighten stuff up we should be good."
To receive Jeff White's articles by email, click the appropriate box in this link to subscribe.