By Jeff White (jwhite@virginia.edu)
VirginiaSports.com
EARLYSVILLE, Va. — Mother Nature cooperated at a time of year when weather conditions are hard to predict, and the meet came off without any major problems in front of a sellout crowd of at least 5,000 fans at Panorama Farms.
Those were victories for the University of Virginia, the host school of the 2023 NCAA Cross Country Championships. The races themselves, however, did not go as hoped for the Wahoos
The Hoos were looking to improve on their performances at last year's NCAA meet, where their women placed ninth and their men finished 22nd. The UVA men matched that finish Saturday in their 10-kilometer race, and the women placed 15th in their 6k, partly because Sophie Atkinson, expected to be one of their first five finishers, had to drop out because of an injury.
"I don't think either group had a stellar performance today," Vin Lananna, who oversees Virginia's cross country and track & field programs, said after the men's race. "I haven't talked to them yet, and I haven't even looked at the results. But I think that sometimes you can get overly stimulated. And I think that that was certainly the case for our team. We don't have a team [with dominant individuals]; we have teams that basically have to work through the crowd."
Virginia's top performer Saturday was Jenny Schilling, who earned All-America honors with a 39th-place finish in the women's race. Margot Appleton, who placed 51st, was their second Cavalier to finish on the women's side.
To prep for the NCAA Championships, Virginia hosted two meets at Panorama Farms during the regular season, and this was a day that had long been circled on the local running community's calendar.
"There was definitely a lot of hype leading up to it," Schilling said. "It's something that we've been talking about since summer. And it's felt very surreal this whole week, with it finally being here. Even on the [starting] line, with five minutes to go, it was crazy. We're about to do this. But it was definitely fun. We were all really excited this week."
The Hoos had raced in the rain at Panorama Farms during the regular season, but Saturday brought brilliant sunshine and comfortable temperatures.
"It was definitely really nice, perfect running weather," said Schilling, a sophomore from Leesburg. "Honestly, it was hotter than I would have liked. So definitely a stark contrast from what they had last year [at the NCAA meet in Stillwater, Okla.]."
She had planned to run with Appleton for much of the race, Schilling said, but "I totally lost everyone at the start line. It was just chaos, and I didn't see anyone. I didn't know if they were ahead of me or behind me. And so I don't even think I saw Margot until 3k. But once she was right there with me, I just stuck with her as long as possible."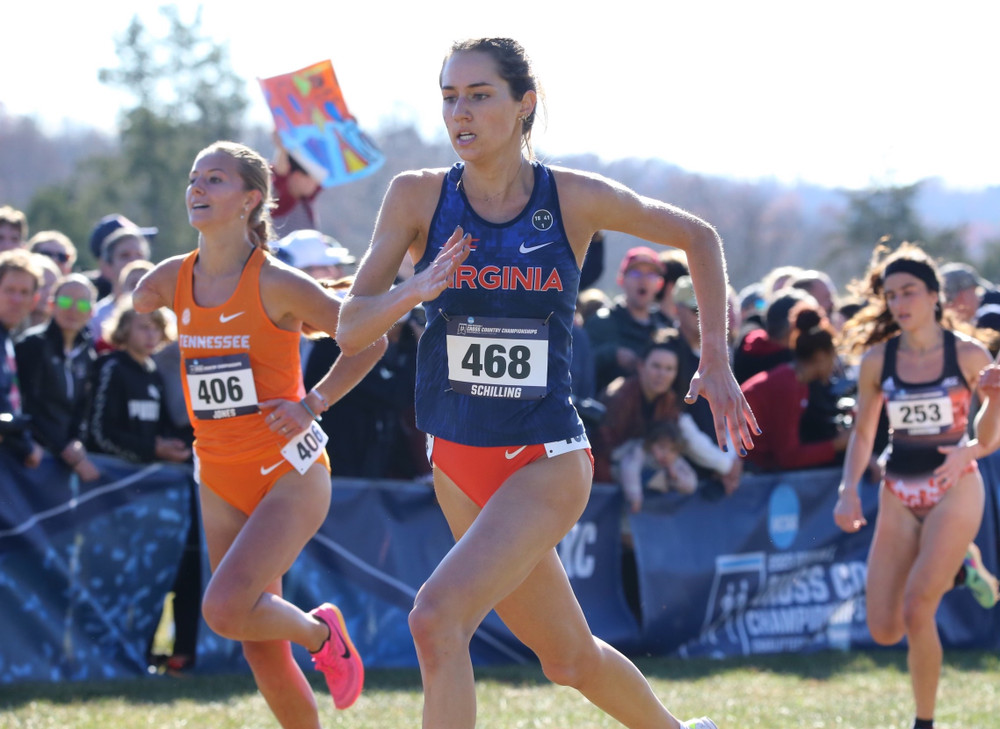 Will Anthony, a sophomore from New Zealand, who placed 129th as last year's NCAA meet, finished 61st Saturday to lead the UVA men. Yasin Sado was the second Cavalier to finish. He was 73rd, a significant improvement on his 148th-place finish at NCAAs last year.
The Cavalier men came into the race planning to run as a pack, said Sado, a senior from Aurora, Colo., but they weren't able to pull that off.
"I think we kind of missed each other," Sado said. "The strategy was looking for each other and working with each other. It was super crowded and we kind of missed each other in the race."
The pace early in the men's race was blistering, and "I think our guys probably got a little bit overwhelmed," Lananna said.
He had yet to analyze the women's performance, so Lananna withheld comment on that race. "But overall, I think the vast majority of those men and women return, so we'll see if we can do something with it next year," he said.
This marked only the second time UVA has hosted the NCAA meet. The first was in 1987, on the Garth Road property where the Foxfield Races are run twice a year.
"I think there were probably 800 or 900 people who came up to me individually [Saturday] and told me how great the course was and what a great experience the meet was," Lananna said.
Some 200 volunteers helped plan and run the meet, which was held on the East Coast for the first time in two decades. "I think that probably accounted for so much popularity for the event," Lananna said.
Hosting the NCAA meet, he's learned during his long coaching career, is no guarantee of success in the races.
"When I was at the University of Oregon, we hosted nine NCAA [track & field] championships," Lananna said. "Sometimes we were great, and sometimes we weren't. I think it just depends on the personalities of the group … I don't think anybody has a home-field advantage [in cross country]. Everybody had an opportunity to compete here."
To receive Jeff White's articles by email, click the appropriate box in this link to subscribe.