Virginia Cavaliers Official Athletic Site
Griff McGarry
Portola Valley, Calif.
Hometown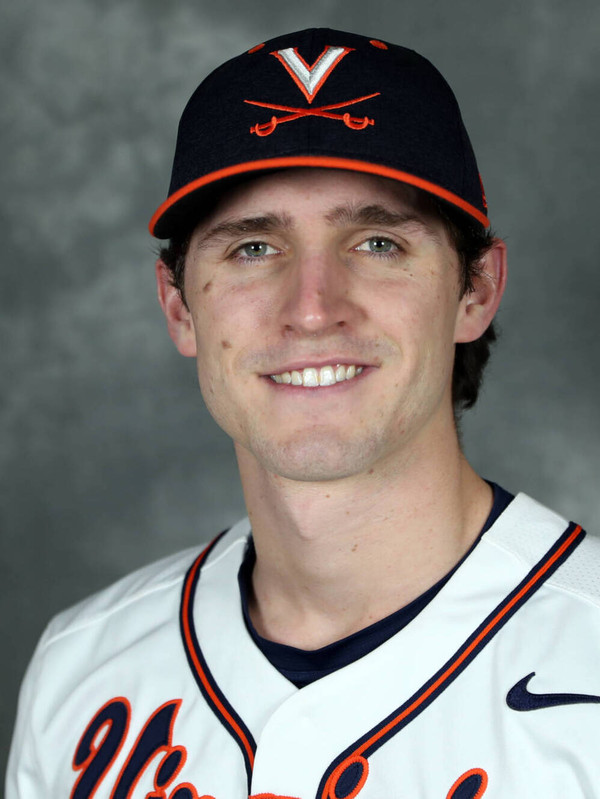 Griff McGarry Pronunciation
2021
• Drafted in the fifth round (145th overall) by the Philadelphia Phillies in the 2021 MLB Draft
• Appeared in 14 games and made 11 starts on the mound
• Struck out 69 batters over 43 innings pitched on the season
• In three NCAA Tournament starts, McGarry pitched 17.1 innings allowed five runs, five hits and struck out 26 batters.
• Pitched the ninth inning, striking out three of the four batters he faced, in the program's seventh no-hitter on May 14 against Wake Forest
• Pitched in two shutouts – Wake Forest (May 14) and Dallas Baptist (June 13)
• Took a no-hitter into the eighth inning against Mississippi State (June 22) in the College World Series. Struck out eight batters over 7.1 innings of one-hit baseball against the eventual national champions
• Did not allow a hit in the first six innings of his start in game two of the Super Regional against Dallas Baptist. Took a no-decision but struck out a season-high 10 batters over seven scoreless innings before leaving the game with a cut on his throwing hand. Struck out four batters in the second inning.
• In NCAA Regional elimination game against ODU, struck out eight batters in 3.1 innings including the first six batters he faced. He was forced to leave the start early with a cut on his throwing hand.
• Combined with Brandon Neeck to strikeout 24 batters in NCAA Regional against ODU, a new program single-game record. The 24 combined strikeouts were the most in a nine-inning game in the NCAA in 2021 and the most in nine-inning game NCAA Division I baseball since Auburn struck out 25 against Arkansas on May 19, 1994. The nine-inning NCAA record is 26 strikeouts by Miami (OH) in 1971.
• Struck out nine batters in each of his first two starts against UConn (Feb. 20) and UNC (Feb. 27)
2020
• Was 3-0 with a 1.35 ERA in 20 IP while serving as the team's Friday night starter
• Allowed only three earned runs in four starts and combined for a shutout in season-opener against Oklahoma
• Struck out a team-best 31 batters
• Held opponents to a .079 batting average, the lowest in the ACC
• Allowed only five hits, the least among any ACC pitcher and his 2.25 hits per nine innings was the fourth lowest in the NCAA
• Against Dartmouth on Feb. 28, struck out a career-high 12 batters, allowed only one hit and did not allow a run over six innings
2019
• Appeared in 13 games and made 11 starts
• Primarily a weekend starter for the Cavaliers as a sophomore
• Logged 53.1 innings pitched and struck out 64 batters, tied for the second-most on the team
• Recorded win over Villanova (Feb. 22), Seton Hall (March 2) and Florida State (April 20-2)
• Two of his team-high four quality starts came in ACC play, one run losses to Duke (March 10) and Miami-2 (April 13)
• In his second start of the year, he struck out a career-high nine batters in six innings, allowing just two hits and an run against Villanova
• Against then No. 4 NC State, struck out the first four batters he faced and five of the first six en route to an eight-strikeout performance over 4.2 innings
2018
• Made 11 appearances, including two starts (home opener vs VMI on 2/20 & at VCU on 5/1)
• Struck out 22 batters in 17.2 innings pitched
• Worked four-straight innings of scoreless relief in outings against EKU (2/25), Yale-1 (3/3) and Davidson (3/6)
• Credited with the save after pitching the final three innings in a 14-3 win over Liberty on April 18. Did not allow a run and struck out a season-high, five batters.
MENLO SCHOOL
• Drafted by Texas Rangers in 31st round of 2017 MLB Draft
• Named 2017 MaxPreps California Small Schools Player of the Year
• Was 2017 MaxPreps Small Schools First-Team All-American and Small Schools First-Team All-State
• Named 2017 Honorable Mention All-American and Perfect Game First-Team All-Region by Perfect Game
• Named 2017 Prep2Prep Central Coast Section Senior of the Year
• Was 2017 Peninsula/South Bay Player of the Year by San Francisco Chronicle
• Tabbed 2017 Peninsula Athletic League Ocean Division Player of the Year
• Member of 2016 and 2017 Central Coast Section championship teams at Menlo
• Was team captain his senior year
• Competed in 2016 Area Code Games
• Coached by Sean Riley and also played shortstop in high school
PERSONAL
• An American Studies major
• Son of Brian McGarry and Lorraine McDonough
• Has one brother, Matt, who played for two years at Vanderbilt before transferring to Santa Clara