By Jeff White (jwhite@virginia.edu)
VirginiaSports.com
CHARLOTTESVILLE — When the COVID-19 pandemic shut down college sports in March 2020, Griff McGarry's third year in the University of Virginia baseball program ended abruptly and prematurely.
He'd headed into his junior season hoping to be selected in the Major League Baseball draft that June. After the pandemic hit, however, the 2020 draft was shortened to five rounds, and McGarry wasn't among the players chosen.
"In the moment I was like, 'Gosh, everything I dreamed about as a little kid, getting drafted my junior year, it's just out the door,' " McGarry recalled. "But then I quickly realized, 'All right, I get to go back for a whole 'nother season with the team, I get to finish with school, and maybe this is a blessing in disguise for me.' "
McGarry earned his bachelor's degree in American studies in 2021. "It feels good to be done," he said, "and obviously it's a prestigious university, so I'm excited to wear that on my sleeve."
His baseball career benefited from his extra year at UVA, too. Coming off a sensational postseason in which he helped the Cavaliers advance to the College World Series, McGarry went to the Philadelphia Phillies in the fifth round of the 2021 MLB draft, with the 145th overall pick.
The 6-foot-2, 190-pound right-hander has had a meteoric rise in the Phillies' organization.
"It's been awesome," said McGarry, who's training near West Palm Beach, Fla., at the Cressey Sports Performance facility. "Towards the end of my playing career at UVA, through the coaches and my teammates, I made some pretty integral changes to my mechanics and my mentality. I think my time at UVA definitely prepared me for professional baseball, so the transition wasn't too challenging. But it's gone by very fast, even though now it's almost been two years since I was at UVA."
His first stop, in the summer of 2021, was Clearwater, Fla., where he joined the Single-A Threshers, who play in the Florida State League. He ended that year in the South Atlantic League with the High-A Jersey Shore BlueClaws.
McGarry, who grew up in Northern California, started 2022 with Jersey Shore but soon was promoted to the Double-A Reading Fightin Phils, who compete in the Eastern League.
"Reading is just about an hour-and-a-half outside of Philly," McGarry said, "and it was pretty cool to finally be playing in Pennsylvania. It's a very historic stadium, so a lot of Philly fans come through and it's just a really cool environment. I definitely liked my time there, but I was only there for about two months, I guess."
He finished the 2022 season with the Phillies' Triple-A affiliate, the Lehigh Valley Iron Pigs of the International League. He's likely to start spring training in 2023 with the parent club.
"I'm really looking forward to next season, just kind of building off everything that I've accomplished so far," McGarry said. "I know I have a lot of room to grow. So I think this offseason will be a pretty important time for me, and I'll be able to work on my command and just kind of get everything prepped so that when spring training rolls around, I'm hoping to be ready."
To see the Phillies reach the World Series this year "was definitely something special," McGarry said. "I know some of the guys, not all of them, at the big-league level there, and they were on fire. Also, just from the actual ballpark perspective, I haven't seen Philadelphia like that in a long, long time, so it was pretty special to see. I wasn't up there in person, but I was just watching every game on the TV. You could hear how loud that stadium was, and hopefully some day I'm playing in front of a crowd like that at that stadium."
Since leaving UVA, he's been used in a variety of roles, but McGarry believes he'll end up as a starting pitcher.
"I'm obviously not locked in on that," he said. "If they see me fit somewhere else, then I'll be open to that. But from the discussions I've had with some of the guys in our org, some of our staff, they've kind of told me to keep focusing on being a starter, that's where we want to start you off heading into spring training."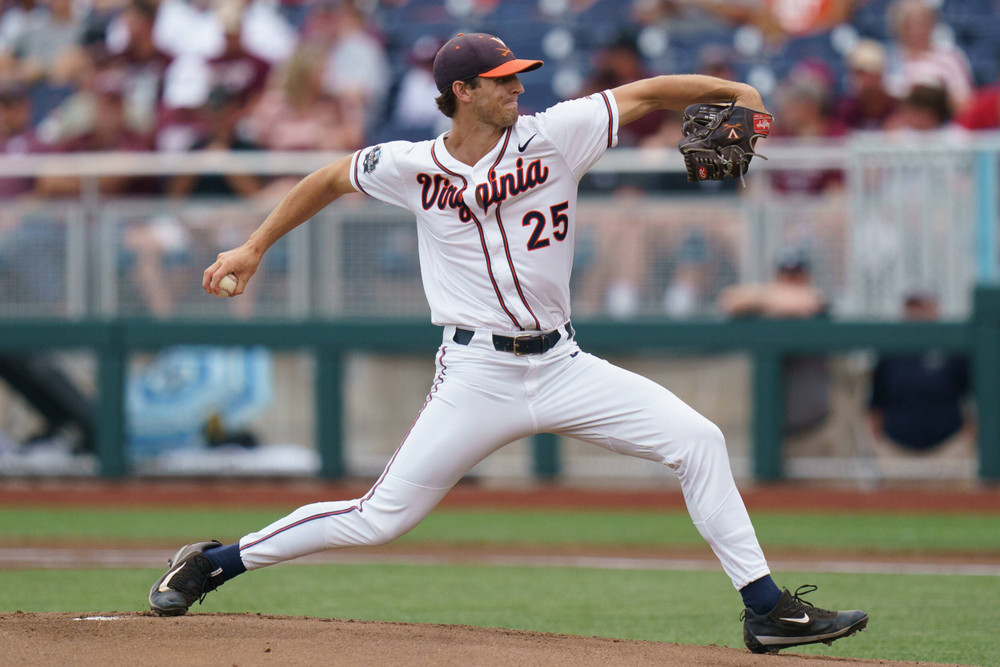 McGarry, 23, could have launched his professional career earlier. As a high school senior, he was drafted by Texas in the 31st round of the 2017 MLB draft. But McGarry chose to attend college, and he arrived at UVA as a heralded recruit. He made 11 appearances as a freshman in 2018 and started 11 games as a sophomore, most of them in weekend series, but control problems periodically hindered him.
In 2020, he was in the midst of a breakout season when the pandemic hit. As the Wahoos' Friday night starter, McGarry was 3-0 with a 1.35 earned-run average, and opposing batters were hitting only .079 against him.
A roller-coaster ride of a 2021 season followed for McGarry. In his final regular-season start, against VCU on April 20, McGarry walked three, hit another batter, and recorded no outs before being replaced in the first inning. But he persevered.
"His spirit never changed," UVA head coach Brian O'Connor said that spring.
Working with pitching coach Drew Dickinson, McGarry made some adjustments on the mound, and the results were astounding. McGarry pitched well out of the bullpen late in the regular season and then, when he given another opportunity to start, showed the talent that had made him such a highly regarded prospect.
"It's just amazing what you can do as a person if you just hang in there and you keep believing in yourself and you're willing to make some adjustments," O'Connor said in 2021 of McGarry's postseason performance. "It's amazing what he's done. I can tell you I haven't seen it in my 18 years in this uniform, a kid do what he did this year."
Against top-seeded Old Dominion in the NCAA regional in Columbia, S.C., McGarry struck out eight in 3.1 innings, including the first six batters he faced, to help the Hoos extend their season. He had to leave that game early with a cut on his throwing hand, but McGarry returned to start against Dallas Baptist in the NCAA super regional, also in Columbia, and struck out 10 batters in seven scoreless innings before leaving with the same injury.
Virginia won that game, too, and eventually advanced to the CWS in Omaha, Neb., for the fifth time in program history.
In Omaha, McGarry struck out eight batters and took a no-hitter into the eighth inning against eventual NCAA champion Mississippi State.
"The coaches sticking with me, my teammates sticking with me and believing in me, that gave me, I think, the confidence and the motivation, the intent, to keep going, keep pushing," McGarry said. "I really owe a lot to them, and I think it did really help me with that transition into pro ball, because I was riding that emotion and riding that success and I think it really transitioned well. It was kind of an interesting time, from going from some of the worst outings I'd had in my college career to some of the best, just like that. It was pretty different. But I owe a lot to Coach Drew, Coach O'Connor and all those guys for sticking with me and believing in me."
The turbulence he experienced as a UVA senior taught him valuable lessons.
"In a weird way. I'm grateful for that adversity," McGarry said. "I wouldn't be where I'm at today without it. I think it took me a while to understand that, despite not having immediate success, that doesn't determine your future career. It doesn't determine your future outings. Adversity is tough while you go through it. It's challenging, especially in what you're hoping to be your career. So, I think it was definitely a tough time, but relying on my teammates, relying on my coaches, they were really able to get me through it and give me the perspective I needed in order to have success in the future. So I'm definitely grateful for those struggles."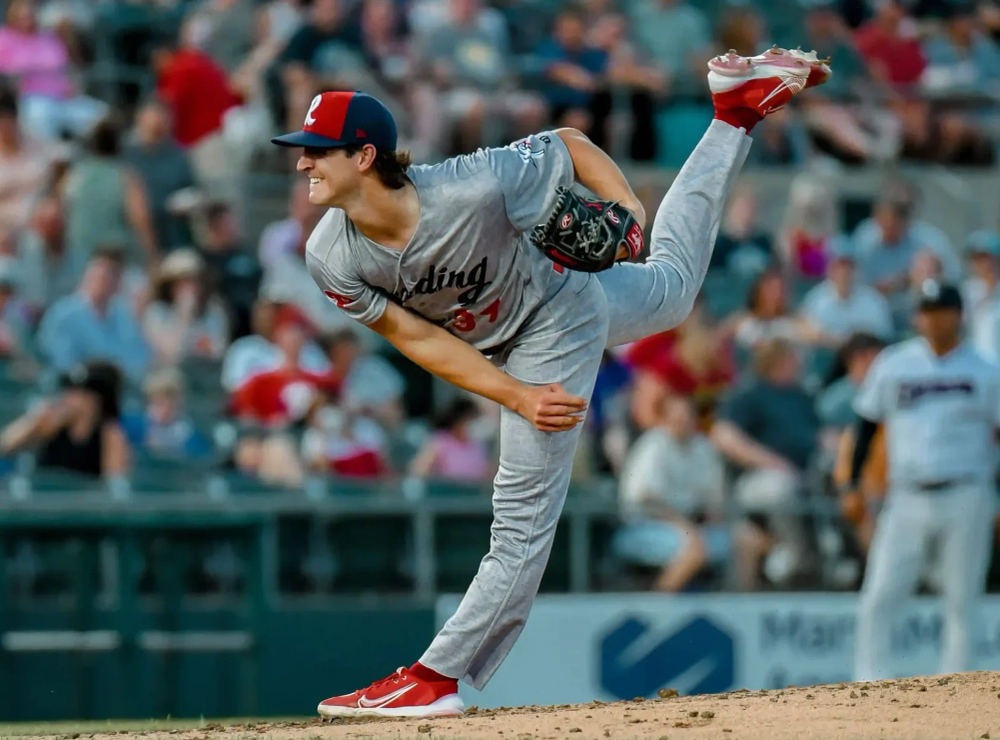 This is McGarry's second offseason at Cressey Sports Performance, and he's not the only former Cavalier training there.
"Just off the top of my head, and I hope I don't forget any guys, we've got Zack Gelof down here," McGarry said. "Brandon Neeck's down here. Nate Savino is down here. Nic Kent is down here part time, and then some older guys as well like Bennett Sousa, Tommy Doyle, so it's pretty cool. It's a wide range of guys, and it's just super fun seeing guys from the past, and we all have that shared connection of our love for UVA. It's pretty cool talking about old times and playing together."
He's yet to pitch to another former UVA player in pro ball, McGarry said, but he and Mike Vasil threw in the same game. Vasil was an eighth-round pick of the Mets in 2021.
"It's funny," McGarry said. "You're obviously rooting for your [pro team], but at the same time, you're like, 'All right, that's my buddy and he's out there doing it.' So it's just pretty cool to see."
He follows the pro careers of his former UVA teammates closely. The current Cavaliers are never far from McGarry's mind either.
"I'm hopefully one of UVA's biggest fans now," he said. "I love watching, especially because I've played with a lot of the guys, but also rooting for the program in general, rooting for Coach O'Connor, Coach Drew, all those guys. It's pretty fun to watch, too. Now to be a fan, it's super fun. They obviously had a great season last year, and I'm sure they'll continue that this year and the years to come. It's definitely an exciting time for me in my life now that I'm able to be a full-time UVA fan. There are some conflicts, sometimes I have a game, they have a game, and I'm not able to watch, but I watch as much as I can."
He's been back to Charlottesville several times since graduating, and those visits have allowed him to "see the coaching staff, see some of the old teammates and just hang out," McGarry said. "So it's pretty cool. I'm proud to be an alum."
To receive Jeff White's articles by email, click the appropriate box in this link to subscribe.