Virginia Cavaliers Official Athletic Site
Jay Woolfolk
Chesterfield, Va.
Hometown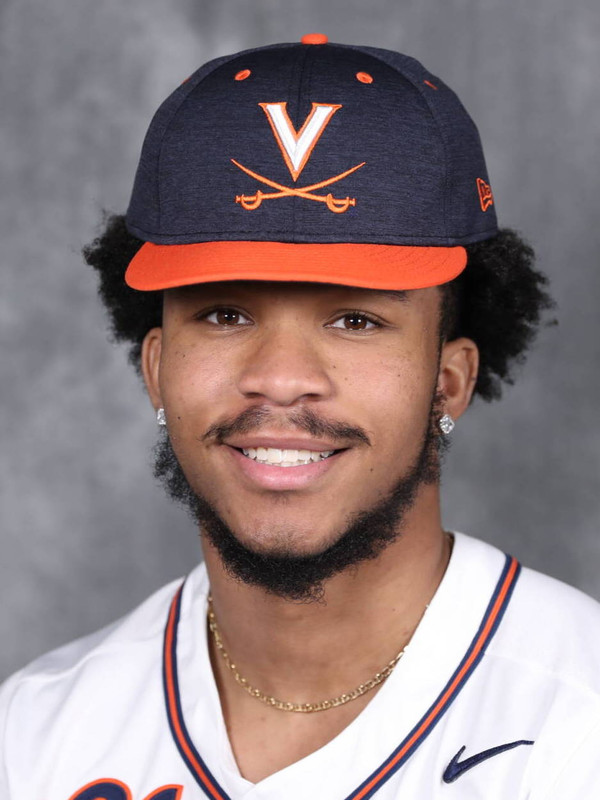 Jay Woolfolk Pronunciation
2023
• Named to the NCBWA Stopper of the Year Award Preseason Watch List
• Received official invitation to USA Baseball Collegiate National Team training camp in late June. One of 54 underclassman to earn invite.
2022
• Earned Freshman All-America honors from Collegiate Baseball Newspaper and Second Team Freshman All-America accolades from D1Baseball.com
• Co-led the Cavaliers and ranked ninth in the ACC with 28 appearances. Only UVA baseball Hall of Famers Josh Sborz (30 in 2013) and Casey Lambert (29 in 2004) had more appearances as a first year under Brian O'Connor (2004-present).
• Struck out 55 batters in 37.2 innings pitched.
• Named UVA Male Rookie of the Year at department's annual Hoos Choice Awards
• Recorded wins against Boston College (March 20), Georgetown (April 20) and North Carolina (April 22)
• Made his collegiate debut in the second game of the season against Gardner-Webb (Feb. 19) which hosted the Jerry Bryson Classic in Boiling Springs, N.C. He pitched the final inning of a 7-0 shutout and needed just seven pitches to retire the side.
• Allowed one run over his first seven collegiate appearances, a total of 10 innings pitched.
• Recorded two of the Cavalier pitching staff's three holds – Longwood (May 11) & Clemson (May 13)
• A night after surrendering a walk-off homer to the only batter he faced against VCU on April 19, he struck out five of the six batters he faced and earned his second win of the season in a 6-4 win over Georgetown.
• His longest outing of the season came against Georgia Tech where he fanned five batters.
• Was a defensive replacement in right field against Cornell in the eighth inning. Flew out to center field in the bottom of the inning, his only at bat of the season.
BENEDICTINE COLLEGE PREP
• Named the 2019 Virginia Gatorade Player of the Year for baseball
• Was the co-VISAA Player of the Year and the co-Richmond Times Dispatch All-Metro Player of the Year with current baseball teammate Griff O'Ferrall (St. Christopher's) in 2021
• Named as one of the top 50 prep baseball players in the nation for the class of 2021 by MaxPreps
• Ranked as the No. 35 prospect by Baseball America for the class of 2021
• In three varsity seasons, went 15-2 with a 2.01 ERA and recorded 180 strikeouts in 111 innings pitched. Also added six saves.
• At the plate batted .370 (60-for-162), scored 75 runs, hit 11 home runs and stole 50 bases for his prep career.
• A two-time state champion in baseball at Benedictine (2019 & 2021). Earned the save in the 2019 state title game.
• Named to All-Metro teams for both football and baseball … also played on basketball at Benedictine
• Was Benedictine's starting quarterback on its 2019 state championship football team
• Played quarterback running back, wide receiver and defensive back in high school
PERSONAL
• His father, Pete, played basketball at Richmond, helping the Spiders to the Sweet 16 of the NCAA Tournament in 1988
• Played quarterback on the Virginia football team his first two years on grounds. In the fall of 2021 where he started one game and saw action in five total games. He started against #7 Notre Dame on Nov. 13 2021 to become the first true freshman to start at quarterback for UVA since 1977.
• Has yet to declare a major at UVA