Virginia Cavaliers Official Athletic Site
Nick Parker
Dallastown Area
High School
Coastal Carolina
Previous School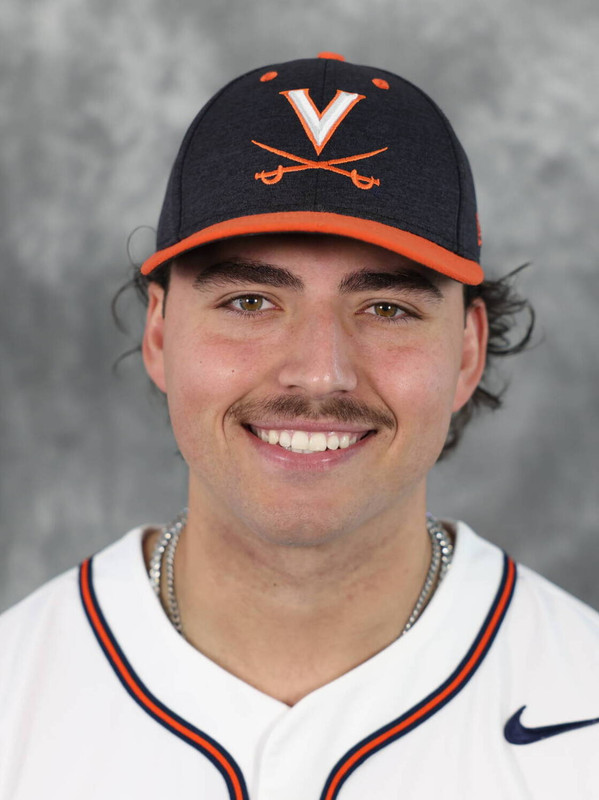 Nick Parker Pronunciation
2023
• Named to the Collegiate Baseball Newspaper National Team of the Week on Feb. 20 and on May 1
• One of 12 Cavaliers on ACC Academic Team and included on the ACC Academic Honor Roll.
• Matched his then-career-high with 10 strikeouts in his UVA debut on Feb. 18 vs. Ohio. Struck out the last seven batters he faced.
• Parker struck out a career-high 12 batters against No. 20 Duke on April 29. The righthander limited the Blue Devils to just four hits and two runs over 6.2 innings of work.  He retired 11 of the final 13 batters he faced. It was the most strikeouts by a Cavalier pitcher this season and the most by a UVA hurler since 2021.
PRIOR TO VIRGINIA (COASTAL CAROLINA)
CAREER
• Finished his career with 40 career starts which rank 15th all-time in CCU's career record books.
• Has two NCAA Tournament wins in two starts on his career pitching ledger – East Carolina (2022) and Florida A&M (2019)
2022 (Senior)
• Earned a spot on the 2022 NCAA Greenville Regional All-Tournament team after turning in his best game of his CCU career by striking out a career-high 10 batters over 8.0-scoreless innings in a 9-1 win over host East Carolina (June 5). CCU also faced UVA in the Regional but Parker did not pitch.
• Made 15 starts on the mound and went 6-3 with a 4.45 ERA and 81 strikeouts in 85 innings pitched.
• Totaled seven quality starts on the year
• Led the Sun Belt in hit batters (17)
• A 2022 CoSIDA Senior CLASS Award nominee
• Threw a seven-inning complete game, in a 13-1 seven-inning win over South Alabama (May 21) on Senior Day, holding the Jaguars to one run on five hits and six strikeouts.
• Recorded wins in each of his last three games of the season – Troy (5/15), South Alabama (May 21) and East Carolina (June 5).
• Made the start against North Carolina on March 5 but did not factor in the decision after he pitched five innings, allowed two runs and struck out six in a 4-3 loss in walk-off fashion at Boshamer Stadium.
• Earned a spot on the Dean's List (3.5 GPA or higher) for both the 2021 fall and 2022 spring semesters
2021 (Junior)
• Made 14 appearances on the season, including 13 starts on the mound
• Went 3-5 with a 5.16 ERA in 68 innings pitched. Struck out 36 batters and walked 24 while opponents hit .293 off him.
• Struck out a season-high six batters over seven scoreless innings in the 2-0 win at Liberty (April 24).
• Earned a spot on the President's List (4.0 GPA) for both the 2020 fall and 2021 spring semesters
2020 (Sophomore) *Season Ended Early Due To Worldwide Coronavirus Pandemic*
• Started all four games he pitched in.
• Went 2-0 with a 2.25 ERA in 20 innings pitched while strikeout out 19 batters.
• Struck out a season-high seven hitters and allowed just one earned run over five innings but did not factor in the decision in the Chants' 3-2 win over Maryland (March 1).
• Made the midweek start versus UNCW (Feb. 19), logging three innings.
• Also recorded a putout in right field in the game at No. 7 NC State (March 4).
• Named to the Dean's List (3.5 GPA or higher) for the 2019 fall semester.
• A member of the President's List (4.0 GPA) for the 2020 spring term.
2019 (Freshman)
• Pitched in 16 games, making eight starts on the mound.
• Moved into the role of the midweek starter midway through the season.
• Went 2-1 with a 6.07 ERA over 46 innings pitched on the season.
• Also recorded one save on the season, pitching the final 2.2 innings against top-seeded Texas State (May 23) in the Sun Belt Conference Tournament.
• Fanned a season-high six batters in a road start at Illinois (April 3) and out of the bullpen versus Appalachian State (May 16).
• Logged a season-high 6.0 innings versus Illinois (April 3) – current UVA pitching coach, Drew Dickinson, was the on staff at Illinois at the time.
• Made his Chant debut by striking out one and walking one in a scoreless inning at UNCW (Feb. 19).
• Gave up one hit and struck out one in 0.1 of an inning versus No. 21 NC State (Feb. 24).
• Also threw 2.0 innings out of the bullpen at the College of Charleston (Feb. 27), 1.2 innings with three strikeouts in the home win over Wake Forest (March 5), and fanned three hitters in 2.1 innings at No. 12 Clemson (March 13).
• Made his first career start at UNC Wilmington (March 26), allowing three runs on four hits, two walks, and five strikeouts over 4.0 innings in the no-decision.
• Started the next five-straight weeks – at Illinois (April 3), at No. 2 NC State (April 10), versus Charleston (April 16), at No. 15 North Carolina (April 23), and in the series finale at Georgia State (April 28).
• Suffered the loss at No. 15 North Carolina, allowing four runs, three of which were earned, on five hits, two walks, and four strikeouts.
• Returned to his starter role to throw 4.0 innings in a 10-6 win over ULM (May 25) in the semifinals of the conference tournament and 5.0 innings in the win over Florida A&M (June 1) at the NCAA Atlanta Regional.
• A member of the 2018-19 Sun Belt Conference Commissioner's List.
DALLASTOWN AREA HIGH SCHOOL
• Three-year letterwinner in baseball for Dallastown Area High School, playing shortstop and pitching.
• Rated as high as the No. 8 right-handed pitcher and the No. 43 overall prospect in the class of 2018 out of Pennsylvania by Perfect Game.
• Was a 2018 Rawlings/Perfect Game honorable mention All-American.
• Was also named PG 2018 Atlantic Region honorable mention.
• A 2017 Perfect Game underclass high honorable mention honoree.
• Tabbed the YAIAA Division I Player of the Year as a senior.
• Posted a high school career batting average close to .400 and a record of 13-1 with an ERA of 0.58 on the mound.
• Led his team to three-straight county championship titles.
• Helped guide the Wildcats to the school's first District 3 title and an appearance in the Class 6A state final his junior season, finishing as the state runner-up.
• Hit .366 with 23 hits, 14 RBIs, and 11 runs scored at the plate his senior year.
• Went 6-1 with a 0.35 ERA over 12 appearances on the mound his senior year.
• Hit .370 and went 3-0 with a 0.79 ERA in just five games on the mound his junior year.
• Went 4-0 his sophomore season and hit .397 with 23 hits, 16 RBIs, and 15 runs scored.
• Played for Team Pennsylvania in the 2016 Prep Baseball Report Future Games.
• Also played for the FTB Tucci Mid-Atlantic 2017's club team.
• A two-time member of the distinguished honor roll.
PERSONAL
• Born in Rockwell, Texas (part of the Dallas/Fort Worth metroplex).
• Son of  Randy and Jeanie Parker.
• Mother, Jeanie, was a ball girl for the Philadelphia Phillies and was a gymnast at the University of Bridgeport.
• Graduated from Coastal Carolina in May 2022 with a bachelor's degree in business management
• Pursuing a Masters in Educational Psychology