By Jeff White (jwhite@virginia.edu)
VirginiaSports.com
CHARLOTTESVILLE, Va. — With one out in the seventh inning and the Virginia Cavaliers leading 13-0, pitcher Nick Parker's work day ended. As he left the mound and headed to the third-base dugout Friday night, the fans at Disharoon Park saluted him with a standing ovation.
"It's awesome," Parker said after No. 21 UVA's 15-5 victory over ACC rival Louisville. "You can't really put it into words, but it's special, is what I can say. It's always nice having a big crowd like this and being able play well for them and to come out and hear those moments, because you don't get those moments too often."
On March 24, there was concern that Parker, a graduate transfer from Coastal Carolina, might never experience such a moment again. In the opening game of Virginia's series against Florida State at the Dish, a line drive struck Parker in his right cheekbone, and he dropped to the mound, where he initially lay motionless.
"When he got hit against Florida State, I think that was the fastest I've ever run in the last 25 years when I ran to the mound," UVA head coach Brian O'Connor recalled Friday night.
"Candidly, first and foremost I was concerned for his life," O'Connor said. "I was concerned that maybe it hit him in the temple. The fact that he persevered through it, wanted to come back and pitch so quickly speaks to who he is and how much of a competitor he is. I was with him that night in the hospital and he was determined to get back as soon as he could. And it took him a start or two to get back to his form, but he's certainly pitching great baseball for us and it speaks to who he is."
Parker, a 6-foot-1 right-hander, had surgery March 28 to repair a broken broke in his face. He returned to the mound and started April 8 against ACC foe Miami at Disharoon Park. He wasn't his sharpest that day, but he's again looking like the pitcher who struck out 10 batters in Coastal Carolina's 9-1 victory over host East Carolina in last year's NCAA tournament.
In a 10-2 win over Duke on April 29, Parker fanned 12 in 6.2 innings at the Dish. He dazzled again Friday against Louisville (29-20, 9-16), scattering five hits, striking out five and walking none.
"Certainly, Nick Parker gave us a great start tonight," O'Connor said. "He's been excellent his last two starts, Duke and then tonight. That's what we need. We need guys to go out there and command the game early on and give our offense a chance to get going."
Parker had the luxury of pitching with the lead for most of his 6.1 innings. In the bottom of the first, sophomore first baseman Ethan Anderson crushed a three-run home run to right-center field, and the Wahoos (39-11, 14-11) never looked back.
"Ethan Anderson really set the tone there in the first inning," O'Connor said.
UVA totaled 16 hits, with nine of them coming from three players: sophomore shortstop Griff O'Ferrall (4-for-5), freshman second baseman Henry Godbout (3-for-4) and Anderson (2-for-4, four RBI).
"The depth of the lineup is really special," O'Connor said.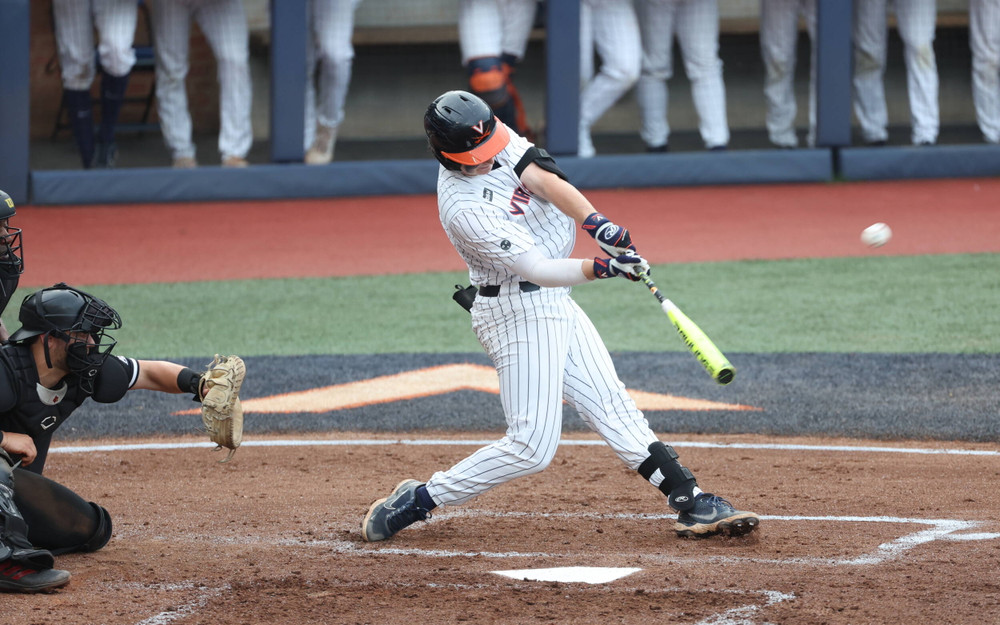 Among the highlights were Godbout's third home run of his UVA career, junior third baseman Jake Gelof's 20th homer of the season, and Anderson's RBI double in the fifth. That was Anderson's 23rddouble of the season, and he's now tied with Dan Street (2002) and Stephen Bruno (2012) for the program's single-season record.
Anderson nearly had a second home run in the seventh, but Louisville center-fielder Patrick Forbes leaped at the wall to record the out.
"Maybe I need a little help," Anderson said, smiling. "Maybe I need to do a couple more push-ups. But everyone was saying that guy got up above the wall."
The Cavaliers turned in several defensive gems themselves. UVA left-fielder Harrison Didawick robbed the game's first batter, Christian Knapczyk, of an extra-base hit with a running catch at the wall.
"It was crazy," Parker said of Didawick's play. "Our defense has been really good all year long, and they'll continue to be very good all year long. They do a great job of preparing themselves every day in practice, and we couldn't do what we do without them."
The series continues Saturday at 4 p.m., with the finale scheduled for 1 p.m. Sunday.
This is Heroes Appreciation Weekend at Disharoon Park, and current and former members of the U.S. military were recognized before and during the game Friday night. Anderson's father, J.R., is a former Navy SEAL, and he was among the veterans in the crowd.
To play well on such an occasion "makes it special, because I feel like a lot of people see me as the military kid with the short hair," said Anderson, who donates his NIL earnings to the Navy SEAL Foundation. "And so coming out on the field and doing it today, on military day, wearing the stars and stripes on my hat, just makes it special."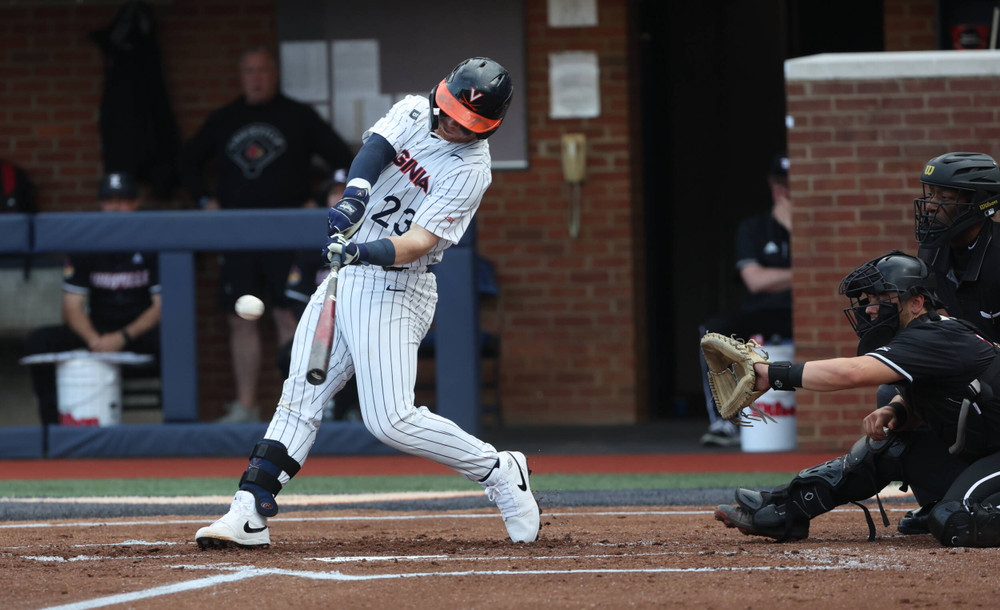 For the Cavaliers, this was their first series-opening win since April 7, when they defeated then-No. 20 Miami 14-2.
"It's huge," O'Connor said. "This is what we did in the first half of the ACC season—we won the first game on Friday night—and so that's certainly important. That said, it doesn't have anything to do with [Saturday or Sunday] but when you got the first one in your pocket, certainly that can make a difference and enhance your chances of potentially winning the series."
The Hoos, who have dropped three straight ACC series, are looking to host an NCAA tournament regional for the first time since 2016. To earn that reward, they need to be trending upward again. After completing this series against Louisville, Virginia will close the regular season with three games against Georgia Tech in Atlanta.
"I think we all have bought into that mindset of, it's playoffs from here on out," Parker said.
So far, so good for the Hoos, who are in their 20th season under O'Connor.
"I think it's just the playoff mentality and the approach that we've taken," Parker said. "If you want to win in the  playoffs, winning the first game is huge. We've collectively bought into treating every weekend from here on out as a playoff series, because that's what it is."
The Cavaliers shined in every aspect of the series opener.  "That said, it's game one," O'Connor said. "We have to move on. Louisville's got a great club and we're gonna have continue to play like we did tonight to have a chance to win [Saturday]."
Junior left-hander Connelly Early (9-1, 2.83 ERA), who's pitched primarily in midweek games this season, will start Saturday for Virginia. How the Cavaliers will use their other pitchers for the rest of the weekend has yet to be determined. Other than Parker and freshman left-hander Bradley Hodges, who pitched the final 2.2 innings Friday night, the Hoos "have everybody else available," O'Connor said.
"We're treating it one game at a time. We're treating it as if this is the playoffs, and we need to play it that way, because you have to play with a sense of urgency. Every game matters from here on out, so we're gonna do everything we can to win the game in front of us."
To receive Jeff White's articles by email, click the appropriate box in this link to subscribe.