Scott Stadium and John Paul Jones Arena Bag Policy and Entry Procedures
Virginia Athletics has a clear bag policy and entrance procedures for home football and men's and women's basketball games. The policy and entrance procedures are for large-scale events held on Grounds by the University of Virginia.
The policy limits the size and type of bags that can be brought into Scott Stadium and John Paul Jones Arena. The policy does not change the items fans may bring into the stadium and arena, but restricts the type of bag used to carry items.
Bags must be clear plastic, vinyl or PVC and cannot exceed 12″ x 6″ x 12″ or clear one-gallon plastic freezer bags (Ziploc bag or similar) are also permitted.
Small clutch bags/wallets no larger than 4.5″ x 6.5″ (with or without a handle or strap) can be taken into the stadium or arena and will be subject to search.
An exception will be made for items necessary for medical reasons after proper inspections at a gate designated for this purpose.
Prohibited bags include, but are not limited to: purses, wallets or clutches larger than 4.5″ x 6.5″, coolers, briefcases, backpacks, fanny packs, cinch bags, diaper bags, luggage of any kind, computer bags and camera bags or any bag larger than the permissible size.
Seat cushions and seat backs are permitted as long as they are not in a carrying bag.
Items needed for small children must be in a clear bag that meet the stated dimensions.
Screening procedures are used at all entry gates to Scott Stadium and John Paul Jones Arena. Walk-through and hand wand metal detectors are the primary means of screening. For guests who are unable to utilize a walk-through metal detector, hand-held metal detectors will be used.
The clear bag policy and entry procedures will also be in effect for most non-athletics public events that are ticketed and/or high-profile at Scott Stadium and John Paul Jones Arena.
Click here for Virginia's general facilities policies.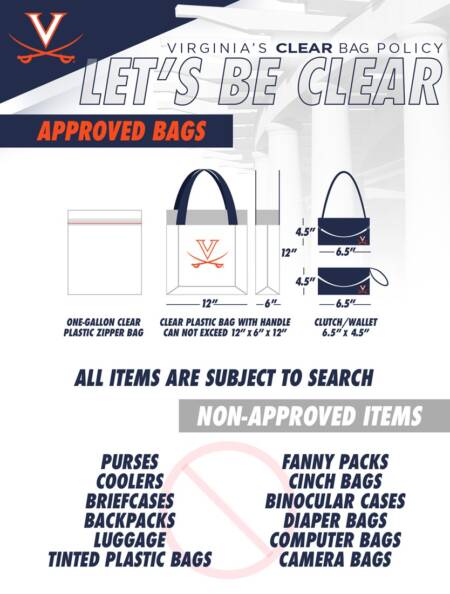 FAQs
Where are the security checkpoints be located?
Screening areas are located at all entrances to Scott Stadium and John Paul Jones Arena. All those in attendance – from fans to game day staff – will be required to pass through the security checkpoints in an effort to enhance security at the venue's events.
When will the venue doors open?
Scott Stadium gates and John Paul Jones Arena doors will open on our normal schedule – 90 minutes before the start of home football and 60 minutes before the start of home men's and women's basketball games.
How can I get through screening quickly?
Guests are strongly encouraged to leave bags and non-essential items at home or in their vehicles. Bags and extra items take more time to search and slow down the screening process. Guests do not need to remove jackets, coins, belts, jewelry, watches, etc. Follow these steps and screening should take only a few seconds.
How many bags can each person carry into a venue?
Each guest can enter Scott Stadium or John Paul Jones Arena with one large clear bag (12″ x 12″ x 6″ or one-gallon clear plastic freezer bag) and an approved purse, clutch or wallet (no larger than 4.5″ x 6.5″). The clutch or wallet can be carried separately from the clear bag and will be subject to search.
What items are prohibited?
Backpacks and large bags, outside food and beverages (including empty bottles), and weapons of any kind are among the prohibited items. For a full list of specific prohibited items, see UVA facilities policies here: http://www.virginiasports.com/facilities/policies.html
Do I have to put everything I'm carrying into the permissible bags?
No. Fans are limited only to the type of bags carried into the stadium, not items that they may normally bring to a game that fit in pockets or clutch bags (e.g., keys, makeup, feminine products, comb, phone, wallet, credit cards). Fans may carry a blanket or extra jacket over their arms, and binoculars and/or camera around their necks or in their hands without the case. Fans may also use the clear bag and clutch to carry these items and other permissible items. Every member of the family may carry in a permissible bag. Only prohibited items cannot be carried in clear bags into venues.
May fans carry cameras, binoculars, smart phones or tablets separately from what they put in a clear bag?
Yes. A phone, binoculars or cameras (as long as they are not in a bag or a case) may be carried into the stadium.
What will happen if I show up with a prohibited bag?
Guests that arrive to Scott Stadium or John Paul Jones Arena entrances with prohibited bags will not be permitted to enter the venue. In these cases, prohibited bags will need to be returned to guests' vehicles and/or residence. Guests can then return with an approved clear bag and gain entry into the venue after successful completion of the screening process.
What can fans substitute for diaper bags?
Diapers and other baby supplies can be carried in a clear bag. Each member of a family, including children, is allowed to carry one approved bag and a clutch that meets policy specifications into the stadium.
Can fans bring blankets and large jackets during cold weather?
Yes. Guests are welcome to carry blankets outside of a clear bag. Guests may bring extra coats and jackets into the athletics venues by tossing them over a shoulder or arm. Guests should be prepared to have jackets with pockets searched.
Are seat cushions allowed to be carried into the venue?
Only approved seat cushions and seatback may be carried into the venue. They cannot have pockets, zippers or be in their own carrying bag.
What happens if the metal detector used at the security checkpoint goes off?
When a metal detector wand is set off, guests will be asked to step aside for a brief secondary screening.
Where do guests with accessibility needs enter?
Guests with accessibility needs can enter at an accessible entrance. Event staff will assist through the screening process.
I have a medical device and will it be affected if I go through a metal detector? Where can I enter?
Guests with medical concerns should alert event staff personnel.
Why is Virginia doing this? Has there been a problem?
Virginia added these additional security measures as part of the University's overall strategy to ensure a safe environment for our students, faculty, staff and the thousands of visitors who come to our campus every year.
Will this policy affect the ability of fans to tailgate? Are there limitations on tailgating items?
The policy does not impact tailgating areas. The policy is for access to the venue.