Virginia Cavaliers Official Athletic Site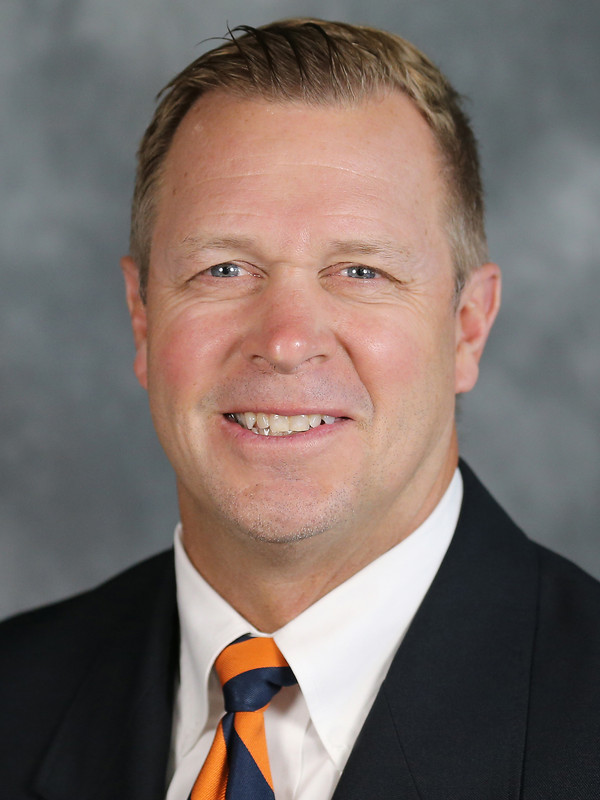 Since arriving at Virginia for the 2016 season, The Fralin Family Head Football Coach Bronco Mendenhall's impact on the Cavalier program has been immense. From a two-win season, to the ACC's Coastal Division Championship and a New Year's Six bowl invitation, Virginia football's ascent has both remarkable and historic.
Mendenhall came to Charlottesville after a highly successful 11-year career at BYU with a vision and a plan of execution for the daunting renovation project he faced. He has masterfully crafted principles and culture, and instilled pride and purpose, leading to a standard of unbroken growth in just five seasons.
Having a plan and being able to execute a strategic approach to achieving results have been mission critical to Mendenhall's formula for success.
"Teams and organizations are perfectly designed to get the results that they get," Mendenhall is fond of saying regarding both successes and failures. His pursuit of "unbroken growth" centers around learning, applying and improving on tools, frameworks, networks, innovation and processes that deliver those results. His ultimate goal is more expansive than building a great football organization. He strives to build great people.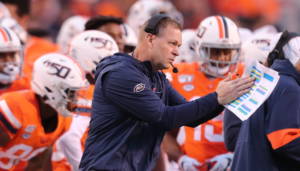 On-field success is just part of the story Mendenhall has scripted at Virginia. He is a powerful believer in balance, which he frequently sums up with one simple word … AND. It has become the calling card for the UVA football program.
"I think decisions are made based on principle, and I think principles are governed by beliefs," Mendenhall said. "AND is one of our guiding principles, and that is based on my belief that football is a vehicle to develop people."
At his introductory press conference, Mendenhall stressed that he wanted students AND athletes and believed that combination was achievable, especially at an institution such as Virginia that ranks among the top three public universities in the nation. Since that time, he has not compromised his approach to achieving those means. More importantly, his teams have bought in on the concepts with great enthusiasm and demonstrated they can do so while also being successful on the field.
"I would love to win a national championship," Mendenhall said. "I'd love to develop a great program here. But what I would really love is for every kid in my program to have an amazing life."
In the world of big-time football, Mendenhall's philosophy is unconventional, but that doesn't faze him.
"I'm looking for the complete development of everyone in our program – and winning," he said. "One is not at the expense of the other. I think they go hand-in-hand, and winning, without the other, would be hollow to me."
Under Mendenhall, the UVA program has progressed from two to six to eight to nine wins prior to the 2020 pandemic-shortened season that saw the Cavaliers go 5-5. Achievements and recognitions on the field, in the classroom and around the community have exponentially increased as well.
In 2019, UVA placed 10 players on the ACC All-Academic team, the most in the program's history. Seven earned the award in 2020 when a total of 34 Cavaliers received ACC Honor Roll honors. Also in 2019, linebacker Jordan Mack was named the ACC's Jim Tatum Award winner as the league's top football scholar-athlete and was a finalist for the William B. Campbell Trophy, known in the sport as the "academic Heisman." Linebacker Micah Kiser, now a member of the Los Angeles Rams, won the award in 2017.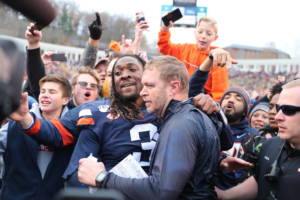 Giving back has become a cornerstone of Virginia football. Players frequently visit the University's Children's Medical Center and speak at local elementary schools. The team's Thursday's Heroes program has been recognized for its efforts to honor individuals across the state of Virginia who are dealing with personal adversity. In 2020, the ACC honored the Thursday's Heroes program with its "Game Changers" award, which recognizes and highlights specific conference teams' involvement with their local communities.
"I'm in pursuit, and we're in pursuit as a football program, of both of those things, and without compromising our expectations for one or the other," Mendenhall said. "I want good young people. I'm talking about morals, values, character, behavior and contribution to the world. And I want a great team. I know it sounds idealistic, but I would not coach football if I did not think it could be done, and I would not coach at Virginia if I did not think there was support for doing it that way."
Mendenhall's pursuit of individual growth is only magnified by the success his teams have also achieved on the field. His name appears often when the accolades of college football's leading active coaches are charted.
He completed the 2020 season with a career record of 129-75 that includes a 99-43 mark in 11 seasons at BYU. His career winning percentage (.632) ranks ninth among active Division I coaches (with at least 100 career wins) and his 129 victories is 102nd all-time in Division I. With seven career bowl victories, Mendenhall figures 12th among active coaches and 36th all-time in that category. During nine of his 16 seasons, his teams have been ranked in the Associated Press poll at some point.
Mendenhall is one of two active coaches to have inherited at least two programs in his career that were coming off a losing season and then, in year one, or year two, played in a bowl game. The other coach to do so is Nick Saban (Alabama, LSU, Michigan State).
Entering the 2021 season, with two more wins, Mendenhall will move into the top-100 for all-time coaching wins on the Division I level.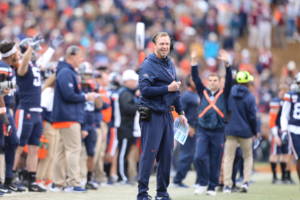 In Mendenhall's office, however, there are few mementos of his personal success or the multiple coaching award recognitions he has received. What you will find are artifacts from his personal journey and items that reflect the importance of his family. The walnut-colored bookcases provide a glimpse into his personal passion – the development of young people – in his case, through football.
An avid reader, Mendenhall consumes books dealing with psychology, organization, motivation, leadership, fitness, history and teaching. He shares influential information that he feels will benefit the team and also help players become outstanding people, fathers, husbands and ambassadors for the University.
While at BYU, with the assistance of authors, Alyson Von Feldt and Paul Gustavson, Mendenhall collaborated on the book "Running Into the Wind: Bronco Mendenhall — 5 Strategies for Building a Successful Team." In addition to his personal history, it openly presented the steps he took at his first coaching position and philosophies he adopted that could be used by other organizations. To his delight, Mendenhall discovered upon his arrival at Virginia, the book was included on several freshman class reading syllabuses.
Mendenhall has also provided feature articles on his approach to building a successful football program to the American Football Coaches Association and spoken on the subject at numerous coaches clinics around the nation. He freely shares his insights in the hopes that other coaches might take a similar path to the overall development of their teams and players.
UVA's program is built on a number of guiding principles, including one that states that everything is "earned not given." Mendenhall implemented a transparent scoring and tracking system that allows every Cavalier player to know exactly what his status is on the team. From state changes in the color of practice and conditioning apparel to the annual selection of jersey numbers, Virginia players truly progress through the program based on the choices they make and the effort they give. All of which is governed by a player council known as the task leaders.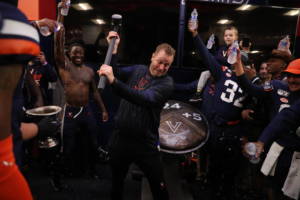 Whether it is directing workouts, community service efforts, or team events, creating a foundation of leadership and self-governance ensures continuity for the program's principals. It also sets the stage for players in his program to carry those roles with them as they leave college and become leaders in their communities, faith and business ventures.
His passion for building leaders through football, and not just better people, sets Mendenhall apart in his field.
If his approach sounds unconventional at times, Mendenhall is okay with that. He's grounded in routine, ritual and traditions, and behind his desk is a quote from Albert Einstein that reads: "Great spirits are always opposed by mediocre minds."
"I think decisions are made based on principle, and I think principles are governed by beliefs," Mendenhall said.
To show his commitment and belief to the future of the football program at Virginia, in 2018 Mendenhall and his wife, Holly, made a $500,000 pledge to support construction of the University's new football operations center as part of the athletics department's master plan project.
"To me, football is just a magical and powerful platform to have motivated learners, and I get to teach life lessons through the sport of football," Mendenhall said. "The trophies, the wins, they're necessary for job security and the world makes a big deal of that. But it is hollow without the substance. Relationships are everything. Other than that, it would just be a game, and that does not sound quite meaningful enough to me."
At Virginia
During the 2020 pandemic-shortened season, Mendenhall rallied his team from a 1-4 start to a 5-5 finish. With the health and welfare the top concern for his program, he overhauled the program's daily regiment and approach with an emphasis on safety first. As a result, UVA did not have to cancel any of its games due to pandemic. That season, the team saw its season-opening opponent change four times due to Covid-19 issues and protocols.
In 2019, in his fourth season with the Cavaliers, Mendenhall led the program to the Atlantic Coast Conference's Coastal Division title for the first time and its first appearance in the ACC Championship game. UVA appeared in its first New Year's Six bowl game, the Orange Bowl, and finished ranked No. 24 in the final College Football Playoff poll.
The Cavaliers played in the Military Bowl in 2017 and the Belk Bowl in 2018. Virginia has appeared in three consecutive bowls for the first time since going to four in a row in 2002, 2003, 2004 and 2005.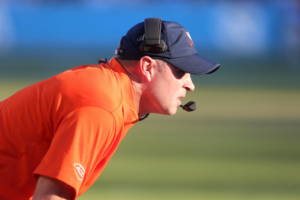 In 2019, senior quarterback Bryce Perkins capped a brilliant two-year career as a Hoo by breaking the UVA single-season passing record and his own UVA single-season total offense record from 2018. Perkins finished the 2019 season with 3,538 passing yards and 4,307 yards of total offense.
Perkins spearheaded an offense that is No. 1 all-time in program history with 449 points. Wide receiver Joe Reed earned multiple first-team All-America honors as a kick returner, including from the Walter Camp Foundation and the Football Writers Association of America, while winning the Jet Award as the nation's top returner. He finished No. 1 in the nation with 33.2 yards per kick return. Reed was the only player in the nation with 600+ receiving yards and 700+ kick return yards, earning finalist honors for the Paul Hornung Award as the nation's most versatile player.
Despite losing multiple starters on the defensive side of the ball for the season, UVA broke the program record for sacks in a season. The Chris Long-led defense in 2007 set the standard with 43, and the 2019 edition concluded the year with 46, which ranked No. 6 in the nation. Inside linebacker Jordan Mack leads all ACC linebackers with 7.5 sacks. In all, 27 of UVA's 46 sacks were recorded by linebackers.
In 2019, Mendenhall was named the Bobby Ross Coach of the Year by the Touchdown Club of Richmond as the Commonwealth's top whistle for his efforts for the second year in a row. He first earned the accolade in 2018 after the Cavaliers shut out South Carolina, 28-0, in the 2018 Belk Bowl, giving them their first bowl victory since the 2005 Music City Bowl. UVA's shutout performance was the first over an SEC team in a bowl game by a non-SEC team since the 1975 Gator Bowl.
Year number three under Mendenhall saw great strides in performance on the field. UVA's defense finished No. 20 in the country, allowing 330.5 yards per game, while finishing No. 21 in the nation in scoring defense (20.1). UVA's defense also finished No. 16 in the nation in fewest passing yards allowed and the offense finished No. 6 in the nation in third-down conversion percentage.
Perkins and Heisman Trophy winner Kyler Murray (Oklahoma) were the only players in the nation with 2,600+ passing yards and 900+ rushing yards. Under Mendenhall in 2018, Bryce Hall earned second-team All-America honors from both the Walter Camp Foundation and the Football Writers Association of America. Hall led the nation with 22 pass breakups and 24 passes defended. Hall, safety Juan Thornhill and wideout Olamide Zaccheaus all earned first-team All-ACC accolades, leading UVA's eight selections. Thornhill finished 2018 third in the nation with six interceptions and Zaccheaus, the 2018 Belk Bowl MVP, was No. 1 in the ACC with 93 receptions (a UVA single-season record). Zaccheaus left UVA with a program-record 250 career receptions, which ranks No. 6 all-time in ACC history.
More "firsts" for UVA during Mendenhall's tenure include quarterback Kurt Benkert's final college season in 2017, when he became the first player in UVA history to throw for more than 3,000 yards in a season. In 2016, running back Taquan Mizzell became the first player in ACC history to record at least 1,500 career rushing and 1,500 career receiving yards. Benkert reached 1,000 yards passing and 2,000 yards passing faster than any other quarterback in UVA history, doing so in four and eight games, respectively.  He matched that feat again in 2017.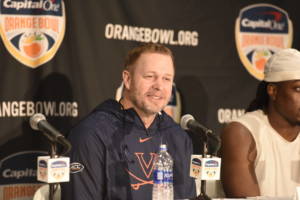 The 2017 defense ranked No. 7 in the nation against the pass (165.8). The group was headed by three-time first-team All-ACC player Quin Blanding, ACC Defensive Rookie of the Year Brenton Nelson and third-team All-ACC cornerback Thornhill. Blanding finished his illustrious career with more All-America honors and as UVA's all-time record holder with 495 career tackles. The 495 career tackles tied for No. 6 all-time in ACC history and are the most by any ACC defensive back. Kiser, the 2017 Campbell Trophy winner, led the ACC in tackles for the third year in a row, joining Boston College's Luke Kuechly (2009-11) as the only players to accomplish the feat in league history. Kiser was also a three-time first-team All-ACC honoree and received multiple All-America honors over the 2016 and 2017 seasons, including becoming the first Cavalier since Tiki Barber in 1996 to earn both academic and athletic All-America honors in the same season when he was a second-team CoSIDA Academic All-American in 2016.
Mendenhall came to Charlottesville after 11 seasons (2005-15) as the head coach at Brigham Young University. At BYU, Mendenhall compiled an overall record of 99-43, ranking 12th in total wins among all FBS teams during that time.
BYU
In the three seasons prior to Mendenhall becoming their head coach, the Cougars compiled an overall record of 14-21. Over Mendenhall's 11 years at BYU, the Cougars were one of only 11 programs to advance to a bowl game each season. The others were Alabama, Boise State, Clemson, Florida State, Georgia, LSU, Oklahoma, Oregon, Virginia Tech and Wisconsin during that time frame.
Among those 11 teams, only Florida State achieved more bowl wins (seven) than than BYU (six) during that span.
More than 60 of Mendenhall's BYU players signed with NFL teams, including defensive end Ezekiel Ansah, the No. 5 overall pick in the 2013 NFL Draft and Kyle Van Noy, the No. 40 overall pick in the 2014 NFL Draft.
Under Mendenhall, the Cougars tied for seventh among all FBS programs for the most Academic All-America citations during his 11 seasons in Provo and BYU topped all FBS programs with the most selections (39) to the National Football Foundation Hampshire Honor Society (recognizing starters and significant contributors finishing their eligibility with a 3.2 GPA or better over their college career) during that same time period.
Mendenhall took over as BYU's defensive coordinator in 2003 before being named the Cougars head coach in 2005.
In 2015, Mendenhall led BYU to a 6-5 regular-season record and earned an invitation to the Maaco Bowl Las Vegas — the team's first postseason bowl appearance in three seasons. The Cougars finished tied for second in the MWC with a 5-3 league ledger.
Following the 2006 season, Mendenhall was named the American Football Coaches Association Region IV Coach of the Year. In addition, the Football Writers Association of America named Mendenhall one of nine finalists for the prestigious Eddie Robinson Coach of the Year Award. By 2007, Mendenhall became the only coach in BYU football history to win 25 games in his first 35 attempts. Mendenhall coached the Cougars to back-to-back 11-2 seasons in 2006 and 2007, while claiming consecutive outright MWC titles with a combined record of 16-0 against league opponents.
In 2008, BYU finished 10-3 overall and 6-2 in the MWC to achieve three straight 10-win seasons and become the first teams in Cougar history to go unbeaten at home over three consecutive seasons.
While recording an 11-2 record and 7-1 league mark in 2009, Mendenhall's team went 3-1 against ranked opponents, including a 14-13 season-opening win over No. 3 Oklahoma and a 44-20 season-finale Maaco Bowl Las Vegas victory over No. 16 Oregon State. BYU finished No. 12 in the final 2009 polls to earn the distinction of being one of only six programs nationally to be ranked in both final polls for four straight seasons.
The 2010 campaign was highlighted by BYU's 52-24 New Mexico Bowl victory and in 2011, the Cougars posted yet another 10-win season, capped off by another comeback bowl victory over Tulsa in the Armed Forces Bowl. That season the BYU defense finished the season as the No. 13 ranked overall defense in the nation.
That dominant defense was present again in 2012 and led BYU to its seventh winning season in as many years as the BYU football team finished the 2012 season with eight wins, a program-best fourth consecutive bowl victory. With an 8-5 record, BYU claimed its sixth season with at least eight wins under Mendenhall's eight-year head coaching tenure. Incredibly consistent all year long, BYU finished the year ranked No. 3 in total defense, allowing just 266.1 yards per game. The Cougars ended the season ranked in the top four in five major defensive categories.
BYU posted back-to-back 8-5 records in 2013 and 2014. The Cougars appeared in the 2013 Fight Hunger Bowl and in the 2014 Miami Beach Bowl.
Mendenhall has served as the BYU's defensive coordinator for much of his tenure as the head coach. He returned to a full-time role with the defense again in 2015.
During his tenure in Provo, the Cougars have consistently fielded one of the nation's strongest defenses. Mendenhall's defense excels at keeping opponents out of the end zone. Entering the 2015 season, they averaged a No. 20 national ranking in scoring defense while he oversees the defense, including three top-10 ratings.
While at BYU, Mendenhall worked to implement many of his outreach initiatives. On the night before Cougar road games, the team would visit with local Church of Jesus Christ of Latter-Day Saints members. Mendenhall dubbed them "firesides," a 60-minute period when players would speak, sing and interact all in the name of faith. From a crowd of 13 at the first such gathering, they grew to where more than 150,000 people attended them during his 11 years in Provo. At the events, Mendenhall and players shared their thoughts about character, faith, values and being the best you can be – all aligning to the mission of the University and the mission of the football program.
Playing Days and Early Coaching Career
Mendenhall played for two years at Snow College (Utah) before finishing his career as a starter at Oregon State during the 1986 and 1987 seasons. He played both linebacker and safety for the Beavers.
Mendenhall began his coaching career as a graduate assistant in 1989 at his alma mater, Oregon State. After earning his master's degree in 1990, he moved to Snow College in Ephraim, Utah, where he served as the secondary coach and defensive coordinator from 1991-92 under BYU assistant coach Paul Tidwell. Following two seasons with the Badgers, Mendenhall became the secondary coach at Northern Arizona, where the Lumberjacks boasted the top-ranked defense in the Big Sky Conference. He was elevated to co-defensive coordinator for the 1994 season.
In 1995, Mendenhall returned to Oregon State to become the defensive line coach under then-defensive coordinator Rocky Long. When Long left to become the defensive coordinator at UCLA, Mendenhall was promoted to defensive coordinator for the 1996 season. At just 29 years of age, Mendenhall became the youngest defensive coordinator in Pac-10 history.
In 1997, Mendenhall became the secondary coach at Louisiana Tech where he helped the Bulldogs to a 9-2 record as his defensive unit was credited with 17 interceptions, allowing just 15 touchdowns on the season.
In 1998, Mendenhall moved to Albuquerque, N.M., to become the defensive coordinator and secondary coach at the University of New Mexico. Over the next five seasons, the Lobos improved from just three wins in 1998 to seven wins and an invitation to the Las Vegas Bowl in 2002. In the Lobos' 27-13 loss against UCLA in the Las Vegas Bowl, the Mendenhall-led defense held the Bruins to a season-low 167 yards.
Under Mendenhall, the Lobos led the Mountain West Conference in rushing defense for three straight seasons. In 2001, New Mexico gave up just 87.4 yards per game over the season. In his final season in Albuquerque, Mendenhall led the Lobos to a top ranking against league opponents in total defense, allowing just 316.4 yards per game. The Lobos also led the MWC in sacks in the 2000 and 2002 season, totaling 46 and 38, respectively.
At New Mexico, Mendenhall played a valuable role in the development of the 1999 Mountain West Player of the Year, Consensus All-American and first-round NFL Draft pick Brian Urlacher. The ninth overall selection in the 2000 NFL Draft, Urlacher was voted the NFL's Defensive Rookie of the Year and was a Pro Bowl selection.
Mendenhall and his wife, Holly, have three sons, Raeder, Breaker and Cutter. Breaker is a sophomore on the Utah State team where he plays outside linebacker.
Personal
Born: Feb. 21, 1966 in Alpine, Utah
Family: Wife, Holly, and sons, Raeder, Breaker and Cutter.Education
High School: American Fork High School, American Fork, Utah, 1984
College: Oregon State (Phys. Ed.), 1988
Graduate School: Oregon State (Master's of Education, Exercise Physiology), 1990
Playing Experience
Snow College JC (1984-85)
• Gridwire All-American
• Team captain
• NJCAA National Champions (1985,11-0)
Oregon State (1986-87)
• Played safety and linebacker; team captain (1987)
• Leo Gribkoff Memorial Award (1987) given to the most inspirational player
Bronco Mendenhall Coaching Record
BYU (99-43)
Year
Overall
Conference
Place
Postseason
2005
6-6
5-3 MWC
2nd
Las Vegas Bowl
2006
11-2
8-0 MWC
1st
Las Vegas Bowl
2007
11-2
8-0 MWC
1st
Las Vegas Bowl
2008
10-3
6-2 MWC
3rd
Las Vegas Bowl
2009
11-2
7-1 MWC
2nd
Las Vegas Bowl
2010
7-6
5-3 MWC
3rd
New Mexico Bowl
2011
10-3
Independent
N/A
Armed Forces Bowl
2012
8-5
Independent
N/A
Poinsettia Bowl
2013
8-5
Independent
N/A
Fight Hunger Bowl
2014
8-5
Independent
N/A
Miami Beach Bowl
2015
9-4
Independent
N/A
Las Vegas Bowl
BYU Total
99-43
39-9 MWC
11 Bowl Appearances
VIRGINIA (30-32)
Year
Overall
Conference
Place
Postseason
2016
2-10
1-7
T6th
2017
6-7
3-5
T4th
Military Bowl
2018
8-5
4-4
T3rd
Belk Bowl
2019
9-5
6-2
1st
Orange Bowl
2020
5-5
4-5
9th
Opt Out
2021
6-6
4-4
t3
Fenway Bowl*
UVA Total 
36-38
22-27
3 Bowl Appearances
Career Total
135-81
62-36
14 Bowl Appearances
 
 
* Bowl canceled due to COVID-19