Virginia Cavaliers Official Athletic Site
Curome Cox
Defensive Passing Game Coordinator / Defensive Backs
Position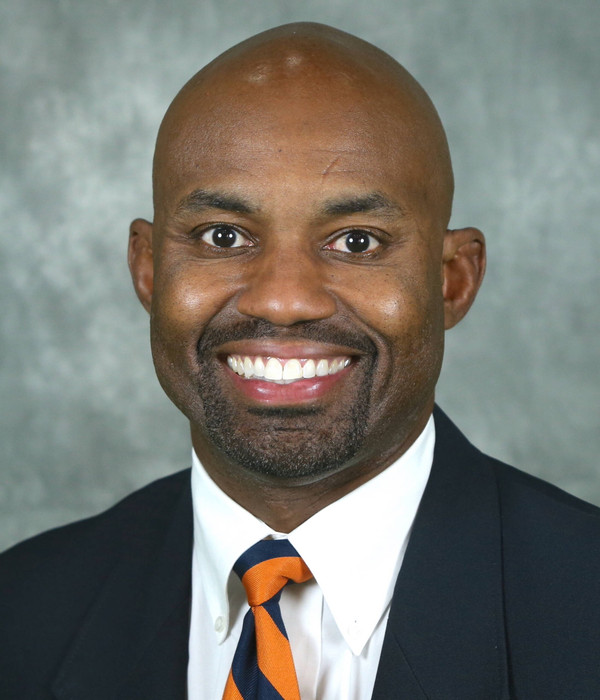 Curome Cox (curr-OHM) is in his second season as the Cavaliers' defensive backs coach and defensive passing game coordinator. He was instrumental in the defensive improvement in 2022. The unit ranked No. 3 in the ACC in pass defense, No. 5 in average sacks per game and No. 5 in passing efficiency.
Prior to UVA, he spent the 2020 and 2021 seasons as the defensive backs coach at Air Force, working with current UVA defensive coordinator John Rudzinski.
The UVA defense showed considerable improvement in 2022. The unit ranked No. 3 in the ACC in pass defense, No. 5 in average sacks per game and No. 5 in passing efficiency.
The Cavaliers ranked No. 24 in the nation in yards per play (4.97) and were 29th in points surrendered per possession. Among Power 5 Conference schools, UVA was highly effective in minimizing big plays (20+ yards), allowing only 3.2 per contest.
In 2021, Air Force went 10-3 and defeated Louisville 31-28 in the SERVPRO First Responders Bowl. Air Force shared the Mountain West Conference's Mountain Division title with a 6-2 league mark.
The Falcons finished the 2021 campaign fourth in the nation in total defense, allowing just 296.5 yards per game, was ninth in rushing defense (102.2 ypg.) and was 19th in passing yards allowed (194.4 ypg.). Air Force's top three tacklers all came from Cox's secondary players. The trio of free safety Trey Taylor, defensive back Tre Bugg and strong safety Corvan Taylor accounted for 182 total tackles, six interceptions and 19 pass defenses.
In 2020, Cox's first season at the Academy, two of the team's top three tacklers came from the secondary. That defense ranked No. 3 nationally in scoring defense (15.0 ppg.) was No. 6 in total defense (303.3 ypg.), No. 5 in passing yards allowed (166.8 ypg.) and No. 4 in red zone defense (.692).
Cox coached four Falcons who received postseason all-star invitations including Bugg who played in the 2022 Hula Bowl.
A standout defensive back at Maryland who went on to play 43 NFL games with the Denver Broncos and Houston Texans, Cox coached at Connecticut from 2017-18, where he also mentored the Huskies' defensive backs.
Cox coached both defensive backs and special teams at Coastal Carolina from 2013-2017, helping the program to Big South Conference championships in 2013 and 2014. In 2016, Coastal led all of the Football Championship Subdivision in interceptions.
Cox started his coaching career as a graduate assistant at Maryland for two years beginning in 2010. As a player, Cox was part of Terrapin squads that played in the 2002 Orange Bowl, 2003 Peach Bowl and 2004 Gator Bowl. In the Peach Bowl, he returned an interception 54 yards for a touchdown. Cox still ranks seventh on Maryland's all-time list for career interceptions with 10.
Cox played three NFL seasons. First signed by the Atlanta Falcons as an undrafted free agent in 2004, he was part of Broncos teams that won the 2005 AFC West Title and reached the 2006 AFC Championship Game. He started five games for the Broncos over those two seasons, recording two interceptions along with 46 tackles and five passes defended.
A standout special-teams player, he was a finalist for the 2006 AFC Special Teams Player of the Year Award. In 2007, he played in seven games with the Texans as part of one of the top kickoff return units in the league.