Virginia Cavaliers Official Athletic Site
Garett Tujague
Recruiting Coordinator / Offensive Line
Position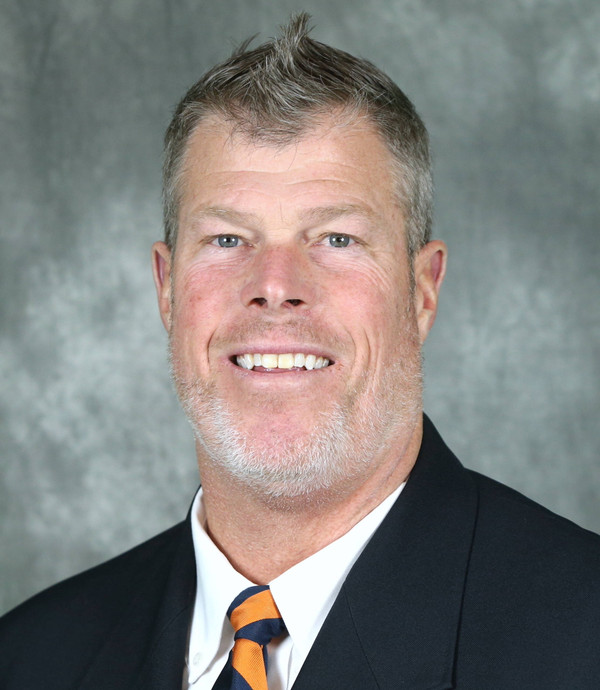 Garett Tujague is entering his seventh season at Virginia as the program's the offensive line coach. In 2022 he also takes on the role as the coaching staff's recruiting coordinator.
Tujague's units have helped UVA amassed over 5,000 yards of total offense in 2018, 2019 and 2021. Prior to that stretch, UVA only surpassed 5,000 yards of total offense four times in program history. Tujague's veteran offensive line in 2021 saw three different players named to All-ACC teams including center Olusegun Oluwatimi who earned All-America honors by several organizations and became the program's first Rimington Trophy finalist.
The 2021 unit blocked for quarterback Brennan Armstrong who broke single season records for touchdown passes (31), passing yards (4,449) and total offense (4,700). Armstrong's passing yards are the fourth most in the history of the ACC and 145 yards away from breaking the all-time ACC mark. Armstrong is poised to become the first quarter back in ACC history to average over 400 yards per game. No other signal caller in the history of the ACC has averaged over 348.
The 2021 Virginia offense was the first in program history to average over 300 yards passing per game. It's 396.2 yards per game of offense is the second-highest average in the nation. In 12 games UVA averaged 515.8 yards per game of total offense, one of five programs in the country to average over 500 yards per game in 2021. The 515.8 yards are the most in school history.
Under Tujague, the 2020 season boasted one of UVA's deepest offensive lines since Tujague's arrival in December 2015. All-ACC offensive guard Chris Glaser and company ranked No. 1 in the ACC and No. 12 in the nation in tackles for loss allowed (4.2), while also ranking No. 2 in the ACC with 2.0 sacks allowed a game. Protecting quarterback Brennan Armstrong, the offensive line helped the UVA signal caller rank No. 3 in the ACC and No. 18 in the nation with 296.6 yards of total offense a game and No. 8 in the nation among non-option quarterbacks with 552 yards rushing.
The 2019 season was special one in Charlottesville as the Cavaliers won the Atlantic Coast Conference's Coastal Division for the first time and made their first appearance in the ACC Championship game. UVA appeared in its first New Year's Six bowl game, the Orange Bowl, and finished ranked No. 24 in the final College Football Playoff poll and No. 25 in the final USA Today coaches poll. It is UVA's first string of three-straight bowl appearances since UVA went to four bowl games between 2002 and 2005.
Tujague's (TOO-jay) offense line blocked for an offense that broke five team records in 2019, which includes most first downs (296), first downs passing (180), completions (337), passing yards (3,748) and points scored (449). UVA also tied the 1990 team for most touchdowns (56), while the UVA offense in 2019 averaged 33.2 points per game, which is No. 2 all-time to Virginia's 1990 team. UVA amassed over 5,000 yards of total offense in both 2018 and 2019, which marks only the second time in program history UVA has done that in back-to-back seasons. Prior to Mendenhall and Tujague's arrival, UVA only surpassed 5,000 yards of total offense four times.
Heading Tujague's offensive line was All-ACC center, Olusegun Oluwatimi, who set the pass protection and had a 97 percent target success rate in five-on-five/six protections, while allowing zero sacks and zero quarterback hits in 2019 on Bryce Perkins. Blocking for Perkins in 2019, Tujague's line saw the senior quarterback collect the top two spots in the Cavalier record book for single-season and single-game total offense. Perkins' program record for single-season total offense (4,307) in 2019 ranked No. 6 nationally and No. 1 in the ACC. A second-team All-ACC honoree, Perkins also set the single-season passing record at UVA with 3,538 passing yards in 2019, which ranked No. 16 in the nation and No. 3 in the ACC. Perkins was a special quarterback for the Cavaliers as he and Oklahoma's Jalen Hurts were the only players in the nation in 2019 with 3,000+ passing yards and 700+ rushing yards.
Tujague's offensive line in 2018 assisted in helping block for an offense that scored 370 points in 2018, the fifth-most points scored ever by a Cavalier football team. At the time Perkins shattered UVA's single-season record for total offense (3,603), which ranked No. 3 in the ACC and No. 21 in the nation. Perkins and 2018 Heisman Trophy winner Kyler Murray (Oklahoma) were the only two players in the nation with 2,600+ passing yards and 900+ rushing yards. Olamide Zaccheaus finished his senior season No. 1 in the ACC and No. 5 in the nation with 93 receptions. Zaccheaus concluded his career with 250 receptions, No. 1 all-time at UVA and No. 6 all-time in ACC history. Zaccheaus (1,058 receiving) and Jordan Ellis (1,026 rushing) gave UVA a 1,000-yard receiver and 1,000-yard rusher in the same season for just the second time in program history (1990).
In 2017 Tujague coached an offensive line that blocked for quarterback Kurt Benkert's record-breaking season. The UVA senior quarterback became the first player in program history to throw for over 3,000 yards in a season. Benkert finished the season with 3,207 passing yards and a single-season program record 298 completions. Benkert's 25 passing touchdowns in 2017 rank No. 2 all-time at UVA for a season. Anae's offense also created the first UVA receiving trio to each amass at least 600 receiving yards in the same season as Zaccheaus (895), Andre Levrone (689) and Doni Dowling (647) accomplished the feat.
In 2016, Tujague oversaw a line headed by Rimington Trophy watch list member Jackson Matteo and four-year starter Eric Smith.  Tujague's line helped make UVA running back Taquan Mizzell become the first player in ACC history with at least 1,500 career rushing and 1,500 career receiving yards. Benkert set a couple passing marks in front of Tujague's line, including a program record for passing yards in a game with 421 against Central Michigan, which he bested in 2017 against UConn (455). Benkert also became the fastest quarterback in a season to reach 1,000 and 2,000 yards of passing, doing so in four and eight games, respectively. Benkert accomplished that feat in 2016 and 2017.
Tujague was Mendenhall's offensive line coach at BYU from 2013-15 after serving 15 years at the College of the Canyons in Santa Clarita, Calif., from 1997-2012, the last six as head coach. Under his direction, the COC Cougars earned a 43-25 record and received five bowl invitations in his six seasons. Under Tujague's guidance, BYU center Tejan Koroma earned freshman All-America honors in 2014 after helping BYU rank No. 14 in the nation in scoring.
While at College of the Canyons, Tujague coached and developed three conference players of the year, an all-state player of the year, eight all-state athletes and five JC All-Americans at COC. His teams earned three postseason wins and he was named the Southern California Football Association National Conference Coach of the Year in 2008 following a 12-1 season. He was also honored as the Western States Conference Co-Coach of the Year in 2007 after a 9-3 record.
Prior to his promotion to head coach in 2007, Tujague served nine years as assistant head coach and offensive line coach at COC under Chuck Lyon, helping build the program upon its reinstatement in 1998 after 17 years without football. Before College of the Canyons, he coached at Chabot College from 1993-95 and the University of Redlands from 1996-97. While at Redlands, the Bulldogs won two Southern California Intercollegiate Athletic Conference Championships.
As a player, Tujague was a left guard at BYU under LaVell Edwards from 1989-1991 after two years at Chabot College, where he earned All-America honors as an offensive lineman. After redshirting at BYU in 1989, he contributed to the Cougars' second-straight 10-3 season and top-25 final ranking in 1990. Statistically, the offense ranked No. 2 in the nation at 565.8 yards per game while also rating No. 2 in scoring, putting up 42.5 points per contest.
As a senior in 1991, Tujague earned starting duties protecting Heisman Trophy winner and consensus All-American quarterback Ty Detmer. The Cougar offensive front helped BYU rank No. 5 in total offense at 479.5 yards per outing and No. 11 nationally in scoring at 35 points per game. The Cougars won the conference championship all three seasons Tujague was in Provo.
Tujague received a bachelor's degree in recreation management from BYU in 1992 and a master's degree in educational counseling from the University of Redlands in 1997. A native of Pleasanton, Calif., Tujague and his wife, Cami, are the parents of three children.
Coach Tujague  (TOO-jay)
Hometown
Pleasanton, Calif.
High School
Amador Valley HS, Pleasanton, Calif., 1987
College
BYU, 1992
Graduate School
University of Redlands, 1997, M.A. educational counseling
Family
wife, Cami; three children
Playing Experience
BYU (1989-91)
Chabot College (1987-88)
Coaching Experience
1993-95 – Chabot College
Assistant Coach
1996-97 – University of Redlands
Assistant Coach
1998-2006 – College of the Canyons
Offensive Line
2007-12 – College of the Canyons
Head Coach
2013-15 – BYU
Offensive Line
2016-present – Virginia
Offensive Line
Postseason Experience
Holiday Bowl (1989) – player
Holiday Bowl (1990) – player
Holiday Bowl (1991) – player
Graffiti Bowl (1995)
McDonald's Community College Bowl (1998)
Southern California Bowl (1999)
Western State Conference Bowl (2000)
Western State Conference Bowl (2001)
Southern California Bowl (2002)
Western State Conference Bowl (2003)
Western State Conference Bowl (2004)
Western State Conference Bowl (2005)
Western State Conference Bowl (2007)
Western State Conference Bowl (2008)
Golden Empire Bowl (2010)
Southern California Bowl (2012)
Fight Hunger Bowl (2013)
Miami Beach Bowl (2014)
Las Vegas Bowl (2015)
Military Bowl (2017)
Belk Bowl (2018)
Orange Bowl (2019)
Former Prominent Players Coached
Tejan Koroma (BYU)
De'Ondre Wesley (BYU)
Karim Barton (College of the Canyons)
Caylin Hauptmann (College of the Canyons)
Mychal Rivera (College of the Canyons)
Jason Pierre-Paul (College of the Canyons)
Eric Smith (Virginia)
Marcus Applefield (Virginia)