Virginia Cavaliers Official Athletic Site
Kelly Poppinga
Co-Defensive Coordinator/Linebackers
Position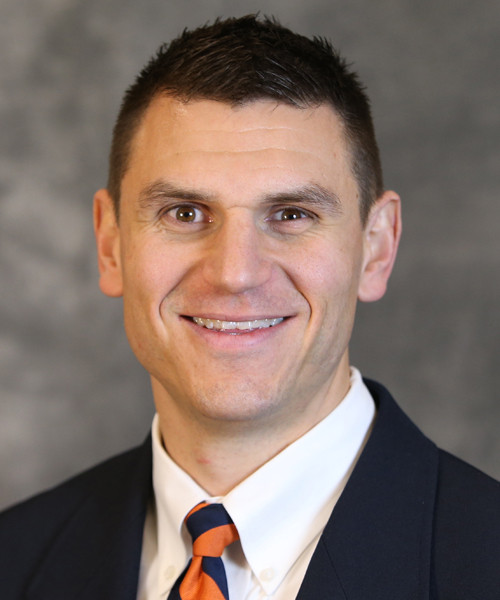 Kelly Poppinga is in his sixth season at Virginia on Bronco Mendenhall's staff and is the linebackers coach. On April 5, 2018 Poppinga (PUH-ping-guh) was promoted to co-defensive coordinator. From 2016-20 Poppinga worked with just the outside linebackers.
Under Poppinga's guidance, OLB Charles Snowden, despite missing most of the last three games of 2020 with a season-ending injury, led the ACC's linebackers with 0.75 sacks per game, was No. 13 in the nation among linebackers with 6.0 sacks, No. 3 in the ACC among linebackers with 1.2 tackles for loss per game and No. 15 in the nation among linebackers with 10.0 tackles for loss.
The 2019 season was special one in Charlottesville as the Cavaliers won the Atlantic Coast Conference's Coastal Division for the first time and made their first appearance in the ACC Championship game. UVA appeared in its first New Year's Six bowl game, the Orange Bowl, and finished ranked No. 24 in the final College Football Playoff poll and No. 25 in the final USA Today coaches poll. It is UVA's first string of three-straight bowl appearances since UVA went to four bowl games between 2002 and 2005.
Despite losing multiple starters on the defensive side of the ball for the season, UVA broke the program record for sacks in a season in 2019. The Chris Long-led defense in 2007 set the standard with 43, and the 2019 edition concluded the year with 46, which ranked No. 6 in the nation. In all, 27 of UVA's 46 sacks were recorded by linebackers, which includes 13.5 by Poppinga's outside linebackers. UVA also finished No. 22 in the nation in tackles for loss in 2019, led by outside linebacker Noah Taylor's 13.5 tackles for loss. Taylor also had seven sacks, finishing No. 2 on the team and No. 2 in the ACC among linebackders (behind teammate Jordan Mack).
In 2018 Poppinga's outside linebackers were key in helping UVA finish No. 12 in the nation in team passing efficiency defense (107.62), No. 16 in passing yards allowed (183.0), No. 20 in the nation in team defense (330.5) and No. 20 in scoring defense (20.1). UVA's 28-0 drubbing of South Carolina in the 2018 Belk Bowl was the first time an SEC team was shutout in a bowl by a non-SEC team since the 1975 Gator Bowl. Snowden led the nation's linebackers with nine pass breakups and 11 passed defended. Chris Peace concluded his senior season No. 1 in the ACC among linebackers with 7.5 sacks, the second year in a row he accomplished this feat. Peace, a third-team All-ACC honoree in 2018, went on to star in the East-West Shrine All-Star Game.
Poppinga was also the special teams coordinator in 2016 and 2017 before the addition of a 10th assistant coach per NCAA legislation and the hiring of current special teams coordinator Ricky Brumfield.
In his two seasons as the special teams coordinator he had a few special Cavaliers. Poppinga coached the ACC's best kick return man in 2017 as Joe Reed led the league with a 29.7 average. Reed also led the league with two kick returns for touchdowns, a first in program history that a player had more than one in the same season. Reed also ranked No. 8 in the nation in yards per kick return. Poppinga also had two of the ACC's better punters in 2016 and 2017. Lester Coleman earned second-team All-ACC honors and was No. 4 in the league with a 43.7 yards per punt average in 2017. Coleman led the ACC with 23 punts of 50 yards or more, while ranking No. 2 in the ACC and No. 7 in the nation with 29 punts inside the 20.
In 2016 Poppinga also oversaw one nation's most effective punters as Nicholas Conte was named a first-team All-ACC honoree and led the league with a 44.3 yards per punt average. The Ray Guy Award semifinalist led the nation through regular season with 34 punts inside the 20 and with 15 punts inside the 10, while six of his punts were downed at the one. Conte was No. 3 in the nation before bowl season with 23 punts of 50 yards or more. Between Conte's punts and the punt coverage team, 80 percent of UVA's punts were not returned. Conte concluded his UVA career No. 1 all-time at UVA and No. 3 all-time in the ACC with a 44.45 yards per punt average.
Poppinga coached outside linebacker Peace to honorable mention All-ACC honors in 2017. Peace ranked No. 5 in the ACC and No. 1 among linebackers with 7.5 sacks. The 7.5 sacks rank No. 7 among the nation's linebackers.
Poppinga started his collegiate coaching career at BYU, which began in 2009 as a defensive intern on Mendenhall's staff. In 2010 Poppinga was a defensive graduate assistant and interim outside linebacker coach. His first full-time position came in 2011 when Poppinga was elevated to linebacker coach.
From 2013-15 Poppinga was BYU's special teams coordinator and outside linebackers coach.
Poppinga helped outside linebackers Kyle Van Noy and Alani Fua advance to the NFL in recent years with Van Noy selected by the Detroit Lions in the second round of the 2014 NFL Draft and Fua earning a spot with the Arizona Cardinals in 2015.
In 2014 BYU ranked No. 20 in rushing defense and Poppinga helped a defensive unit finish the 2015 regular season ranked No. 6 nationaly in sacks per game and No. 15 in tackles for loss. Under Poppinga, BYU's special teams also ranked No. 7 in punting average and No. 19 in kick return coverage in 2014.
Poppinga assisted one of BYU's best-ever defenses in 2012 when the Cougars finished No. 3 in the nation in total defense and ranked in the top 10 in six different defensive categories.
Poppinga started his coaching career at BYU in 2009 as the defensive intern and contributed to the team's 11-2 record and 44-20 Maaco Bowl Las Vegas victory over No. 16 Oregon State. After the team's 1-4 start in 2010, Poppinga was asked as the defensive graduate assistant to assume the role as outside linebackers coach and helped the Cougars finish 6-2 over the remaining games, including a 52-24 win over UTEP at the New Mexico Bowl.
As a player, Poppinga was an All-Mountain West Conference linebacker and Academic All-MWC honoree at BYU under Mendenhall while helping the Cougars achieve back-to-back conference championships in 2006 and 2007. Poppinga redshirted Mendenhall's first season as head coach at BYU in 2005 after transferring from Utah State where he played two years (2003-04). Poppinga helped BYU achieve Las Vegas Bowl wins over Oregon and UCLA and led the team with 113 tackles his senior season. He spent the 2008 season with three NFL teams before going to Super Bowl XLIII with the Arizona Cardinals.
A native of Evanston, Wyo., Poppinga has completed bachelor's (2007) and master's (2010) degrees from BYU in exercise science. Poppinga and his wife, Rebekah, have four daughters.
Coach Poppinga (PUH-ping-guh)
Hometown
Evanston, Wyo.
High School
Evanston HS, Evanston, Wyo., 2003
College
BYU, 2007
Graduate School
BYU, 2010, M.A., exercise science
Family
wife, Rebekah; four daughters
Playing Experience
Utah State (2003-04)
BYU (2006-07)
Miami Dolphins (2008)
St. Louis Rams (2008)
Arizona Cardinals (2008)
Coaching Experience
2009 – BYU
Defensive Intern
2010 – BYU
Graduate Assistant/Interim Outside Linebackers
2011-12 – BYU
Outside Linebackers
2013-15 – BYU
Special Teams Coordinator/Outside Linebackers
2016-2017 – Virginia
Special Teams Coordinator/Outside Linebackers
2018-20 – Virginia
Co-Defensive Coordinator/Outside Linebackers
2021-pres. – Virginia
Co-Defensive Coordinator/Linebackers
Postseason Experience
Las Vegas Bowl (2006) – player
Las Vegas Bowl (2007) – player
Las Vegas Bowl (2009)
New Mexico Bowl (2010)
Armed Forces Bowl (2011)
Poinsettia Bowl (2012)
Fight Hunger Bowl (2013)
Miami Beach Bowl (2014)
Las Vegas Bowl (2015)
Military Bowl (2017)
Belk Bowl (2018)
Orange Bowl (2019)
Former Prominent Players Coached
Alani Fua (BYU)
Kyle Van Noy (BYU)
Chris Peace (Virginia)
Charles Snowden (Virginia)