Virginia Cavaliers Official Athletic Site
Marques Hagans
Associate Head Coach / Wide Receivers
Position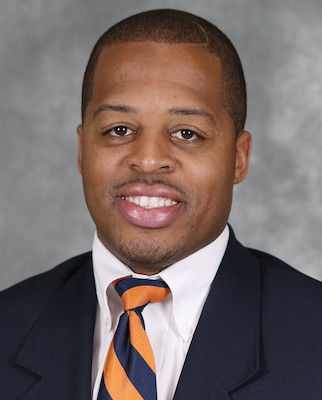 The 2022 season will be Marques Hagans 11th year at Virginia. In addition to coaching the wide receivers, he also serves as the associate head coach, duties he assumed under Tony Elliott at the start of 2022. During his time at UVA, he has done an incredible job of developing the Cavalier wide receivers with record-breaking performances over multiple years.
Of the 15 wide receivers on UVA's top-20 career receptions list, nine have been coached by Hagans. That group is topped by current Atlanta Falcons' wideout Olamide Zaccheaus, who pulled down 250 catches for the Cavalier from 2015 to 2018.
Hagans was an influential force in the program's community involvement. In 2022, Hagans was named a UVA recipient of the Atlantic Coast Conference's UNITE Award. The award was created to honor individuals affiliated with the league who promote and encourage racial equity and social justice through education, partnerships, engagement and advocacy. Recipients helped create meaningful, lasting change by improving systems, organizational structures, policies, practices and attitudes or have been pioneers and/or helped pave the way for minorities either at the institution or in the community.
Hagans helped to start the UVA Groundskeepers program in 2020. The group was created after the racial and social justice movements of 2020 with an aim to bring unity to Grounds and the greater Charlottesville community.
The UVA IDEA Fund presented the group its 2020 Marcus L. Martin Endorsed Award that honors an existing UVA project or program that works to facilitate long-term, institutional change in inclusion, diversity, equity or access.
Additionally, Hagans has helped pave the way for BIPOC (Black, Indigenous, and people of color) in the community through his engagement with the Prolyfyck Run Crew. During the summer of social unrest, a group of men in the Charlottesville community decided to create a space for people of color to feel safe running. They chose a route that specifically went through predominantly Black communities to claim a space for a Black-led running group. Hagans was an early member of the group's runs and helped spread its message and increase participation in Prolyfyck among community members.
During the 2022 season, junior Lavel Davis Jr., coming off a knee surgery that required him to miss the 2021 season, led the nation in average yards per reception with a 23.9 yard per catch average. Davis was one of three UVA players killed last November when returning from a school field trip. He played in eight games and had 371 receiving yards on 16 catches.
Also in 2022, wide receiver Keytaon Thompson received third-team All-ACC honors after ranking 12th in the country in receptions per game (6.6) and 53rd in receiving yards per game (72.4) in a season shortened by injury
Hagans 2021 receiving corps was part of a magical season at UVA. The Cavaliers averaged 392.6 passing yards per game and Virginia had four wide receivers with more than 600 receiving yards. All-ACC receivers Keytaon Thompson and Dontayvion Wicks led that group. Thompson finished the season with a team-high 78 catches for 990 yards while Wicks piled up the most yardage, gaining a school record 1,203 yards on 57 catches, an average of 21.1 yards per reception.
Including tight end Jelani Woods, in 2021 Virginia was the only school in the country to have five wide receivers with 500 or more receiving yards.
The 2020 season was a unique one for college football, but it also signaled the emergence of Lavel Davis Jr. The true freshman finished No. 2 in the nation and No. 1 in the ACC with 25.75 yards per reception average. Davis Jr also was No. 7 in the nation among freshmen with 515 receiving yards and tied for No. 5 in the nation among freshmen with five receiving touchdowns. He was the only player in the nation with 500+ receiving yards on 20 or fewer receptions, something that has only been accomplished five times now since 2000.
The 2019 season was special one in Charlottesville as the Cavaliers won the Atlantic Coast Conference's Coastal Division for the first time and made their first appearance in the ACC Championship game. UVA appeared in its first New Year's Six bowl game, the Orange Bowl, and finished ranked No. 24 in the final College Football Playoff poll and No. 25 in the final USA Today coaches poll. It is UVA's first string of three-straight bowl appearances since UVA went to four bowl games between 2002 and 2005.
No ACC team had more than one receiver with 70+ receptions in 2019, while UVA had three in Joe Reed (77), Hasise Dubois (75) and Terrell Jana (74), finishing No. 2, No. 3 and No. 5 in the league in catches and all ranking in the top seven on UVA's single-season receptions ledger. Reed earned first-team All-ACC honors as an all-purpose player. Dubois (All-ACC) and Jana were two of four FBS receivers in 2019 with 100+ target, 70 percent catch rate and 10+ yards per target. Dubois was rated with the "Best Hands in the Nation" by Pro Football Focus after making 75 catches in 2019 with zero drops.
In 2018 Hagans mentored Olamide Zaccheaus, who finished his senior season No. 1 in the ACC and No. 5 in the nation with 93 receptions. After 12 catches, 100 receiving yards and three touchdowns, Zaccheaus was named MVP of the Belk Bowl after a 28-0 triumph over South Carolina. Zaccheaus concluded his career with 250 receptions, No. 1 all-time at UVA and No. 6 all-time in ACC history. Zaccheaus also became only UVA's third 1,000-yard receiver, finishing with 1,058 receiving yards, which was No. 3 in the ACC. Zaccheaus also finished his career No. 2 all-time at UVA with 2,753 career receiving yards.
Under Hagans' watchful eye in 2017, UVA saw its first receiving trio to amass at least 600 receiving yards in the same season as Zaccheaus (895), Andre Levrone (689) and Doni Dowling (647) accomplished the feat. Dowling (136), Levrone (127) and Zaccheaus (122) also became the first Cavalier trio to amass 100+ receiving yards in the same game when they did so against UConn in 2017. It was only the sixth time such a feat happened in the ACC since 2000. Also in 2017, Zaccheaus set the UVA single-season record for receptions in a season with 85, while his 895 yards in 2017 rank No. 5 all-time on UVA's single-season ledger. Dowling, Levrone and Zaccheaus all reached 1,000 career receiving yards in 2017, giving Hagans seven wide receivers he has coached at UVA that have reached the mark.
In 2016 three members of the wide-receiving corps combined for 150 catches for 1,686 receiving yards and 14 touchdowns. Zaccheaus led the wide-receiving group with 51 receptions and seven touchdowns. Doni Dowling led the team with 626 receiving yards on his 50 catches and four scores. Rounding out the group was senior Keeon Johnson, who made 49 catches for 476 yards and three touchdowns.
Wide receiver Canaan Severin thrived under Hagans earning second-team All-ACC honors in 2015 after finishing the regular season ranked No. 3 in the ACC with 759 receiving yards. Severin's 759 receiving yards also ranks No. 15 all-time in the UVA record book for a season. Severin caught 54 passes and eight touchdowns. The 54 receptions tie him with Herman Moore (1990) for No. 11 all-time in the UVA annals for catches in a season. In 2015 Severin became the 20th player in program history with 100 receptions and finished his career No. 19 all-time with 102 catches, 96 of which came over the 2014 and 2015 seasons. Severin finished his career with 1,383 receiving yards, which ranks No. 15 all-time in the UVA record book.
Severin's rise began in 2014 under Hagans. As a junior Severin led UVA with 42 catches for 578 yards and five touchdowns after entering the season with six career receptions.
Hagans oversaw the emergence of Johnson in 2013, then a true freshman. Despite not playing the first four games of a potential redshirt season, Johnson completed one of the best true freshman seasons in recent UVA history, catching 20 passes for 282 yards and a score in the final eight games of the season.
Hagans was a four-year letterwinner at UVA from 2002-05 and currently is No. 10 all-time in passing at UVA with 4,877 passing yards. He finished his career in the No. 5 on that list.  Hagans in No. 7 all-time at UVA in total offense with 5,779 yards and his 2005 season ranks No. 9 all-time with 2,802 total yards.
The St. Louis Rams selected Hagans in the fifth round (144 overall) of the 2006 NFL Draft. He spent three seasons with the Rams before being picked up by the Kansas City Chiefs for the 2009 campaign. Hagans finished the 2009 season with the Washington Redskins and was released in the summer of 2010 after injuring himself in off-season workouts.
Hagans spent the 2011 and 2012 seasons at UVA as a graduate assistant, working with the offense.
Hagans is a native of Hampton, Va., and graduated from Hampton High School after spending two years at neighboring Bethel High School. As a junior at Hampton, Hagans led the Crabbers to the state championship in Group AAA, Division 5 of the Virginia High School League in 1998. Hampton advanced to the state semifinals in Hagans' senior season in 1999.
Hagans graduated with a degree in anthropology from UVA in 2005 and is currently finishing a graduate degree in professional studies.
Hagans resides in Charlottesville with his wife, the former Lauren Swierczek, a former Cavalier women's basketball player. The couple has two sons, Christopher Dex and Jackson Watford.
Coach Hagans
Hometown
Hampton, Va.
High School
Hampton HS, Hampton, Va., 2000
College
Virginia, 2005
Family
wife, Lauren; son, Christopher Dex and Jackson Watford
Playing Experience
Virginia (2000-05)
St. Louis Rams (2006-07)
Kansas City Chiefs (2008)
Indianapolis Colts (2008)
Washington Redskins (2008-10)
Coaching Experience
2011-12 – Virginia
Graduate Assistant
2013-present – Virginia
Wide Receivers
Postseason Experience
Continental Tire Bowl (2003) – player
MPC Computers Bowl (2004) – player
Gaylord Hotels Music City Bowl (2005) – player
Chick-fil-A Bowl (2011)
Military Bowl (2017)
Belk Bowl (2018)
Orange Bowl (2019)
Former Prominent Players Coached
Kris Burd (Virginia)
Darius Jennings (Virginia)
Canaan Severin (Virginia)
Olamide Zaccheaus (Virginia)
Hasise Dubois (Virginia)
Joe Reed (Virginia)