Virginia Cavaliers Official Athletic Site
Robert Anae
Offensive Coordinator/Inside Receivers/Tight Ends
Position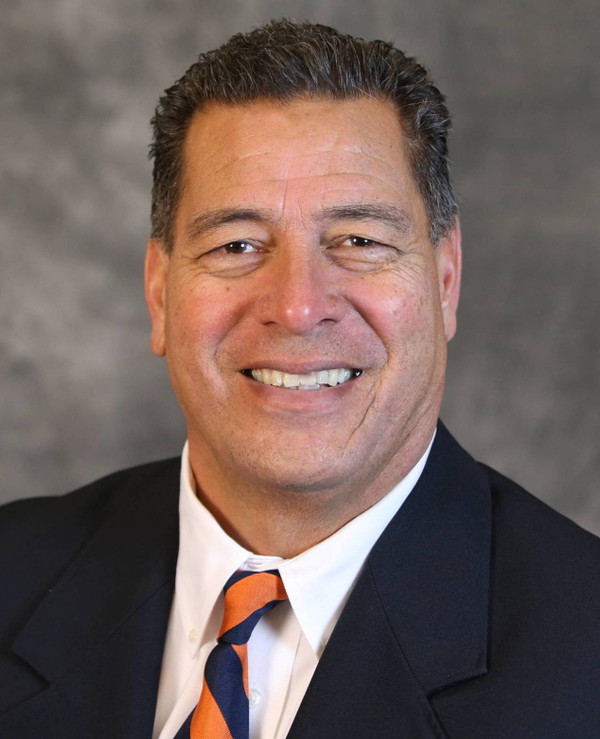 Robert Anae enters his sixth season at Virginia and 15th as an offensive coordinator under UVA head coach Bronco Mendenhall, which includes nine years at BYU. In addition to serving as offensive coordinator, Anae (Ah-NIGH) also coaches Virginia's inside receivers and tight ends.
A three-time Frank Broyles Award nominee for Assistant Coach of the Year, Anae is a 32-year coaching veteran that has directed multiple record-breaking performances and NCAA top-25 offensive statistical finishes during his career. Over the previous 14 seasons as Mendenhall's offensive coordinator, an Anae-led offense has earned top-25 NCAA statistical rankings in 10 different offensive categories a total of 51 times, including 18 top-10 ratings.
Not only has Anae's offenses broken records and top the NCAA statistical rankings over the years, but he has tutored dozens of young men that have gone on to successful careers in the NFL. Former Anae pupils that paved their way in the NFL include the likes of Austin Collie (Colts), Ron Hall (Lions), Taysom Hill (Saints), Ed Mulitalo (Ravens) and Dennis Pitta (Ravens).
The records, statistical rankings and NFL careers are reflective of how Anae has been successful at every one of his coaching stops. Virginia has been no different. Since the arrival of Mendenhall and company in Charlottesville in 2016, UVA's offensive production has soared. In the previous 126 seasons of Virginia football before Anae took over the offense, UVA never had a 3,000-yard passer and only once had a quarterback that amassed 3,000+ yards of total offense in a season.
In Anae's first four seasons as Virginia's offensive coordinator, the Cavaliers have had two 3,000-yard passers and the UVA single-season record for total offense has been broken three times. With the unique nature of the COVID-19 pandemic, the 2020 season only saw UVA play 10 games, but the passing yards per game (260.6) was the second-best output in Anae's UVA tenure. Also, you can find Anae's quarterbacks all over the UVA single-game passing and single-game total offense record book, as six of the top nine outputs in single-game passing and the top six outings in single-game total offense have come under Anae over the past five seasons.
Anae and UVA quarterbacks coach Jason Beck have worked together for the past eight seasons and quarterbacks have thrived under the pairing. Between 2013 and 2020, quarterbacks under Anae and Beck have averaged 3,200 passing yards and 524 rushing yards a season for an average of 3,725 yards of total offense.
The 2019 season was special one in Charlottesville as the Cavaliers won the Atlantic Coast Conference's Coastal Division for the first time and made their first appearance in the ACC Championship game. UVA appeared in its first New Year's Six bowl game, the Orange Bowl, and finished ranked No. 24 in the final College Football Playoff poll and No. 25 in the final USA Today coaches poll. It is UVA's first string of three-straight bowl appearances since UVA went to four bowl games between 2002 and 2005.
Anae's offense broke five team records in 2019, which includes most first downs (296), first downs passing (180), completions (337), passing yards (3,748) and points scored (449). UVA also tied the 1990 team for most touchdowns (56), while Anae's offense in 2019 averaged 33.2 points per game, which is No. 2 all-time to UVA's 1990 team. UVA amassed over 5,000 yards of total offense in both 2018 and 2019 under Anae, which marks only the second time in program history UVA has done that in back-to-back seasons. Prior to Anae's arrival UVA only surpassed 5,000 yards of total offense four times.
Bryce Perkins was a catalyst for Anae's offense, graduating as the program's career record holder for total offense (7,910) after playing only two seasons in Charlottesville (2018-19). Under Anae, Perkins also owns the top two spots in the Cavalier record book for single-season and single-game total offense. His program record for single-season total offense (4,307) in 2019 ranked No. 6 nationally and No. 1 in the ACC. A second-team All-ACC honoree, Perkins also set the single-season passing record at UVA with 3,538 passing yards in 2019, which ranked No. 16 in the nation and No. 3 in the ACC. Perkins was a special quarterback for the Cavaliers as he and Oklahoma's Jalen Hurts were the only players in the nation in 2019 with 3,000+ passing yards and 700+ rushing yards. In 2018, Perkins and 2018 Heisman Trophy winner Kyler Murray (Oklahoma) were the only two players in the nation with 2,600+ passing yards and 900+ rushing yards. Perkins was the only college player between 2018-19 to accumulate 6,000+ passing yards and 1,500+ rushing yards. Perkins also left UVA the program's all-time leader in career rushing by a quarterback (1,692) and games of 100+ rushing yards by a quarterback (7).
No ACC team had more than one receiver with 70+ receptions in 2019, while UVA had three in Joe Reed (77), Hasise Dubois (75) and Terrell Jana (74), finishing No. 2, No. 3 and No. 5 in the league in catches and all ranking in the top seven on UVA's single-season receptions ledger. Reed earned first-team All-ACC honors as an all-purpose player. Dubois (All-ACC) and Jana were two of four FBS receivers in 2019 with 100+ target, 70 percent catch rate and 10+ yards per target. Dubois was rated with the "Best Hands in the Nation" by Pro Football Focus after making 75 catches in 2019 with zero drops.
Other receivers have thrived in Anae's offense, including Olamide Zaccheaus, who finished his senior season in 2018 No. 1 in the ACC and No. 5 in the nation with 93 receptions, while earning first-team All-ACC honors. Zaccheaus concluded his career with 250 receptions, No. 1 all-time at UVA and No. 6 all-time in ACC history. Zaccheaus (1,058 receiving) and Jordan Ellis (1,026 rushing) gave UVA a 1,000-yard receiver and 1,000-yard rusher in the same season for just the second time in program history (1990). With Dubois recording 1,062 receiving yards in 2019, Anae's offense has produced two 1,000-yard receiving receivers in four years. Only two Cavaliers had reached the 1,000-yard plateau in a season prior to Anae's arrival.
Anae oversaw quarterback Kurt Benkert's record-breaking season in 2017. The UVA senior quarterback became the first player in program history to throw for over 3,000 yards in a season. Benkert finished the season with 3,207 passing yards, which stood as a program record until Perkins in 2019. Anae's offense also created the first UVA receiving trio to each amass at least 600 receiving yards in the same season as Zaccheaus (895), Andre Levrone (689) and Doni Dowling (647) accomplished the feat. This happened twice in four years as Dubois (1,062), Jana (886) and Reed (679) accomplished the feat in 2019. Under Anae's tutelage, Taquan Mizzell became the first player in ACC history to record at least 1,500 career rushing and 1,500 career receiving yards.
Anae came to Charlottesville after serving as Mendenhall's offensive coordinator and inside receivers coach in nine of his 11 seasons at BYU. Anae helped BYU finish the 2015 regular season ranked No. 21 in passing offense after directing the 2014 Cougar offense to a No. 14 ranking in scoring offense, putting up 37.1 points per game, the most points by a BYU team since the 2001 season.
In 2013, Anae led the BYU offense to a No. 14 national ranking, including a No. 10 finish in rushing offense, setting a school record with 3,475 rushing yards. He helped coach two 1,000-yard rushers in Taysom Hill and Jamaal Williams.
BYU ranked in the top 25 in third-down efficiency each of Anae's first six seasons at BYU (2005-10), including a No. 1 ranking in 2009 and No. 2 ratings in 2008 and 2006.  The Cougars were in the top-6 in passing offense three times (2005, 2006, 2008) during his first tenure overseeing the BYU attack.
BYU's offensive production under Anae helped produce the school's top three rushers of all time (Jamaal Williams: 3,901; Harvey Unga: 3,455 yards; and Curtis Brown: 3,221 yards), the program's top wide receiver in receiving yards, catches and touchdowns (Austin Collie: 3,255 yards and 30 touchdowns on 215 catches), BYU's highest achieving tight end in both receiving yards and catches (Dennis Pitta: 2,901 yards on 221 receptions) and the Cougars' winningest all-time quarterback (Max Hall: 32 victories as a starter).  Hall and John Beck, who also played quarterback during Anae's tenure, both went on to the NFL with Beck earning All-America accolades at BYU. Dennis Pitta, meanwhile, not only set the BYU record for receiving yards by a tight end, but also is No. 1 in that category in NCAA history.
Anae's BYU stints from 2005-10 and 2013-15 bookend the two seasons (2010-11) he spent at Arizona under Mike Stoops and Rich Rodriguez, serving as offensive line coach both seasons and run game coordinator under Stoops. Arizona's offense ranked in the top 16 both years and was in the top 25 in passing both seasons as well. Arizona produced the No. 3 passer nationally with Nick Foles, who averaged 360.8 passing yards per game in 2011 before being drafted in the third round of the NFL draft by the Philadelphia Eagles. The Wildcats' offensive line, under Anae's direction, blocked for the nation's leading rusher in 2012 as Ka'Deem Carey totaled 1,929 yards and 23 touchdowns on 303 carries.
Arizona ranked No. 7 in total offense in 2012 at 526.2 yards per game to help the Wildcats to an 8-5 record that included victories over nationally ranked Oklahoma State (59-38) and USC (39-36). The Wildcats scored 38.2 points per game to rank No. 16 nationally, including a 49-point output to defeat Nevada in the 2012 New Mexico Bowl. The point total was just three points off the New Mexico Bowl record of 52 points set by BYU in 2010 with Anae directing the Cougar offense.
As BYU's inside receivers coach from 2005-2010, Anae helped Pitta, Jonny Harline and Andrew George earn a combined six All-Mountain West Conference tight end honors, including five first-team awards.  BYU tight ends also achieved national accolades under Anae's tutelage as Harline received first-team All-America honors in 2006 and Pitta was named an NCAA Consensus All-American in 2009.
Anae has been part of many of BYU's most successful teams as both a player and a coach. As BYU's offensive coordinator, the Cougars earned bowl invitations each season, while winning two outright MWC championships. He was an offensive lineman on BYU's National Championship team in 1984 and part of four bowl teams from 1981-84, while earning second-team All-Western Athletic Conference honors. BYU achieved a 43-7 record during Anae's playing days under Hall of Fame coach LaVell Edwards. He played in the Hula bowl in 1985 and was drafted by the New Jersey Generals of the USFL.
Anae's first stint as offensive coordinator at BYU came following five seasons coaching with Mike Leach at Texas Tech from 2000-2004. As offensive line coach for the Red Raiders, Anae helped put together some of the most prolific offenses in the NCAA. The Texas Tech offense ranked No. 1 in the nation in passing three out of Anae's five years and in the top 11 the remaining two. The Red Raiders also ranked in the top six in total offense three times, including 582.8 yards per game to lead the nation in 2003—the fifth-best mark in NCAA history.
Anae began his coaching career as a graduate assistant working with the offensive line at Hawaii under Dick Tomey in 1986-87. He then was a graduate assistant for a pair of years at BYU in 1990 and 1991 before coaching the offensive line at Ricks College in Idaho from 1992-95. Anae coached the offensive front for a year at Boise State in 1996 before moving to UNLV for a pair of seasons, the final as running game coordinator along with his line duties in 1998.
Anae and his wife, Liane, have two sons and a daughter. His son Famika played on the offensive line at BYU before ending his career during the 2012 season due to injuries. Anae's father, Famika Sr., and brothers Brad and Matt, also played football for BYU.
He was born in California in 1958 and raised in Laie on Hawaii's north shore. He served as a missionary for The Church of Jesus Christ of Latter-day Saints in Tulsa, Okla., from 1978-80. He graduated from BYU in 1986, obtained a master's degree in sociology from BYU in 1990 and earned his doctorate in sociology from BYU in 1999 while serving as an assistant director in the Brigham Young student-athlete center and NCAA Life Skills director.
Anae graduated from BYU in 1986 with a degree in political science. He went on to earn two more degrees from BYU, an M.S. in sociology in 1990 and a PH.D. in sociology in 1999.
Coach Anae (Ah-NIGH)
Hometown
Laie, Hawaii
High School
Kahuku HS, Kahuku, Hawaii, 1977
College
BYU, 1986
Graduate School
BYU, 1990, M.S. sociology; 1999, Ph.D. sociology
Family
wife, Liane; two sons and a daughter
Playing Experience
BYU (1981-84)
Drafted in the third round of the 1985 USFL Draft by the New Jersey Generals
Coaching Experience
1986-87 – Hawaii
Offensive Graduate Assistant
1990-91 – BYU
Offensive Graduate Assistant
1992-95 – Ricks College
Offensive Line
1996 – Boise State
Offensive Line
1997 – UNLV
Offensive Line
1998 – UNLV
Offensive Line/Running Game Coordinator
2000-04 – Texas Tech
Offensive Line
2005-10 – BYU
Offensive Coordinator/Inside Receivers
2011- Arizona
Offensive Line/Run Game Coordinator
2012 – Arizona
Offensive Line
2013-15 – BYU
Offensive Coordinator/Inside Receivers
2016-present – Virginia
Offensive Coordinator/Inside Receivers
Postseason Experience
Holiday Bowl (1981) – player
Holiday Bowl (1982) – player
Holiday Bowl (1983) – player
Holiday Bowl (1984) – player
Holiday Bowl (1990)
Holiday Bowl (1991)
Real Dairy Bowl (1992)
Real Dairy Bowl (1993)
Real Dairy Bowl (1994)
Real Dairy Bowl (1995)
Galleryfurniture.com Bowl (2000)
Alamo Bowl (2001)
Tangerine Bowl (2002)
Houston Bowl (2003)
Holiday Bowl (2004)
Las Vegas Bowl (2005)
Las Vegas Bowl (2006)
Las Vegas Bowl (2007)
Las Vegas Bowl (2008)
Las Vegas Bowl (2009)
New Mexico Bowl (2010)
New Mexico Bowl (2012)
Fight Hunger Bowl (2013)
Miami Beach Bowl (2014)
Las Vegas Bowl (2015)
Military Bowl (2017)
Belk Bowl (2018)
Orange Bowl (2019)
Former Prominent Players Coached
Ka'Deem Carey (Arizona)
John Beck (BYU)
Curtis Brown (BYU)
Austin Collie (BYU)
Max Hall (BYU)
Jonny Harline (BYU)
Dennis Pitta (BYU)
Harvey Unga (BYU)
Olamide Zaccheaus (Virginia)
Kurt Benkert (Virginia)
Joe Reed (Virginia)
Bryce Perkins (Virginia)