2022 Football Ticket Information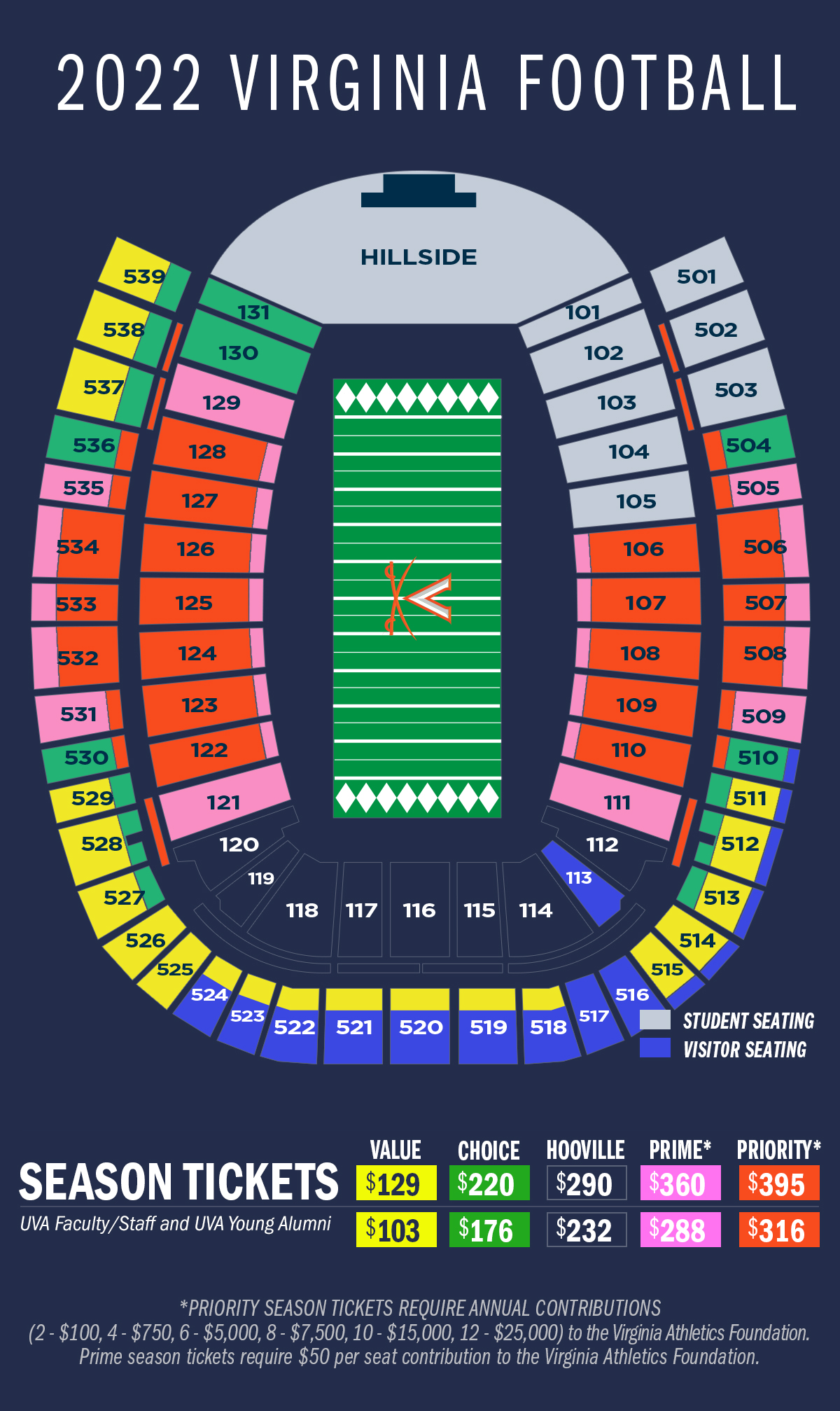 Season Tickets
New Season Tickets
Secure your seats today for all remaining home games by calling UVA ticket office.
Benefits:
Priority access to additional single game tickets and bowl game tickets
Ability to purchase tickets to away games
Season ticket member gift
Opportunity to renew and upgrade your seats annually & add-on the Cavalier Chairback
Automatic billing plan or pay in full options
Faculty/Staff & Young Alumni Discount
Full-time University of Virginia faculty and staff and alumni within 5 years of graduation are eligible to purchase a maximum of 4 discounted (20% discount) season tickets. Please call the ticket office to complete your purchase.
---
Giving Levels
Seat locations in Priority areas require an annual Virginia Athletics Foundation contribution at minimum giving levels based on the quantity of season tickets (2 tickets – $100 gift or more, 4 tickets – $750 gift or more, 6 tickets – $5,000 gift or more, 8 tickets – $7,500 gift or more, 10 tickets – $15,000 or more, 12 tickets – $25,000 or more). Seat locations in Prime areas require a Virginia Athletics Foundation annual contribution of $50 per seat.
A donation to VAF is not required to purchase season tickets in Hooville, Choice and Value seating sections.
Seat Improvements and Additional Seating
Season ticket members interested in seating improvement or adding seats will have the opportunity to view availability through an online improvement and selection tool. Individual time slots will be assigned based on VAF priority points.
Auto Renewal Program
Season ticket members may sign up for an auto renewal program for season tickets, season parking and chairbacks.
Program Benefits:
Payment for tickets and required VAF pledge (if applicable) automatically made, Choose from one or four installment options.
Ensure that you'll order your tickets on time and never miss a renewal deadline.
Avoid getting multiple reminder emails, phone calls, and mailings.
At the start of next season your order will automatically be in, unless you choose to opt-out of the program. No need to place renewal order online or by phone or email.
Cavalier Chairbacks
Season ticket members may purchase a cushioned chairback for any seats they hold as season tickets. Chairbacks will be installed at your designated seat locations prior to the home opener and will remain there all season long. Season chairbacks are sold at a discount off the game day price.
3 Game Mini Plan
Tickets On Sale Now!
Pick 3 games to attend this fall!  The mini plan is a great option to choose the games you want to attend, save up to 10% compared to single game tickets, and secure your seats well in advance.
Select One Game from Each Group:
Coastal Carolina (Nov. 19)
Louisville (Oct. 8) or Pittsburgh (Nov. 12)
Miami (Oct. 29) or UNC (Nov. 5)
Ticket prices include one (1) ticket to three (3) games.
| | | | | |
| --- | --- | --- | --- | --- |
| 2022 | Prime | Hooville | Choice | Value |
| Mini Plan | $165 | $135 | $99 | $60 |
Click here to purchase.
Single Game Tickets
Tickets – Home Games

Please note single game ticket prices are subject to the change throughout the year. For the most update to pricing, click here.
| | | | | | |
| --- | --- | --- | --- | --- | --- |
| Opponent | Priority | Prime | Hooville | Choice | Value |
| Louisville (10/8) | $70 | $60 | $50 | $38 | $22 |
| Miami (10/29) | $80 | $70 | $56 | $44 | $26 |
| UNC (11/5) | $90 | $80 | $64 | $50 | $30 |
| Pittsburgh (11/12) | $70 | $60 | $50 | $38 | $22 |
| Coastal Carolina (11/19) | $60 | $50 | $40 | $28 | $16 |

Tickets – Away Games
Season ticket members and Virginia Athletic Foundation donors  have the opportunity to purchase tickets to away games.
Group Tickets & Suites
Group Tickets
Tickets On Sale Now
Round up a group of 20 or more and Virginia football becomes even more affordable with a significant discount! Group tickets can save up to 25% off regular single game prices.
To qualify for group discounts, fans must purchase group tickets in advance of the game by calling the Virginia Athletics Ticket Office at (434) 924-UVA1 .
| 2022 Group Tickets | Prime | Hooville | Choice | Value |
| --- | --- | --- | --- | --- |
| Coastal Carolina | $40 | $32 | $22 | $12 |
| Louisville / Pittsburgh | $50 | $42 | $32 | $18 |
| Miami | $60 | $50 | $36 | $22 |
| North Carolina | $70 | $56 | $40 | $25 |
Parking
Reserved Season Parking
Cavalier Club Donors ($750-$1,749) will be eligible to apply for season Virginia Athletics Foundation reserved parking in the North I lot. All other season VAF reserved parking lots require a minimum annual gift of $1,750. View more information on season parking
Reserved Parking Lots

East A / East B / East D / East E / East F / East G / Lower West North A / South / West

$265

East K / East L / East M / North B / North C / North D / North E / North F / North G / North H / North I

$235
Single Game Parking
Click here to view information on single game parking for football home games.
Postseason Tickets
As the Cavaliers approach bowl eligibility, postseason game ticket information will be sent to all current Virginia Athletics Foundation donors and football season ticket member. This includes information on both the ACC Championship Game and bowl games. Visit UVATix.com throughout the season to obtain the latest information on postseason tickets.
Frequently Asked Questions
Gameday At Scott Stadium
How will tickets and parking passes be delivered?
All tickets will be delivered in a digital format. View more information on digital ticketing
Season parking passes will be printed and sent via mail in mid-August. Follow these simple steps to use your parking pass:
Display your hang tag parking pass on your rearview mirror in full view of all officers directing traffic – with the game number and date showing.
Keep your hang tag parking pass on the rearview mirror and in plain site at all times and through the game.
Vehicles without properly displayed hang tag parking passes may be ticketed or towed at the owner's expense.
What are the current policies related to COVID-19?
The University of Virginia's Athletics Department is committed to maintaining a healthy and safe environment during the COVID-19 pandemic. We appreciate your cooperation as we seek to make the guest experience as safe as possible for everyone including our student-athletes, event staff, and your fellow guests. We therefore will expect you to follow all posted directions and event staff instructions regarding prevention and mitigation measures. Your failure to comply with all health and safety directions and instructions may result in you being refused admittance to or being removed from our venue.
Although we are taking preventative measures to reduce the spread of COVID-19, the virus is highly contagious and UVA Athletics cannot guarantee that you will not be exposed to COVID-19 during your visit. You understand that you may contract the virus and you also understand that exposure to COVID-19 may be especially unsafe if you are at higher risk for severe complications. Knowing these risks, by attending a UVA Athletics event or competition, you agree that you understand the risks of COVID-19 exposure, the potential consequences of exposure, and you voluntarily assume the risks of attendance.
Contact Us
What is the best way to reach the Virginia Athletics Ticket Office or the Virginia Athletics Foundation if I have questions or need assistance?
The Virginia Athletics Ticket Office remains committed to delivering high-level customer service to our fans. We are always available via email at uvatickets@virginia.edu, or between 9:00 a.m. – 5:00 p.m. Monday – Friday via phone or text message at 434-924-8821 or live chat.
You can reach the Virginia Athletics Foundation by email at vafweb@virginia.edu, or by phone at 434-982-5555.
Important Dates
Date

Information

February 14, 2022

Season ticket sale begins for new and returning customers. Ticket renewal applications sent via email to the registered email address of customers holding season tickets during the 2022 season.

March 4, 2022

Group tickets on sale for all home games.

March 31, 2022

Payment deadline to receive Virginia Athletics Foundation first quarter bonus priority points.

April 29, 2022

Season renewal & priority deadline.

Deadline to enroll in or make changes to Auto Renewal Program.

Late May, 2022

Season ticket seat and parking improvement process begins.

June 30, 2022

Payment deadline to receive second quarter bonus Virginia Athletics Foundation priority points.

Mid-August, 2022

Season tickets delivered in digital format via email and My Account.

Reserved parking passes/hangtags mailed.

September 3, 2022

Home opener vs. Richmond at Scott Stadium.

December 3, 2022

ACC Championship Game at Bank of America Stadium in Charlotte, NC.

December 4, 2022

Bowl announcement and bowl game tickets on sale.