The Wahoo Central Chat with Henry Coley
Story Links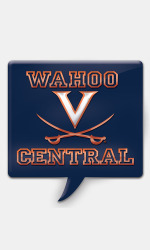 Virginia football player Henry Coley chats live Thursday, Sept. 4 at 2:30 p.m.
The Wahoo Central Chat Room with Henry Coley
Virginia football player Henry Coley chats live Thursday, Sept. 4 at 2:30 p.m.
The Cavaliers continue the 2014 season on Saturday when the Richmond Spiders come to Scott Stadium. The game starts at 3:30 p.m. and will be webcast live on ESPN3.
Submit your questions now. Questions will not appear until the chat starts. Remember the players cannot answer questions regarding the recruitment of prospective student-athletes.
Become a follower of Virginia Football on Twitter at @UVa_Football.
Follow Wahoo Central by selecting the tab located on the top navigation bar on VirginiaSports.com.
Follow Wahoo Central on Twitter @WahooCentral.

| | | |
| --- | --- | --- |
| | | Wahoo Central Moderator: Welcome to today's live Wahoo Central chat with UVa captain Henry Coley. We are about to get started. |
Dave (Johnson City, Tenn.): Who has been the biggest inspiration to you in your life, on or off the field?
| | | |
| --- | --- | --- |
| | | Henry Coley: Not to be cliche, but I would have to say my mother. She is an inspiration to me because of the sacrifices she has made and the way that she carries herself to ensure that my back was never lacking of clothes and there was food on the table. |
Jeffrey: Which NFL linebacker do you model your game after and why?
| | | |
| --- | --- | --- |
| | | Henry Coley: I like to model my game after Ray Lewis, not because of how he plays, but because of how he leads. |
Chuck: Great game last Saturday. I saw this Saturday is Youth Day. What piece of advice would you give to my son who just started playing peewee football?
| | | |
| --- | --- | --- |
| | | Henry Coley: Opportunities come by chance, but readiness never does. Have fun in everything that you do and remember to never give up. You will never know the places you will see, or the people you will meet all because you decided to do something that you love. |
Ryan (Charlottesville): Henry, I saw you bringing the hammer down on people last week. How much have you improved in the weight room this off-season?
| | | |
| --- | --- | --- |
| | | Henry Coley: I work hard in the weight room, but the physical aspect of this game is merely 10 percent of the finished product. Myself and my teammates have grown mentally over this past year more than anything else, which will ultimately lead us to future success. |
Tara (Williamsburg): What is the best lesson that football has taught you on and off the field?
| | | |
| --- | --- | --- |
| | | Henry Coley: The best lesson I have learned from football is accountability. |
Evan (Charlottesville): If you could play any other position on the field, which would you play?
| | | |
| --- | --- | --- |
| | | Henry Coley: Punter. I think I could give the Voz a run for his money. |
Kathy Riley, Fredericksburg: Love my HOOs – so very proud of you and the team. Do you do anything special to prepare for a game?
| | | |
| --- | --- | --- |
| | | Henry Coley: Hello Ms. Kathy, how are you doing? I prepare for a game by listening to music and praying. |
Mark (Staunton): If you could be one professional athlete for the day who would you pick and why?
John (Richmond): What was the most interesting road trip that you have experienced?
| | | |
| --- | --- | --- |
| | | Henry Coley: I would have to say the road trips I took in Africa are probably my most memorable. I spent a month going all over South Africa during the summer of 2013. |
Don Q (Charlottesville): Which Freshman has surprised you the most this year and why?
Cari (Arlington): What major did you declare and why?
| | | |
| --- | --- | --- |
| | | Henry Coley: In my undergrad career I declared an African American Studies major in order to learn more about myself, my history, and how history has shaped and molded the conditions of my identity on many fronts. I wanted this education in order to know what I could do best to aid the advancement of others that look just like me. I am now in a Grad Program earning my Master's degree and my focus is under the umbrella of Higher Education. I hope to touch lives and make the access to Higher Education more of a reality for boys and girls of my racial background than just a dream. |
Danielle (Charlottesville, VA): In your earlier years on the team, were there specific players or coaches that mentored you or put in the extra effort to help you become the player you are today?
| | | |
| --- | --- | --- |
| | | Henry Coley: Danielle, I am going to actually go back to high school and say Darnell Moore and Jonathan White from Bayside High School. A player would be EJ Manuel from high school. EJ gave me an example of what it was to be a student-athlete on and off the field. Coach Moore and Coach White taught me the intangibles of what it means to be a leader, and the ways to go about it. They were my foundation before I even got to UVa where I have since worked with some great coaches who took it further. |
Wahoo Central Moderator: That is all we have time for today. Big thank you to Henry Coley for stopping by and all the fans who submitted questions.

We look forward to seeing you all at Scott Stadium on Saturday when the Richmond Spiders come to town. Kick is at 3:30 p.m.