No. 2 Virginia Overcomes Slow Start to Beat Syracuse
Story Links
Box Score March 02, 2015
Box Score | Notes | Photo Gallery

| Video Highlights
VIDEO: Tony Bennett Postgame Presser

SYRACUSE, N.Y. (AP) When Virginia coach Tony Bennett glanced up at the Carrier Dome scoreboard as the first half was dwindling, he winced. His second-ranked Cavaliers had made just one field goal in the first 13 minutes and trailed Syracuse by 11 points.
"I just looked at the guys and I said, 'All we've got is each other. We're going to have to try to figure this out," Bennett said. "I've been in those spots before. We couldn't change anything. We're just either going to sink or swim with these guys."
The Cavaliers decided to swim some more.
After the shakiest of starts, they settled down and carved up Jim Boeheim's 2-3 zone, reeling off a 35-12 spurt spanning halftime and won going away, 59-47, on Monday night.
The victory gave Virginia (28-1, 16-1) the outright Atlantic Coast Conference regular-season title for the second straight year.
"It feels great," Virginia's Malcolm Brogdon said. "We've won it before, but you win it a new way every time. It's definitely a gratifying win."
Anthony Gill scored 17 points to lead four Virginia players in double figures. Brogdon, Mike Tobey, and London Perrantes, playing with a broken nose, all scored 10 points.
Even without Justin Anderson, Virginia's second-leading scorer and top outside threat – out of the lineup for the seventh straight game with a broken finger – the Cavaliers proved too much for the Orange despite that dismal start.
"They can beat anybody without him," Boeheim said. "They're clearly the second-best team in the country from what I've seen. Their players are underrated. They're very physical, strong guys. There's a reason they've lost one game."
This was the supreme test for the offensively challenged Orange (18-12, 9-8), who had averaged 58 points in the three previous games, two of them losses. Virginia entered the game leading the nation in scoring defense (50.1), and Syracuse's 13-2 lead vanished in a flash over the final 6 minutes of the opening half as the Cavaliers found their rhythm and clamped down on Syracuse center Rakeem Christmas.
Trevor Cooney had 14 points to lead Syracuse, Tyler Roberson had 10, and Michael Gbinije eight, only the second time in conference play he hasn't been in double figures.
The Orange had upset both then-No. 12 Louisville and Notre Dame in a six-day span, the Irish falling three spots this week to No. 12. These Cavaliers seem to be in a different league, though.
Virginia took a 23-20 halftime lead on a layup high off the glass by Perrantes in the final seconds and started the second half 7 of 9 from the field, including one 3-pointer by Evan Nolte and two by Brogdon. Tobey's dunk of an alley-oop pass gave the Cavaliers a 40-27 lead with 15:32 left and completed that game-changing surge.
Virginia has held opponents scoreless for 5 or more minutes 25 times this season and has limited them without a field goal for 8 or more minutes 11 times. In the first half, Syracuse gave the Cavaliers a taste of their own medicine, forcing 10 turnovers in the first 20 minutes and holding them scoreless for the opening 8:19.
But when a layup by Gill finally put the Cavaliers on the board, they only trailed 6-2 as the Orange struggled, too, against the best defense in the nation.
"We didn't want it to take that long, but we definitely had to feel our way through the zone," Perrantes said. "Once we found our way, it was over."
Syracuse will not play any more games after the season finale on Saturday night at North Carolina State. Facing the impending results of an NCAA investigation of the athletic department, the school announced last month that the men's basketball team would not take part in any of the postseason. If the NCAA agrees a one-year postseason ban is sufficient, next season's recruits won't be affected.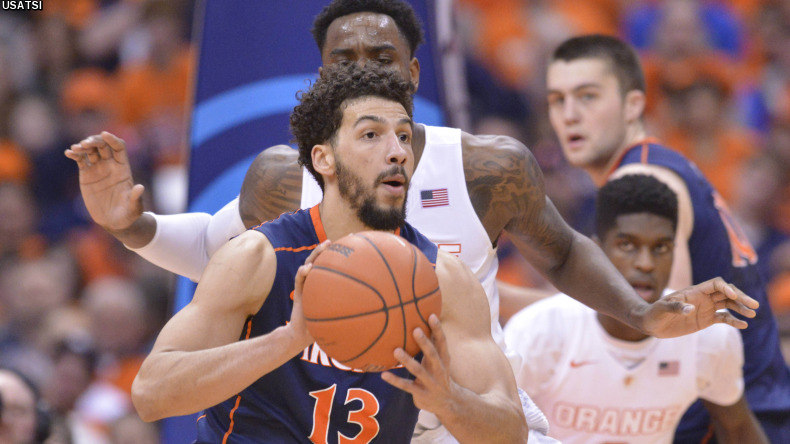 TIP-INS
Virginia: The Cavaliers have won a school-record 11 true road games, are 12-0 away from home, and now have the best start in school history. … Virginia was limiting opponents to 35.2 percent from the field and 30.3 on 3-pointers. Syracuse finished 4 of 19 from long range.
Syracuse: In 39 years under Boeheim, Syracuse has not played in the postseason only twice – 1992-93 and this year, both because of NCAA infractions. … Boeheim's worst season record is 16-13 in 1981-82, but the Orange still played in the NIT.
STAT LINE
Syracuse's main outside threats are Cooney and Gbinije. They combined to shoot 3 of 14 from beyond the arc, while B.J. Johnson was 1 for 5.
"It's what we do," Bennett said. "That's our identity."
UP NEXT
Virginia closes its regular season at No. 16 Louisville on Saturday night.
Syracuse finishes its season at North Carolina State on Saturday night.