No. 7 Seed Virginia Falls in NCAA First Round to Johns Hopkins
Story Links
Box Score
May 10, 2015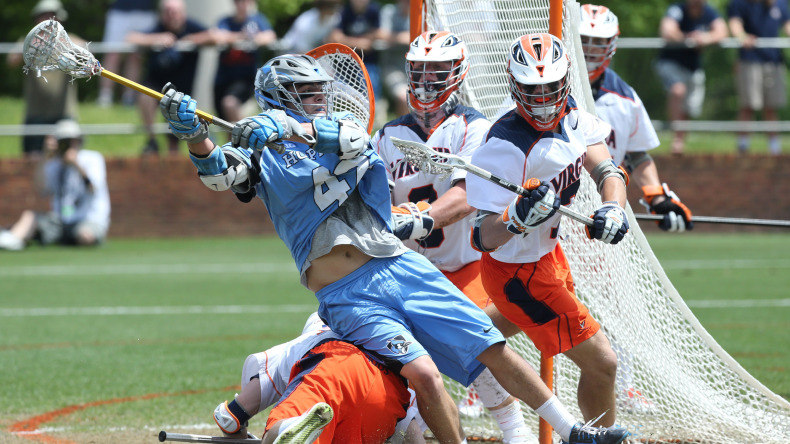 CHARLOTTESVILLE, Va. — The Johns Hopkins Blue Jays (10-6) used an 11-0 run over the first and second quarters to eliminate the No. 7 seed Virginia Cavaliers (10-5) in the NCAA Tournament's First Round, 19-7, Sunday afternoon at Klöckner Stadium.
"It is certainly a disappointing ending today to one of the seasons that I have enjoyed the most in recent history," said Virginia men's lacrosse head coach Dom Starsia. "It was really a terrific group of guys that worked hard every day. I didn't really see today coming based on what we've been like in practice the past couple of days. I just felt like we sort of ran out of gas early, and then Hopkins had an answer for everything. Early in the game it just felt like they were winning every match up and were finding the open guy in every instance. There wasn't any single thing that hurt us. Matt Barrett (goalie) was disappointed to be pulled, but team defense is a much as anything else a group activity and there were a lot of guys that just never got up to speed on the defensive end. It certainly wasn't Matt's fault in any way, shape, or form. First and foremost, I credit Johns Hopkins for being really sharp today."
Johns Hopkins started the game's scoring at the 11:13 mark in the first quarter on a Cody Radziewicz goal. UVa's Greg Coholan scored at 9:22 on a Ryan Lukacovic helper, tying the game at 1-1. John Crawley's unassisted goal at 8:51 in the first quarter started an 11-0 run by the Blue Jays, as UVa was held scoreless for 22:55. A man-up goal by Shack Stanwick at 3:12 in the second quarter on a Connor Reed helper capped the run.
Lukacovic stopped the bleeding for UVa with an unassisted goal at 1:27 in the second quarter. Ryan Brown found nylon for the Blue Jays with 17 seconds left in the second quarter to improve the Hopkins' lead to 11 goals, 13-2, going into the intermission.
Coholan scored quickly in the third quarter, tallying his second goal of the game for UVa at the 13:55 mark. Kieran Eissler retaliated at 11:01 in the third quarter for Johns Hopkins, starting a 6-2 run for the Blue Jays. Brown capped the run at 6:33 in the fourth with his fourth goal of the game, giving Hopkins the 19-5 lead.
Owen Van Arsdale and Ryan Tucker scored back-to-back goals for UVa to finish the game's scoring.
Johns Hopkins won the battle of shots (41-39), faceoffs (17-12), saves (14-6) and had more turnovers (17-11). Virginia won the ground ball battle (31-29).
Brown led all scorers with four goals and six points for Johns Hopkins. Reed had a game-high six assists. Shack Stanwick added three goals and two assists, while brother Wells Stanwick scored two goals and two assists.
Coholan and Lukacovic, who both scored two goals and dished out one assist, led UVa.
Johns Hopkins      7-6-4-2-19
Virginia                 1-1-2-3-7
Att-1751
Scoring (G-A) — JHU: Ryan Brown 4-2, Shack Stanwick 3-2, Joel Tinney 3-0, Wells Stanwick 2-2, John Crawley 2-1, Holden Cattoni 2-0, Cody Radziewicz 2-0, Kieran Eissler 1-0, Connor Reed 0-6 V: Greg Coholan 2-1, Tyler German 1-0, Ryan Lukacovic 2-1, Owen Van Arsdale 1-1, Ryan Tucker 1-0, Jeff Kratky 0-1
Goalie Summary — JHU: Eric Schneider 56:44 mins. 14 saves 5 goals allowed. Will Ryan 3:16 mins. 0 saves 2 goals allowed. V: Matt Barrett 37:23 mins. 0 saves 16 goals allowed. Will Railey 22:37 mins. 6 saves 3 goals allowed
Shots: JHU-41, V-39
Ground Balls: JHU-29, V -31
Clearing: JHU-21×24, V -20×20
Faceoffs: JHU-17, V -12
Penalties: JHU-2-1:30, V -5-4:00
EMO: JHU-2×3, V -0x2