World University Games Blog
Story Links
July 4, 2015
Throughout the 2015 World University Games, members of the Virginia swimming and diving program will be checking in with VirginiaSports.com.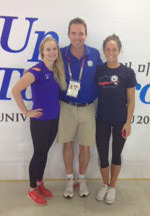 July 7 – UVa Head Coach Augie Busch (Team USA assistant coach)
Wow, Leah looks GREAT! Her prelim swim in the 400m free this morning was fast, going 4:04 to claim top seed in finals tonight and securing the No. 4 time in the world this year. It was her best time by 1.5 seconds! If she drops another second, she'll be the No. 2 fastest performer this year. Her remarkable 2015 year continues…smashing personal bests every times she shaves and tapers.
Laura looked great, too! She went 2:32 in the 200 breast and earned a place in tonight's semifinal. It was her best time in five years and she (and I) was very pleased with it. The breaststroke events for both women and men have been the most competitive at this meet so earning second (and hopefully third!) swims is a tremendous accomplishment in and of itself.
Team USA continues its quest to win all six relays here tonight when our women go for gold in the 4×200 free relay. Leading off is, you guessed it, Leah! Just like ACC's and NCAA's, she relishes the chance to lead off and do her best to put her team in the lead. As any swimmer will tell you, the lead off leg in any relay is the most difficult yet most important position. A relay must get off to a good start if it is to succeed. Team USA is in good hands with Leah going first!
I continue to be humbled and inspired by the overall efforts of all USA team representatives. The 'servant' attitude everyone has toward the athletes and coaches is incredible. The team staff bends over backwards to make sure we have whatever we need to coach and/or swim at our best. Perhaps the best illustration I can offer took place off the pool deck. The beds here in the village are HARD. After everyone had a rough night of sleep the first night, before you knew it there were mattress pads delivered to our apartments, courtesy of USA Swimming! Whatever it takes to be sure athletes can perform at their best. An advantage?…no doubt! But those are the perks when you are chosen to represent the best team in the world.
All for now…when I check back in I hope to have more awesome news about our two Wahoos!
Go 'Hoos and Go Team USA!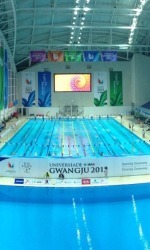 July 4 – UVa Head Coach Augie Busch (Team USA assistant coach)

The first session of Day 1 in the books and Team USA is off to a great start! We had a great morning in the pool, qualifying almost everyone back for finals tonight and both 400m free relays are seeded first. It has been an incredible experience so far on this, my first U.S. National Team trip coaching selection. It is such an honor and a thrill to don the Stars and Stripes while representing the greatest swim team in the world. It is beyond remarkable to witness the well-oiled machine that is the National Team and its staff. From doctors to managers to massage therapists to coaches to athletes, there is amazing camaraderie and an incredible sense of purpose. The pervasive attitude of unselfishness and heartfelt desire to see everyone do their best is inspiring. In the collegiate realm we are all intense rivals, but while competing for Team USA we are all about each other, working toward a common goal. It is an illustration of the pride we all share in our country and honor we all feel to be selected to this team.
On a different note, Korea and its people are amazing! This is truly a beautiful place. Lush, mountainous landscape with near-perfect temperatures and the kindest, happiest people you can imagine. It is RARE you see a Korean without a smile on their face and it is obvious they are proud to be the hosts of such a special event. They are particularly fond of Americans and grateful to this day for the tens of thousands of American lives lost in defending their country in the Korean War.
We are heading back to the pool soon for finals in what is sure to be an amazing night for Team USA! Happy 4th of July to all Wahoos out there…go Team USA and GO 'HOOS!!!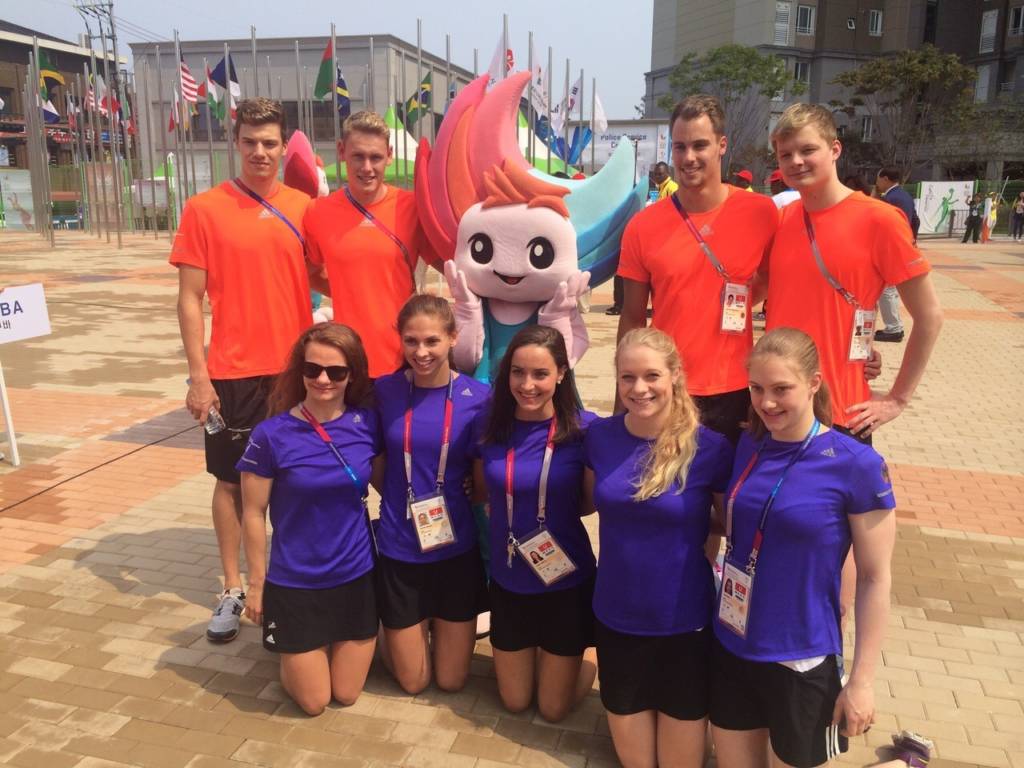 July 3 – Rising Junior Laura Simon (swimming for Germany)

The competition starts tomorrow, and even though I don't swim until Sunday I am super excited to experience the atmosphere of this meet, cheer for my team mates and meet (Virginia's) Leah (Smith) and Augie (Busch) on Deck. Germany has only nine swimmers (four boys and five girls), so all the girls live together in one apartment, which is awesome. During the last days we got to explore the athlete village, but the focus was on practicing, so that we are not tired and are ready to race in the next days. In contrary to the American swim team, we get to stay until the 15th of July, so that we can go to other sport events and sight seeing after the swimming competition is done.