Cavaliers Fall to Boise State, 56-14
Story Links
Box Score Sept. 25, 2015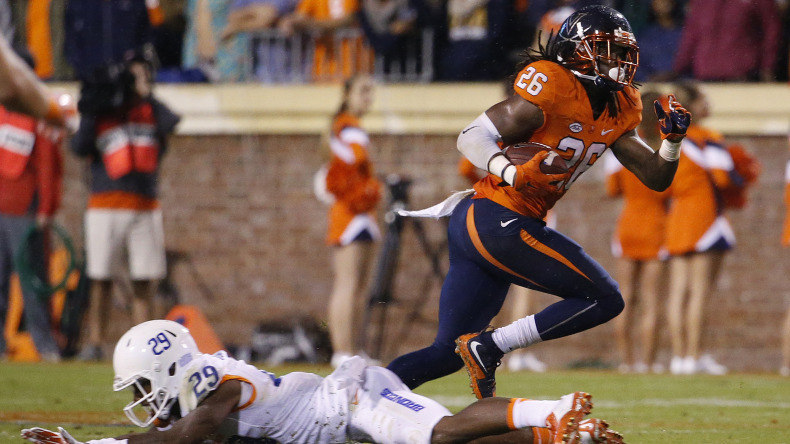 CHARLOTTESVILLE, Va. (AP) – The tone was set on the first play from scrimmage for Virginia (1-3).
Matt Johns dropped back to pass, and as the pocket collapsed around him, he attempted to flip the ball over his shoulder. Three-hundred-pound defensive tackle Justin Taimatuia intercepted it and lumbered 21 yards for a touchdown and a 7-0 lead after 16 seconds.
McNichols' 47-yard run on third down set up his first touchdown, on a 2-yard run. Johns' second interception, by Darian Thompson on a deep ball, set up a four-play drive to Tyler Rausa's 51-yard field goal. The game was barely 7 minutes old and the Broncos led 17-0.
But the bad news was only beginning for the Cavaliers.
They got a gift touchdown when Johns, throwing off his back foot and under heavy pressure, heaved a ball in the direction of T.J. Thorpe and Thorpe somehow came down with it in tight coverage and outran cornerback Jonathan Moxey for a 75-yard scoring play.
That brought the crowd back to life, as did a few defensive stands by the Cavaliers, but after Ian Frye missed a 48-yard field goal for Virginia, Rypien had five completions that covered 69 yards and the lead was 24-7.
Rypien, a freshman and nephew of former Washington Redskins quarterback Mark Rypien, continued to impress. He finished 21 of 32 for 250 yards with touchdowns of 10 yards to McNichols and 30 and 64 yards to Thomas Sperbeck. This all came a week after he made his college debut by leading the Broncos to three touchdowns and a field goal in just over one quarter of action against Idaho State.
McNichols has 10 touchdowns this season.
Trailing 24-7, Virginia's miserable night continued on the ensuing kickoff when a holding penalty forced the Cavaliers to start at their 10. After a running play netted nothing, Johns was called for intentional grounding from the end zone for a safety.
Johns, lifted after he threw another pick six to Mercy Maston late in the third quarter, finished 12 for 25 for 199 yards with two touchdowns and three interceptions. He was sacked three times and hit frequently.
As fans flocked to the exits early, Rausa added three more field goals and Rypien and Sperbeck connected for their TDs.