Johns' Career Day Helps Virginia Beat Duke 42-34
Story Links
Box Score Nov. 21, 2015
Box Score | Quotes | Notes | USATSI Gallery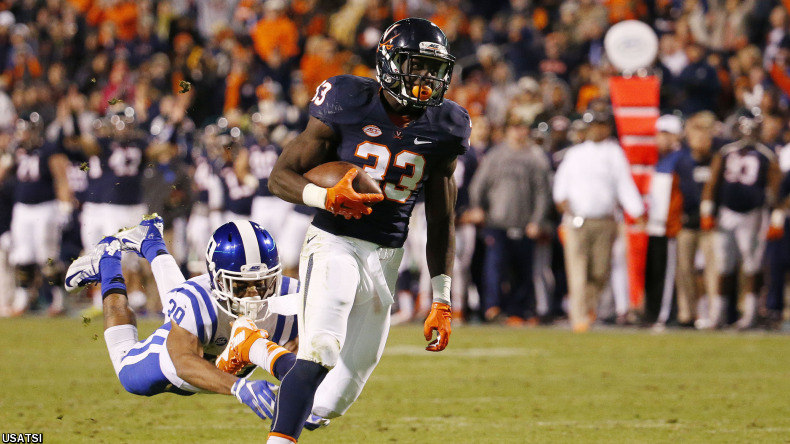 CHARLOTTESVILLE, Va. (AP)– Matt Johns passed for a career-high 344 yards and two touchdowns as Virginia held off a late Duke rally to win 42-34 Saturday at Scott Stadium. The Cavaliers (4-7, 3-4 ACC) had lost three straight and six of the last seven to the Blue Devils.
"We'll enjoy this tonight, but go to work tomorrow on the things we need to take care of," Virginia coach Mike London said.
"We're just going out there and doing it for all our seniors this year," Virginia safety Quin Blanding said.
Duke (6-5, 3-4) rallied from a 22-point fourth-quarter deficit and drove inside the Virginia 20 in the final minute behind a 49-yard pass from backup quarterback Parker Boehme to Anthony Nash. But on fourth down, Wilfred Wahee batted away Boehme's pass attempt to Nash in the end zone to seal the victory.
Taquan Mizzell had 104 total yards and three touchdowns and caught five passes to set a school record for receptions by a running back in a season. He entered the game with 63 receptions, tied with Alvin Pearman's 2003 output.
Mizzell's first touchdown, a 3-yard run late in the first quarter, gave the Cavaliers a surprising 21-0 lead after they converted on two Duke turnovers. Previously, Darious Latimore's end-zone interception of Thomas Sirk's pass set up a four-play, 80-yard drive capped by wide receiver T.J. Thorpe's 26-yard touchdown run.
"(Latimore is) just a gamer," Virginia linebacker Micah Kiser said. "That pick that he had was huge momentum for us. That first drive, they were kind of moving it on us, so that was a big play for us."
Mizzell's second touchdown came after Virginia defensive end Mike Moore recovered Boehme's fumble. DeVon Edwards returned the ensuing kickoff 94 yards to get Duke got on the board. The Blue Devils' Ross Martin added two field goals sandwiched around a 36-yard scoring pass from Johns to Mizzell as the Cavaliers took a 28-13 lead into halftime.
Mizzell scored his third touchdown on a 10-yard, third-quarter run before Duke got its first offensive touchdown, a 7-yard pass from Sirk to Braxton Deaver. The Cavaliers answered with a 50-yard touchdown pass from Johns to Olamide Zacchaeus two plays after Duke's standout safety, Jeremy Cash, was ejected for targeting after a massive hit on Johns.
Zacchaeus was on the passing end of Virginia's first touchdown, hitting Evan Butts for a 15-yard score after catching a backward pass from Johns on the Cavaliers' first drive. The score was initially ruled an illegal forward pass before the call was reversed upon review.
The trick play was one of several wrinkles Virginia offensive coordinator Steve Fairchild introduced, including several jet sweeps – one of which resulted in Thorpe's touchdown – and some positive plays out of the Wildcat formation.
"Sometimes if you open up the playbook like that and things don't go your way, the scoreboard can flip to the other end because you get quick three-and-outs," Johns said. "But we executed today very well."
Duke fought back in the fourth quarter with Boehme's 12-yard pass to T.J. Rahming. Boehme, who had replaced Sirk at quarterback, added a touchdown on a 1-yard sneak to bring the Blue Devils within one score at 42-34 with 7:24 remaining.
"The offensive line blocking their butts off gave me a whole lot of time back in the pocket seeing coverage," Boehme said. "I think their (defensive backs) bit on a couple of the double moves that we had, allowing us to get outside and throw the ball deep. T.J. and the wide receivers did a great job of beating their guys and going up and making plays for me."
But Latimore broke up a fourth-down pass to end one of Duke's late possessions and Wahee's deflection in the final minute secured the win.
"Things occurred during the course of the game where you could have turned and felt the pressure of, `Here we go, another close game," London said. "But these guys have been in close games, and executed and did what we needed to do to win a good football game against a good football team."