Virginia Falls Short to Virginia Tech, 23-20
Story Links
Box Score Nov. 28, 2015
Box Score | Quotes | Notes | Photo Gallery

| Photo Gallery (by Matt Riley)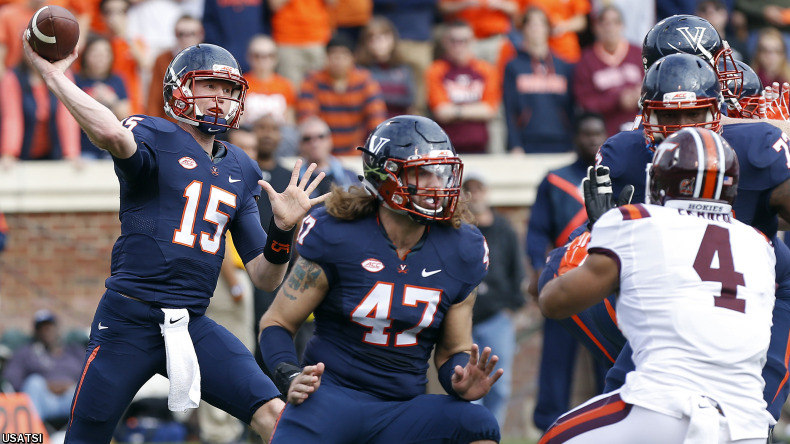 CHARLOTTESVILLE, Va. (AP) It looks like coach Frank Beamer has a chance for one more going-away party, at a bowl game.
Joey Slye kicked a 41-yard field goal with 1:38 left and Virginia Tech beat Virginia 23-20 on Saturday to give Beamer the chance to close out his 29-year coaching career in the postseason.
A week after losing in Beamer's final home game, the Hokies (6-6, 4-4 Atlantic Coast Conference) didn't let him down on the road in beating the Cavaliers for the 12th consecutive time.
After Slye's kick, Chuck Clark sealed the outcome with an interception with 59 seconds remaining.
On the Hokies' winning drive, Michael Brewer hit Isaiah Ford for 21 yards. Then he gained 2 yards on a third-and-1 quarterback sneak near midfield and the Hokies gained 28 yards on five tries by Travon McMillian.
Slye, who hit earlier field goals of 48 and 44 yards, made it a perfect day with his game-winner.
The game was a punting contest with a few field goals sprinkled in until the third quarter when Albert Reid cut through the left side of the line and went 57 yards untouched for a touchdown and 13-6 lead for Virginia.
On the next play, Brewer hit tight end Ryan Malleck over the middle, where he shed a tackle by safety Quin Blanding and went 71 yards to the 4. Two plays later, Brewer hit Sam Rogers for 3 yards and the touchdown.
The Cavaliers responded by driving 90 yards in 12 plays, with Johns hitting Canaan Severin for 27 yards and the touchdown. The play was initially ruled an incompletion, but the call was overturned after an official review.
The Hokies needed six plays to pull even again. Brewer hit Isaiah Ford for 38 yards early in the drive, and then hit him again for 32 yards and the touchdown on a third-and-15 play.
Before halftime, the Hokies pulled even at 6-all thanks to a curious call by Virginia. Facing fourth-and-16 from their 34, they elected to try a fake, and punter Nicholas Conte was pulled down 2 yards shy of midfield. A pass interference call against Kelvin Rainey negated Quin Blanding's interception, and Slye hit from 44.
Virginia took a 6-3 lead with a 67-yard drive in the second quarter. Johns looked to have hit Olamide Zaccheaus in stride in the end zone, but Zaccheaus couldn't hang on and Ian Frye booted his second 42-yard field goal.
Today's game was sponsored by Virginia529, the official college savings plan of University of Virginia Athletics. With Virginia Tech's victory, the Hokies have earned one point in the Virginia529 Commonwealth Clash. The score for the Clash is now, Virginia – 3.5 and Virginia Tech – 1. Learn more about Virginia529 and this competition at TheCommmonwealthClash.com.