Virginia Falls At No. 9 Ohio State, 93-73
Story Links
Box Score Dec. 21, 2015
Final Stats | Quotes | Notes | USATSI Gallery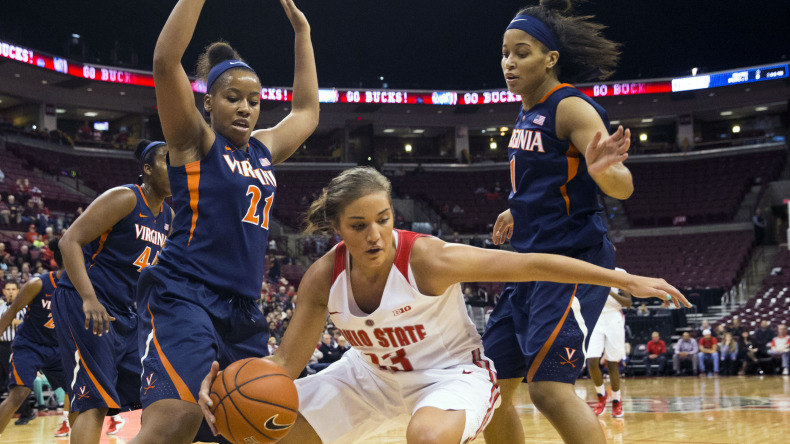 COLUMBUS, Ohio (AP) – After trailing 43-29 at halftime, Virginia outscored Ohio State 28-23 in the third quarter and got as close as three points, but Ohio State dominated the fourth by a 27-16 margin to win going away.
The Buckeyes shot 69 percent in the fourth quarter, and McGuff admitted he was a little sorry they were playing their last game until New Year's Eve.
"As much as I feel like we've got some momentum and we're going in right direction, it will also be good for everybody to spend some time with their family and get away from it for a little bit," he said. "Hopefully we can come back with the same energy and enthusiasm and just continue to get better."
Faith Randolph of Virginia tied her career high with 26 points. She made 4 of 6 3-point attempts while teammate Mikayla Venson went 4 for 5 from long range and finished with 24 points. Aliyah Huland El added 12 points for the Cavaliers (8-4).
Virginia had a three-game winning streak snapped and fell to 0-3 against Big Ten teams this season. They previously lost 60-48 to Rutgers and 85-73 to Iowa.
—
TIP-INS
Virginia: The Cavaliers were 5 for 5 from 3-point range in the third quarter and made 11 of 20 from beyond the arc in the game.
Ohio State: The Buckeyes won for the eighth time in nine tries after opening the season with losses to No. 1 Connecticut and No. 2 South Carolina. Their other loss was to No. 3 Notre Dame.
COMFORTABLE MARGINS
During the Buckeyes' four-game winning streak, they have outscored their opponents by an average margin of 94.3-68.8.
SERIES HISTORY
Ohio State improved to 7-2 all-time against Virginia and avenged an 87-82 loss to begin last season. The Buckeyes are 4-0 against the Cavaliers at home.
UP NEXT
Virginia plays Lafayette in Richmond on Monday.
Ohio State hosts Michigan State on Dec. 31.