No. 4 UVA Falls at Virginia Tech, 70-68
Story Links
Box Score Jan. 04, 2016
Final Stats | Notes | USATSI Gallery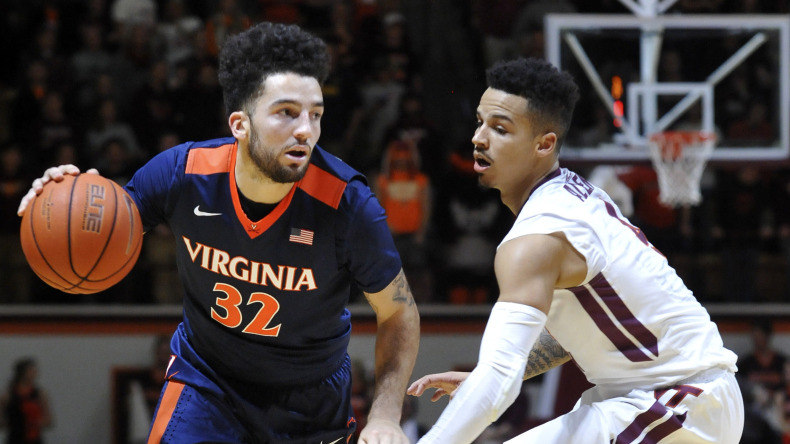 BLACKSBURG, Va. (AP) – Zach LeDay scored 22 points to lead Virginia Tech to a 70-68 upset win over No. 4 Virginia on Monday night at Cassell Coliseum in Blacksburg.
Junior guard London Perrantes hit six 3-pointers in the second half and led Virginia (12-2, 1-1) with 22 points, but LeDay swatted his driving layup in the final seconds, preserving Virginia Tech's slim margin. LeDay scored 18 of his 22 points in the second half.
"We had a hard time finding him sometimes," Virginia coach Tony Bennett said.
Anthony Gill added 17 points for Virginia, which out-rebounded the Hokies and shot better, but had 16 turnovers that led to 26 points for Virginia Tech.
"They came out ready to go and we didn't," Gill said.
The score was tied seven times in the second half, and the Hokies used a 10-3 run to take a 57-53 lead with just over five minutes to go. Two free throws by Malcolm Brogdon made it a 2-point game, but Bibbs' jumper doubled the margin.
A free throw by Gill and a defensive stop for Virginia gave them a chance to pull even, but their 15th turnover scuttled that and Justin Bibbs burned them with his fourth 3-pointer moments later, igniting the home crowd.
Virginia coughed it up again on its next possession, and Kerry Blackshear converted for the Hokies, was fouled and finished the three-point play. A missed 3-pointer by Virginia led to Justin Robinson's jumper, stretching the Virginia Tech lead to 67-56 with 2:10 remaining, and only then did the Cavaliers mount a comeback.
"I don't think that we're good enough for it to be pure basketball," Virginia Tech head coach Buzz Williams said. "I think it has to be more of a fight, pseudo basketball, because that's what gives us our best chance."
Perrantes' sixth 3-pointer of the half and another by Gill highlighted their rally to within a point but Virginia Tech made just enough free throws to hang on, ending Virginia's 11-game winning streak.
Virginia opened the second half with an 11-3 run fueled by two 3-pointers from Perrantes and another from Brogdon. LeDay kept the Hokies close with two 3s – his third and fourth of the season – and then got help on the offensive end as Virginia Tech tried to keep pace as Perrantes hit five 3s in the first 6 1/2 minutes.
Both teams shot poorly in the first half, but Virginia had nine turnovers and the Hokies turned them into 12 points. The Hokies gave it away just four times, leading to four points for the Cavaliers, and Virginia Tech led 26-21 at halftime.
Tonight's game was sponsored by Virginia529, the official college savings plan of University of Virginia Athletics. With Virginia Tech's victory, the Hokies earned a half-point in the Virginia529 Commonwealth Clash. The score for the Clash is now University of Virginia – 3.5 and Virginia Tech – 2. Learn more about Virginia529 and this competition at TheCommmonewalthClash.com.