Brogdon, Defense Lift No. 4 Virginia over Georgia Tech 72-52
Story Links
Box Score March 10, 2016
Georgia Tech Press Conference | Virginia Postgame Press Conference | Interactive Bracket | Final Stats | Notes | USATSI Gallery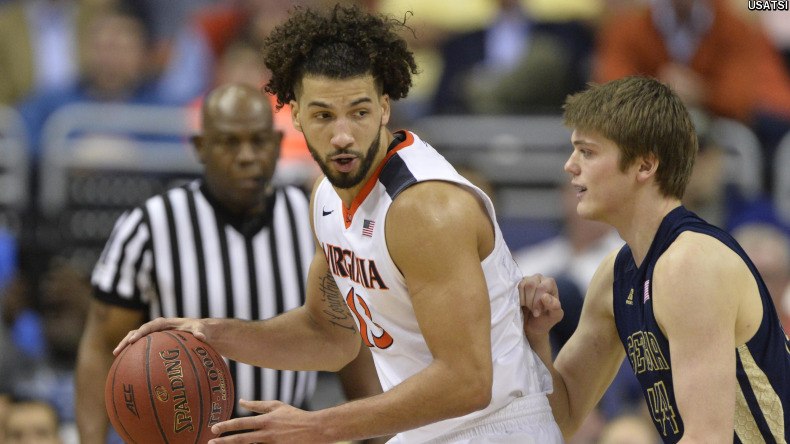 WASHINGTON (AP) After little-used Virginia senior Evan Nolte let fly a corner 3-pointer while getting fouled, he wound up on the ground. So he couldn't tell whether the shot went in – until all those roars from a partisan ACC Tournament crowd that soon was chanting his name.
"I let it go and I thought I missed it badly. I got hit in the face, so I couldn't even see it," said Nolte, averaging 1.6 points this season. "But then I realized I made it, heard (the reaction), and that was a surprise."
With contributions from up and down the roster supplementing conference player of the year Malcolm Brogdon's 26 points, and plenty of support in the orange-filled stands, No. 4 Virginia moved into the ACC semifinals by beating Georgia Tech 72-52 on Thursday night.
Everyone knows what Brogdon can do, but players such as Nolte (six points) and Mike Tobey (nine points) played roles, too, including when it came to Virginia's typical stingy defense, which held Georgia Tech to a season-low-tying point total.
"When those other guys can give us a lift, hitting a shot, doing some things, it makes a big difference," said Virginia coach Tony Bennett, whose team will face No. 11 Miami or Virginia Tech in the semifinals. "We needed that really early."
At the get-go Thursday, the Cavaliers (25-6) made things tough for Georgia Tech (19-14), which started 0 for 4 on field-goal tries, settling for off-balance heaves late in the shot clock. By the end, the Yellow Jackets had 14 turnovers and a shooting percentage of 41 percent.
Still, Georgia Tech did briefly right itself, making six consecutive attempts to go ahead 16-11. That's when Brogdon started to assert himself, scoring eight points in a row during a mini-run that put his team ahead 28-22 and made the arena sound like a Virginia home game.
"Coming out of the tunnel, I saw those orange shirts," said Anthony Gill, who had 12 points and eight rebounds for Virginia. "I was just stunned."
At halftime, Brogdon had 14 points, and the Cavs led 30-28. When he departed to a standing ovation with a little under 3 minutes remaining, it was 70-47.
"He's really versatile," said Adam Smith, who led Georgia Tech with 16 points. "His teammates always know where he is."
Georgia Tech is not exactly an offensive juggernaut, but it did average 73.5 points entering the conference tournament – and it did beat Virginia 68-64 on Jan. 9. The Cavaliers dominated this matchup with the sort of play that allowed it to rank second in the country in scoring defense, allowing only 59.6 per game.
It didn't help Georgia Tech that its leading scorer, Marcus Georges-Hunt, missed a few minutes in the second half when he crashed to the court after rising up to block a shot and hurt his tailbone.
He stayed down for a bit, then shuffled slowly toward the locker room. Georges-Hunt returned to the game, but was not the guy who scored 28 against Clemson in the second round, finishing with seven points on 1-of-8 shooting.
"Put us in a tough spot," Georgia Tech coach Brian Gregory said about Georges-Hunt's injury.
Nolte's four-point play and a jumper soon after boosted Virginia to a 49-35 lead, and the margin kept growing.
Brogdon tacked on a 3. London Perrantes added another. A layup by Brogdon made it 67-45. And so on.
"They're so good defensively, consistent defensively," Gregory said, "that all of a sudden, they go on a stretch where they make some shots, and a four- or five-point game is a 13- or 15-point game."
OTHER HALF OF THE BRACKET
Defending tourney champ Notre Dame will meet No. 7 North Carolina in the other semifinal. Notre Dame got past Duke 84-79 in overtime, while UNC beat Pittsburgh 88-71.
TIP-INS
Georgia Tech: A victory would have given Georgia Tech its first 20-win season since 2009-10.
Virginia: Won the ACC Tournament two years ago. … Brogdon is the first in ACC history to win player of the year and defensive player of the year honors in the same season.
UP NEXT
Virginia: Plays No. 11 Miami or Virginia Tech on Friday.
—