Virginia Falls to Syracuse, 68-62
Story Links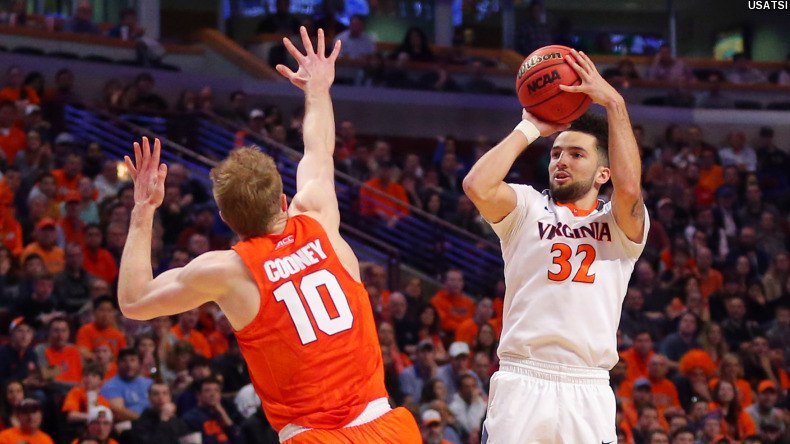 March 27, 2016
Final Stats | Notes | Photo Gallery

| Virginia Quotes

| Syracuse Quotes

CHICAGO (AP) Malachi Richardson and Syracuse scrapped and fought their way from the bubble to the Final Four.
Richardson scored 21 of his 23 points in the second half, and Syracuse extended its improbable run with a 68-62 victory over top-seeded Virginia on Sunday.
The Orange were among the last teams to get into the NCAA Tournament after a rough closing stretch, but slipped in as a 10 seed before storming to its first Final Four since 2013 and No. 6 overall. It comes at the end of a challenging season for coach Jim Boeheim, who was suspended for nine games as the result of an NCAA investigation.
"It was a whole team effort and these guys really deserve it," Boeheim said. "We beat a great basketball team. I've never been prouder in all my 40 years as coach of a basketball team as I am of this team tonight."
Syracuse (23-13), which trailed by 16 at the start of the second half, becomes the first 10 seed to make it to the Final Four and just the fourth double-digit seed to accomplish the feat. It's the lowest seeded team to reach the national semifinals since VCU in 2011, according to STATS.
Michael Gbinije and freshman Tyler Lydon each scored 11 points for the Orange, who will face the winner of the East Regional final between North Carolina and Notre Dame on Saturday in Houston. Tyler Roberson finished with 10 points and eight rebounds.
"We worked so hard," Gbinije said. "We've been through a lot."
London Perrantes scored 15 of his 18 points in the first half for Virginia (29-8). Malcolm Brogdon, the ACC player of the year, finished with 12 points.
The Cavaliers had a chance to tie in the final seconds after Gbinije went 1 for 2 at the line. But Devon Hall missed a 3-point attempt and Lydon and DaJuan Coleman combined for three free throws to close it out for the Orange.
Syracuse also trailed in the regional semifinal against Gonzaga, erasing a nine-point deficit in the final 6 1/2 minutes.
Virginia, which beat Syracuse 73-65 on Jan. 24, shot 35.7 percent in the second half. Anthony Gill and Mike Tobey finished with 10 points apiece.
Bouncing back from a jittery start, Virginia grabbed control with a 19-2 run in the first half. Perrantes sparked the turnaround with two straight 3-pointers and Darius Thompson finished it off with a circus layup on the break, making it 21-10 with 6:33 left and drawing an "ooohhh" from the crowd of 20,155.