Post Game Notes - East Carolina vs Bryant
Story Links
June 4, 2016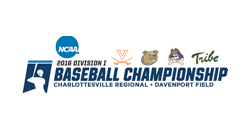 Post-Game Notes
2016 NCAA CHARLOTTESVILLE BASEBALL REGIONAL
Davenport Field – Charlottesville, Va.
2016 NCAA Division I Baseball Regional – Game 2
June 3, 2016 – 5:55 p.m.
East Carolina (35-21-1) vs. Bryant (47-11)
EAST CAROLINA POST-GAME NOTES
ECU is now 32-55 all-time in NCAA Tournament games.
The Pirates' last win in NCAA Tournament play was 10-6 over Cornell on June 2, 2012 in the Chapel Hill Regional hosted by North Carolina.
It's the 28th NCAA Regional appearance for ECU and second consecutive under second-year head coach Cliff Godwin.
East Carolina improved to 25-6 when scoring first in 2016, pushing a run across in the seventh inning.
Junior 2B Charlie Yorgen went 3-for-5 at the plate for his 14th multiple-hit game of the season.
Redshirt junior C Travis Watkins went 3-for-4 at the plate for his 16th multiple-hit game of the season.
ECU will now face No. 1 seed Virginia on Saturday. The Pirates picked up a 2-1 series win over Virginia in Charlottesville this season (Feb. 26-28). ECU trails 30-22 all-time in the series with UVA.
ECU head coach Cliff Godwin is now 8-8 in NCAA Tournament games as a player and coach with the Pirates. It's the first tournament win for Godwin as Pirates' head coach.
BRYANT POST-GAME NOTES
Bryant is now 1-5 in NCAA Tournament games. The first win was 4-1 over Arkansas in 2013 at the Manhattan Regional hosted by Kansas State.
This is Bryant's third NCAA Regional appearance (2013, 2014, 2016).
Freshman OF Nick Angelini extended his active hit streak to 13 games, going 1-for-2 at the plate.
Junior 2B Cole Fabio turned in his 17th multiple-hit game, going 2-for-3 at the plate.
The Bulldogs avoided the shutout with a run in the ninth inning. Bryant has not been shut out in 2016.
Bryant is now 4-3-1 on the season when the game is tied entering the seventh inning.
The Bulldogs will now face William & Mary in an elimination game on Saturday. Bryant has never faced William & Mary in program history.