Story Links
June 5, 2016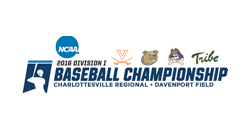 2016 NCAA CHARLOTTESVILLE BASEBALL REGIONAL
Davenport Field – Charlottesville, Va.
2016 NCAA Division I Baseball Regional – Game 6
June 5, 2016 – 3 p.m.
William & Mary (31-31) vs. East Carolina (37-21-1)
William & Mary Notes
The Tribe is now 4-8 in NCAA Tournament games.
This was the first NCAA Regional Championship appearance since the 2013 season and second appearance in an NCAA Regional Championship appearance in program history. The Tribe fell to NC State 9-2 in the Raleigh Regional championship that season.
Charley Gould went 3-for- 4 for his team leading 24th multiple-hit game of the season.
Junior Ryder Miconi reached base safely in 54-of- 59 games played this season.
William & Mary held the Pirates to 3-for-14 batting with runners in scoring position, but surrendered three home runs accounting for 6 RBI.
William & Mary put its leadoff hitter on base in the first five innings. The Tribe finished with their leadoff hitter reaching base in six of nine innings.
EAST CAROLINA POST-GAME NOTES
East Carolina advances to an NCAA Super Regional for the first time since the 2009 season. That year the Pirates advanced to the Chapel Hill Super Regional.
The Pirates went 3-0 in an NCAA Regional for the first time since the 2004 season. That season ECU defeated Stony Brook and UNCW on the way to the Columbia Super Regional vs. South Carolina.
ECU advances to face either No. 5 national-seed Texas Tech or Dallas Baptist out of the Lubbock Regional hosted by Texas Tech.
ECU is now 34-55 all-time in NCAA Tournament games.
The win over W&M was the first by ECU since a 13-4 win on April 18, 2012. W&M won the last meeting between the two teams, a 10-4 win on March 26, 2013.
It's the 28th NCAA Regional appearance for ECU and second consecutive under second-year headcoach Cliff Godwin.
ECU head coach Cliff Godwin is now 10-8 in NCAA Tournament games as a player and coach with the Pirates.
The Pirates are 30-6- 1 when out-hitting an opponent, out-hitting W&M 14-10 on the afternoon.
Junior 2B Charlie Yorgen went 8-for- 14 in the NCAA Regional through three games.
ECU was 3-for- 14 with runners in scoring position, but notched three two-run home runs in the win.
Watkins now has a team-leading 11 multiple-RBI games after going 2-for- 4 with 2 RBI.