Jeff White's Twitter | Subscribe to UVA Insider Articles | Schedule of Events | NCAA Meet Information | UVA Record Book
By Jeff White (jwhite@virginia.edu)
VirginiaSports.com
CHARLOTTESVILLE –– Kelly McKee graduated last month from the University of Virginia, where she majored in computer science and cognitive science, and she's accepted a job as a technology consultant with Accenture in Overland Park, Kan.
McKee is scheduled to start working there in August, but UVA's record-setting triple jumper is keeping her options open. In early July, she'll compete at the World University Games in Italy, and later that month she'll jump at the USA outdoor track & field championships in Iowa.
With a strong performance at the latter meet, McKee could qualify for the IAAF world championships this fall in Qatar, which would establish her as a serious candidate for a spot on the 2020 U.S. Olympic team.
That's not an unrealistic goal for McKee, said UVA assistant coach Mario Wilson, who's worked with her for the past three years.
McKee, who turns 22 next month, holds Virginia's record in the women's triple jump: 13.70 meters (44 feet, 11.5 inches). If she commits herself to getting stronger and can hit the 14-meter mark, "I think the door is open for her," Wilson said.
"She definitely has some special qualities. She's very, very, very elastic, and she absorbs forces very well. She's a good sprinter. She's very, very sound mechanically, in terms of her running mechanics. In the weight room, I think that's where her future [improvement is] going to come from."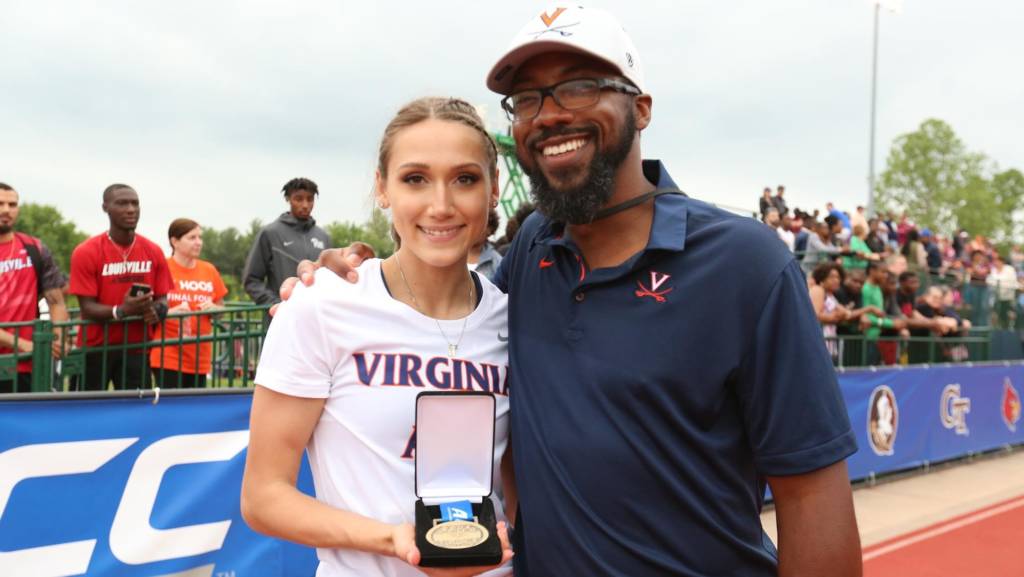 Kelly McKee (left) and Mario Wilson
McKee's immediate focus is her final college meet. She's seeded seventh in the triple jump at the NCAA outdoor championships in Austin, Texas, where she'll compete on Saturday.
"I'm so excited for her," said Bryan Fetzer, who oversees Virginia's track & field and cross country programs. "Her confidence is through the roof right now, and she can do something special."
At last year's NCAA championships, in Eugene, Ore., McKee was seeded 18th. She placed ninth.
"I came in with the mentality that I had nothing to lose, because I was the underdog," McKee recalled. "I have a lot of confidence when I come in as the underdog, because I'm like, 'I'm going to show them.' "
Twelve months later, her attitude is different.
"Last year it was more like, 'You made it, it's going to be fun,' " said McKee, who's from the Kansas City area. "This year it's a little more serious. I have higher expectations, and I definitely know how it's going to work a little bit better."
That's not the only change McKee has undergone during her UVA career. She spent her freshman year at the University of Kansas, and when she arrived in Charlottesville in August 2016 she was soft-spoken and reserved.
No longer. Her decision to transfer "pushed me out of my comfort zone, and I've definitely grown a lot since I've been here," McKee said.
Wilson appreciates being able to witness such growth. "It's a huge part of why I do what I do, and why I'm in the collegiate environment: to literally watch someone evolve and blossom and turn into the adult they're going to be professionally and socially going forward," he said.
"Kelly definitely was super shy when she got her. Obviously, she transferred, so that makes that second year almost like a first year all over again. But she's done a tremendous job of being a great teammate, and her work ethic speaks for itself."
Coming off her ninth-place finish at the NCAAs last year, McKee was determined to keep rising in the sport. "She works so hard in the summer time, and it was pretty evident when she came back in the fall," Wilson said.
Athletes can't expect to be better at the end of the season, Wilson said, if they don't commit themselves at the start. "Whether it's work ethic or diet, something has to change, and then all of the sudden you see it in their performances, because our sport is all about performance. You get to test 'em. You get to test 'em all year, and Kelly kept [improving]."
McKee is the first Cavalier since Dana Boone (1989, '90, '91) to qualify for the NCAA outdoor championships in the women's triple jump in back-to-back years. But she's experienced adversity this year, too. She suffered a setback in January when she pulled a hamstring, and that prevented McKee from competing at the NCAA indoor championships.
"It still bothers her on occasion," Wilson said, "but I think physically her strength levels are better than they've ever been. We've definitely modified training, but I think she's well-rested, and it shows in her performances."
McKee, who was runner-up at the ACC indoor championships, finished third at the ACC outdoor meet, which was held last month at Lannigan Field. The triple jumpers who placed ahead of McKee each set a personal record. "Kelly didn't," Wilson said, "but she still jumped 44 feet. She's had a jump of 44 feet or better in every one of her outdoor meets [this year]. That's super consistency."
A former gymnast, McKee has family ties to Kansas State and the University of Kansas, as well as Pittsburg State, a Division II school in Kansas.
Until the end of her freshman year at Kansas, McKee said, "I had no intention of leaving." But she felt she'd grown complacent there, McKee said, and found herself facing an important choice as she learned more about UVA and its track & field program.
"Do I take a leap and [choose] the school that I'm scared of, because it's a 15-hour drive from my home, or do I stay at a place I'm comfortable with?" McKee recalled asking herself.
She decided to leap. "I was like, 'You know what? I'm just going to do it,' " McKee said, "and it ended up being probably one of the best decisions I've ever made. Virginia just made me work harder in all areas of my life than I'd ever done before."