Jeff White's Twitter | Subscribe to UVA Insider Articles | UVA's 2018-19 Schedule/Results
By Jeff White (jwhite@virginia.edu)
VirginiaSports.com
 
CHARLOTTESVILLE –– During her four years as a University of Virginia student, Heidi Long spent considerably more time in the United States than in her native England. But she never really suffered homesickness, because she knew she'd eventually be a full-time resident of the United Kingdom again.
 
Leaving the U.S. this month, however, was a different matter for Long, a four-year standout in the UVA rowing program.
 
"What I'm realizing, now that I'm going back home, is that it feels far more permanent than each time I come over to the U.S." Long said on the eve of her return to England. "And so I'm struggling with that right now, saying good-bye to everyone, and saying good-bye to the U.S."
 
What she'll miss most, Long said, are "the relationships I've made with teammates and friends and coaches whilst being at Virginia. Saying good-bye has been a roller-coaster these last few weeks."
 
She didn't squander her time in Charlottesville. Long, who grew up about 25 miles west of London, carried a double major at UVA (biology and cognitive science), from which she graduated last month. In rowing, she was named the ACC Freshman of the Year in 2016 and made the All-ACC first team in each of the next three seasons. As a junior, Long was a first-team All-American. (This year's selections have yet to be announced.)
 
In a program that's been competing at the varsity level for nearly a quarter-century, fewer than 10 women have rowed on UVA's top boat for all four of their years. Long is one of them. Head coach Kevin Sauer said he recognized soon after Long arrived in Charlottesville that she'd be a fixture on the Varsity Eight.
 
"She's just awesome," Sauer said. "Just her personality, her work ethic, her attitude. She's just one of those type of kids that you want, and you want more like her."
 
At 5-10, Long is shorter than many elite rowers, but "she makes up for it in grit and attitude and work ethic," Sauer said.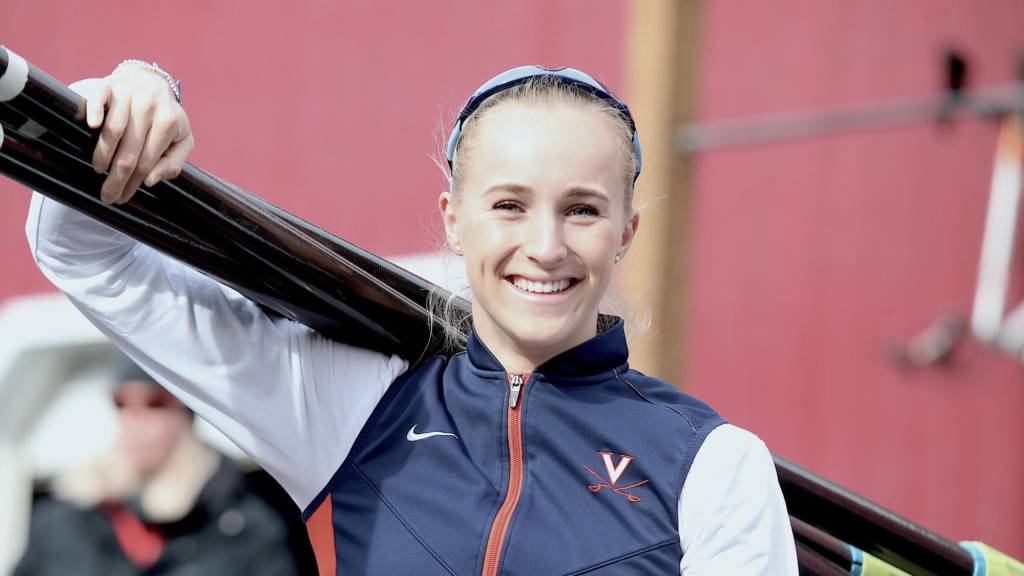 Long has twice represented Great Britain at the Under-23 world championships, rowing in the Women's Eight in Bulgaria in 2017 and in the Women's Pair in Poland last year. (She and Hannah Scott placed second.) Her next goal: to row for Great Britain at next summer's Olympic Games in Tokyo. 
 
"Realistically, it's going to be tough," Sauer said, "but I wouldn't bet against her, that's for sure. It may be that she'd have a better chance in 2024, if she sticks with it, but I don't know. I'm not in the GB system. But they're impressed with what she's done."
 
Long returned home this month and resumed training with GB Rowing. She hopes to compete next month in World Rowing Cup III, in the Netherlands, and then earn a spot on Great Britain's senior team.
 
"I don't know what's going to happen over the next four months whatsoever," she said. "I could be in a better position than I ever thought was possible. But on the other hand, [GB Rowing] might be like, 'Door's closed, we have the team that we want, go off and train by yourself for the next year, and you can come back for the next Olympic cycle.'
 
"Either way, decisions have to be made. People keep asking me what I'm going to be doing, and I wish I knew. It's up in the air. I'm going to go back and train and really give it all I've got and hope that the opportunities are there to be taken."
 
Eventually, Long said, she'll probably attend graduate school in the UK, perhaps at Oxford or Cambridge, but she's excited to pursue her dream this year.
 
"I'm fortunate enough to still love rowing," she said. "A lot of people get to this stage [and are burned out]. I love the sport, I love the people involved with it, so I'm not ready to hang up my hat yet. Also, because it's only a year, it was going to be a real challenge to break in, but it's not like a four-year period of my life. So I feel like it works out in a way that I can go for it with everything that I've got for this year, and then reflect after that about the best thing to do."
 
In high school, Long competed for the Marlow Rowing Club, whose coaches included Sarah Cowburn, a former UVA standout. Cowburn suggested she consider Virginia, and Long visited Charlottesville in October 2014. She enrolled at UVA in the summer of 2015.
 
"I think it has been probably one of the best opportunities I'll ever get given in life," Long said. "I really enjoyed it. There have definitely been very hard parts, but especially these last two years have just been like a whirlwind. They've gone so quickly, and I've tried to do as much as I can to integrate with all sorts of different parts in the University life, which has been fun as well. With Kevin, it's not just, You are here to row, and that's all you're here to do."
 
Heading into the 2018-19 academic year, Long quizzed some former teammates. "I said, 'What's your advice going into fourth year?' And they were just like, 'Make the most of every opportunity you're given. Do no waste a single minute. Try new things. Go to different restaurants. Really embrace Charlottesville and not just the University.' I've tried to do that as much as I can."
 
She smiled. "I think one of the troubles is that there's so much to do, and I just want to keep doing stuff, and I'm not ready to leave."
 
During her final three years at UVA, she was active with the Student-Athlete Advisory Committee, serving as its administrative officer in 2018-19. Through SAAC, Long also served as a liaison with Student Council's Athletic Affairs Committee.
 
"It was cool, especially because so much is going on with athletics right now, to be involved in all of those processes, and to work with [athletics director] Carla Williams," Long said. "It's been a really fun year, working with student-athletes on a much broader scale than just rowing."
 
Her impact on her sport of choice at UVA has been immense. It was no surprise when Long, at the Hoos Choice Awards show at John Paul Jones Arena in early May, received the coaches' award for excellence for her team.
 
"It's not just the best rower," Sauer said. "It's the attitude, it's the leadership, it's the inclusivity of people on the team. She's just a kind-hearted person. Those kinds of things that you want people on your team to emulate."
 
Long said: "I've been very, very lucky with the relationship I've formed with Kevin and the other coaches, and I've worked hard at those relationships for the last four years. It was very, very special to get that recognition and to be honored by him."
 
Basketball is not an especially popular sport in England, but Long, like so many others, became captivated by the UVA men's team during her time in Charlottesville.
 
"Completely sucked into it," she said. "I tried to go to every single basketball game that was at JPJ. I'd never seen anything on the scale of that before. So to be able to go a game on, like, a Tuesday night was the coolest thing. And then to have the results this year, it was insane to be at Virginia for it. Watching the [NCAA championship] game, I was fully invested in everything that was going on. It was so much fun. You could feel your heart racing."
 
At the NCAA rowing championships, the Wahoos finished third overall in 2016, 11th in 2017, fifth in 2018, and 10th this year. Virginia won the ACC title in each of those seasons.
 
"Women's rowing in particular is getting more and more competitive every single year," Long said. "There are a greater number of programs that are raising the standard season after season. Unfortunately, this year we did absolutely everything we could and we just fell short. 
 
"I have a very different feeling coming off this year compared to two years ago, even though the results were relatively similar [for UVA]. This year I came away knowing we did absolutely everything we could. We just weren't good enough. That in itself is pretty hard to deal with, but we put our best foot forward, and I'm really, really proud of being part of a team that did that and proud of every single girl on the team and the coaches.
 
"As cliché as it sounds, the journey is what was really important this year. Trying to lead the team throughout the year and coming out with that result was pretty hard, but at the same time I wouldn't have changed it. I absolutely love this team.
 
"I'm excited for what's to come, and I think Virginia can climb its way back up the ladder, and I hope to be a part of that in any way I can be."