Subscribe to UVA Insider Articles | Jeff White's Twitter | UVA Football Schedule | UVA Field Hockey Roster | UVA Field Hockey Schedule
By Jeff White (jwhite@virginia.edu)
VirginiaSports.com
CHARLOTTESVILLE –– Her alarm jolts her awake at 3:50 a.m., and she's at the McCue Center by 4:30 a.m. For most of the summer, that's been Rachel Robinson's routine four days a week. She's usually asleep by 9 or 9:30 p.m.
"This isn't for everybody," said Shawn Griswold, UVA football's director of development and performance. "It'll spit out who can do it and who can't."
Along with his assistants, Dwayne Chandler, Tyler Shumate, Ryan Phillis and Nathan Pototschnik, Griswold oversees strength and conditioning for head coach Bronco Mendenhall's team. The Cavaliers' summer program concludes Friday, after which field hockey will once again be Robinson's primary athletic focus.
A rising junior from Mount Joy, Pa., she's heading into her third year as a starting back for head coach Michele Madison at UVA. For the past seven weeks, however, she's been an intern on the football strength and conditioning staff, an experience Robinson believes will pay dividends for her in field hockey.
"It's challenged me a lot," said Robinson, a kinesiology major. "It gave me an idea what strength and conditioning was, but I think it's helped me more leadership-wise and with personal development, because it challenged me to actually speak up around older guys and my peers."
"When I get to my field hockey team, I can apply a lot of things that I've learned. This internship has definitely challenged me to get out of my comfort zone."
UVA's veteran football players work out in the morning, one group at 6 o'clock, another around 8. The Wahoos' freshmen train from 4 to 5:45 p.m. Between sessions, Robinson and her four fellow interns get a break during which she'll work out or, if there's a field hockey camp being held on Grounds, help with that. She hones her field hockey skills in the evenings.
"She's outstanding," Griswold said. "She works hard, she's energetic, she's here on time, she's a go-getter."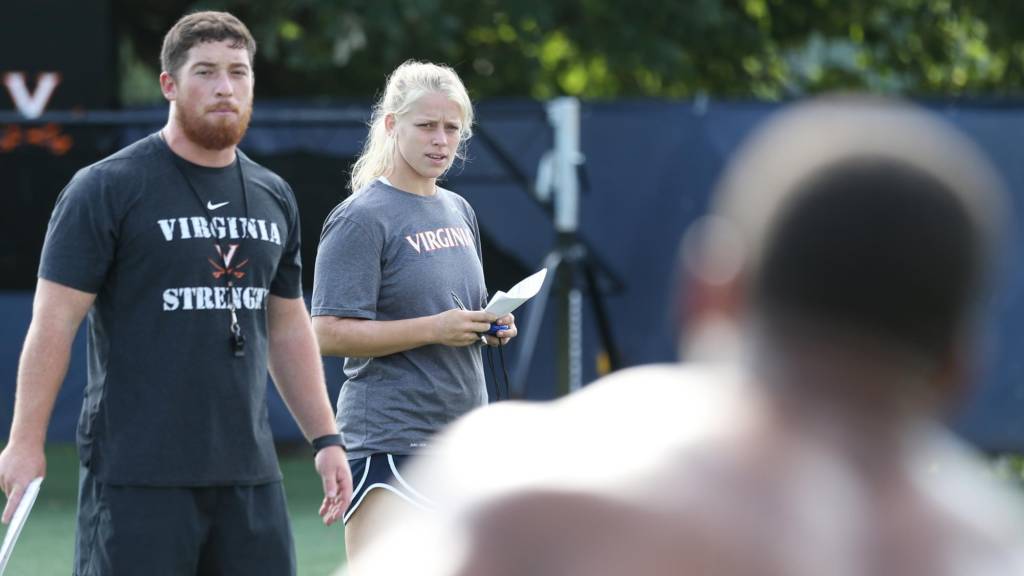 Rachel Robinson (right) with Tyler Shumate
The interns, Robinson said, "do a lot of the grunt work and just really clean up, set up and then look at the behind-the-scenes things, which is pretty cool." There are also classroom sessions led by Shumate.
"That's actually one of my favorite parts, because I feel like I learn things more there," Robinson said.
Joshua Miller oversees strength and conditioning for UVA field hockey. When Robinson mentioned to him that she was interested in that field, Miller suggested she apply for one of football's summer internships.
Robinson's sister Katie preceded her in the field hockey program at UVA and is now the head coach at Langley High School in Northern Virginia. Rachel believes that she'll ultimately end in a similar role, and a background in strength and conditioning can only help her as a coach.
"This just gives me a different [perspective]," Robinson said. "I know as a coach you have to value all parts of the support staff."
Since enrolling at UVA in 2017, Robinson has followed the football team, but she didn't know many players personally before her internship began. "I knew some of the guys by name, but to actually see them work, it's a whole different story," she said.
The hardest worker on the team?
"I would definitely say Jordan Mack or Bryce Perkins," Robinson said. "They're just constantly working."
Her friends on the team include offensive lineman Dillon Reinkensmeyer, whom she met in a Christian fellowship group for UVA student-athletes.
"I didn't know she was going to work with the football team this summer, so that was a welcome surprise," Reinkensmeyer said.
Griswold said: "She's really, really good, and I think that's what you see from her on the field, too. She's stepped right in and does a really nice job with our guys. She's not afraid to jump in and make 'em do it right, make 'em do it over, call 'em out.
"I've seen her jump on the older dudes and tell them what to do, too. She's not afraid to hold them accountable. That's essentially what she's doing, and our guys are good, because they understand the rules and expectations and the groundwork that's been laid by Coach Mendenhall."
That Robinson is a talented athlete herself was evident during a grueling running drill at Scott Stadium, where the interns competed along with the freshman football players. Robinson finished sixth overall and first among the interns, and she was "encouraging guys the whole time," Griswold said, "high-fiving guys and getting them to go. She's a special individual."
After her first season at UVA, Robinson tore her right anterior cruciate ligament, an injury that required reconstructive surgery in late February 2018. She returned early last season and ended up starting 15 games for the Cavaliers, but never felt like she was in peak condition. Then in November she tore the meniscus in her left knee.
She's fully recovered from those setbacks, and it "feels nice to actually have a summer healthy," Robinson said.
In April, she played in Germany for the United States' Under-21 team, and she's been invited to take part in USA Field Hockey's Women Development Squad training camp in December. One of Robinson's current UVA teammates, Erin Shanahan, and former teammate Carrera Lucas played on that U.S. team in 2018, and they've been invited to the December camp, too.
The Virginia field hockey team starts practice in about three weeks. The Cavaliers open the season Aug. 30 against Old Dominion in Norfolk.
"I'm super excited for this year, because we have first-years coming in and then a lot of older girls playing, so it's going to be a good mix," Robinson said.