Jeff White on Twitter | Subscribe to UVA Insider Articles | UVA Game Notes | UVA Men's Soccer on Twitter
By Jeff White (jwhite@virginia.edu)
VirginiaSports.com
 
CHARLOTTESVILLE –– When Jordan Allen left the University of Virginia after the 2013 season and signed with Real Salt Lake of Major League Soccer, his future in the sport could not have looked much brighter.
 
Then injuries intervened. A series of knee operations derailed Allen's professional career, after which he opted not to delay the inevitable. A 5-11 midfielder, he retired after six seasons with Real Salt Lake and decided to return to Charlottesville to finish work on his bachelor's degree.
 
Allen, who had earned 15 credits as a UVA freshman in the fall of 2013, said he could have tried "to push through a couple more years of pain and then come back [to school], but it seemed like a good point in life to make that decision."
 
And so he's once again a UVA student and once again part of head coach George Gelnovatch's program, this time as an undergraduate assistant.
 
"George welcomed me back with open arms," said Allen, who's from Rochester, New York.
 
In 2013, his only college season, Allen helped the Cavaliers reach the College Cup, where they lost 2-1 to Maryland in the semifinals. A year later, UVA won the program's seventh NCAA title.
 
"It was bittersweet, because I was so happy for the guys," Allen recalled, "but also just like, 'Man, we were so close when I was there. It would have been great to be able to share in that success.' But it was great. I remember watching it with my mom in the living room, putting it on the TV, and it was cool just to see the guys get to experience that. I knew that they deserved it."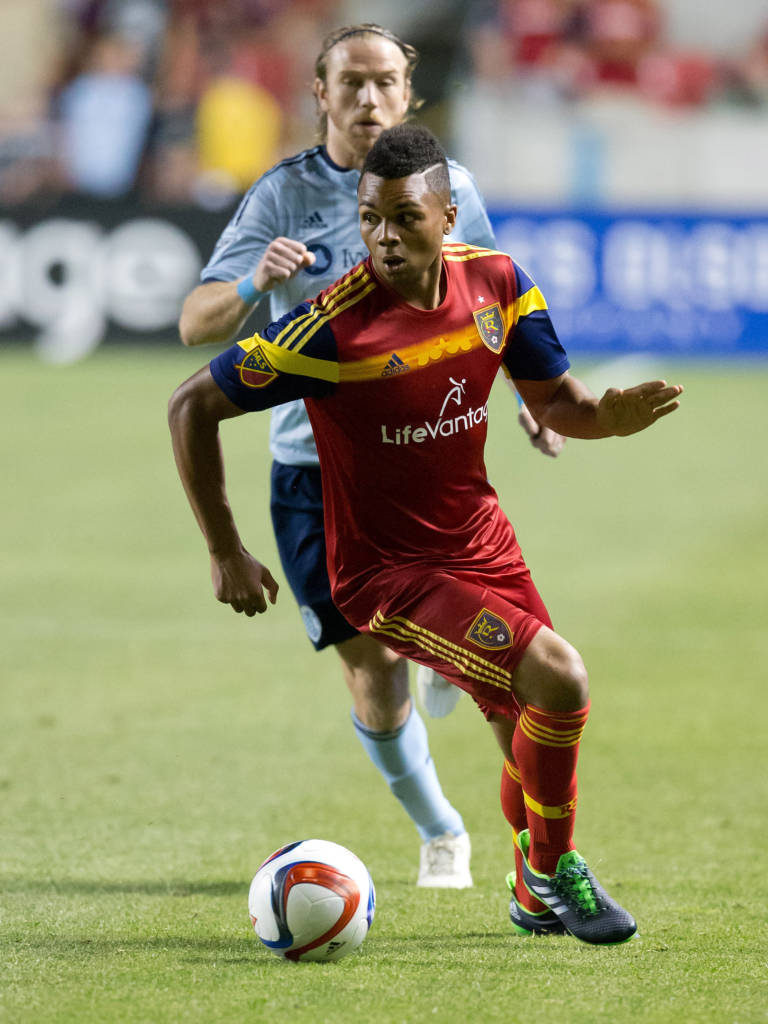 Jordan Allen (7) with Real Salt Lake
Allen could have signed with Real Salt Lake out of high school, but he chose to honor the commitment he'd made to UVA in October 2011. 
 
At the time, the University had a degree-completion program to which student-athletes who left school early could apply for funding. Alecko Eskandarian, who starred in Gelnovatch's program in the early 2000s, had returned to UVA and finished work on his bachelor's degree in 2011, and Allen found the prospect of following a similar path appealing.
 
He didn't expect to be back in Charlottesville so soon, but his career arc provides valuable lessons for the Cavaliers' current players.
 
"A lot of our guys aspire to play in the league he's coming from," Gelnovatch said. "So it's good for them to see some reality checks, too. Sometimes your career may not work out."
 
The Wahoos' captains this season include junior midfielder Joe Bell, who in July turned down offers from a professional club in Norway.
 
"A lot of us, myself included, have the aspirations to step into the pro level," Bell said, "and having someone that we can talk to and bounce ideas off, that's already had experience at that level, it's invaluable.
 
"Also, there's the fact that he did very well in the pro league, and then in an unfortunate turn of events, the injuries pushed him out of it. I think that's also a good lesson just in terms of understanding that things sometimes don't work out, so getting the degree is also important."
 
Allen said: "My [pro] experience was unfortunate, of course, but I think the bigger lesson, the more positive message that I can give the guys, especially guys that want to leave early, is to not leave before you're ready. Make sure you take all the proper steps.
 
"There's guys that have left and then a year or two later they're not even playing soccer anymore. For me, I made my [MLS] debut the first game of the [2014] season after I left here. I take pride in knowing I made that decision based on my ability at the right time. I didn't rush it. It's important that guys understand that leaving early comes with a lot of responsibility, and you want to make sure you're in a good spot to be able to accept that responsibility. And injuries happen."
 
While in Salt Lake, Allen said, he took some online classes and community-college classes "with the thought that if I were to play long-term and finish when I was in my 30s, I wanted to make sure I'd have something."
 
Allen knew that UVA would not accept all of those credits, but "for me it was more just continuing to learn," he said. He returned to the University for summer school this year and plans to major in foreign affairs, with the goal of graduating in 2021.
 
"Taking classes online was definitely a good thing for me," Allen said, "just to keep me mentally engaged. So I felt pretty good getting back into [classes at UVA], but the day to day, physically being in the class, is obviously an adjustment. But it's been good. I almost have a greater appreciation for it now, coming back, than I did when I younger, just because I was so soccer-driven, soccer-focused … It's just a completely different experience being in a classroom at 24 than it was at 18 for me. I'm enjoying it more, which is good."
 
Outside the classroom, he's part of a staff that also includes Gelnovatch, associate head coach Matt Chulis, assistant coach Ryan Hopkins, and operations assistant Carl Carpenter.
 
"I think he brings a young man's perspective," Gelnovatch said.
 
Allen, who represented the United States at FIFA's U-20 World Cup in 2015, said the "whole coaching staff has been awesome with me. In preseason before I had classes, I went in the office with them every day until about 5 o'clock. Now that classes have started, it's a little bit harder to do the afternoon office work with them. But they allow me to share my opinion. I'm involved really as much as I can be, and they're open to it. They don't really put up any guardrails, which is nice."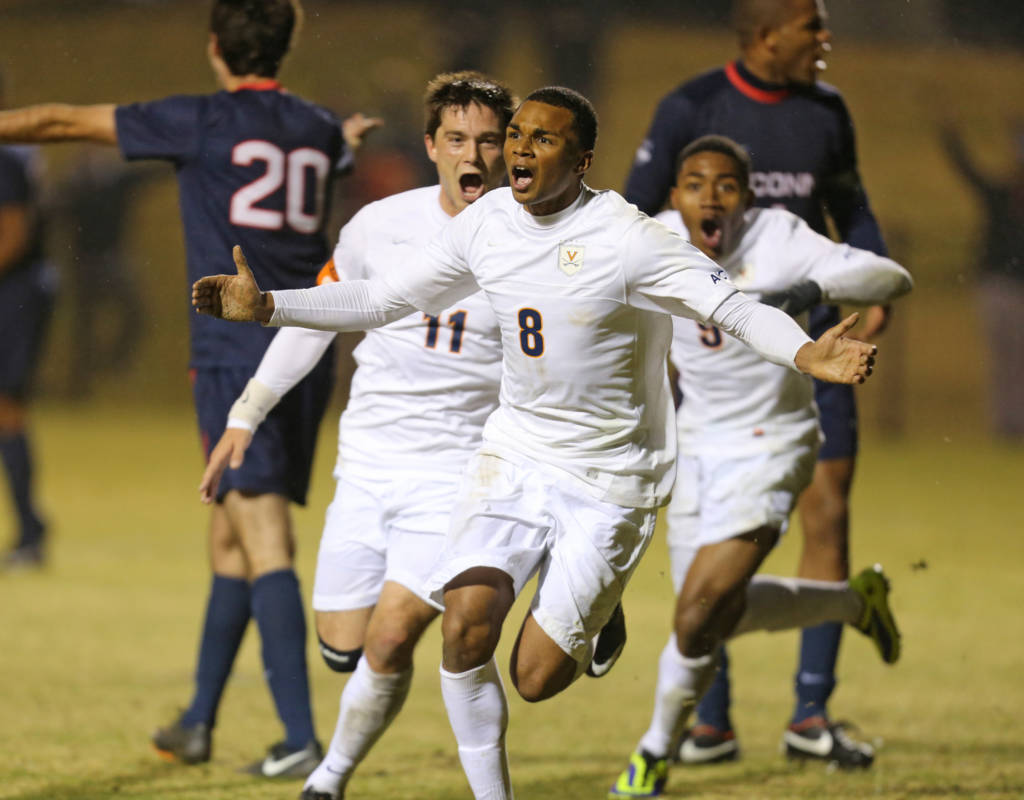 Jordan Allen (8) at UVA in 2013
Top-ranked Virginia (8-0), which hosts George Washington (2-6-1) at Klöckner Stadium at 7 p.m. Tuesday, trains in the mornings. The coaching staff meets for about 90 minutes before each practice.
 
"So Jordan benefits from those meetings in the morning before training, and then of course he has his class schedule," Gelnovatch said. "I would say he's immersed in probably 85 or 90 percent of all the tactical discussions and decisions that we're making. I think he's embraced it and really enjoyed it. He also has some interesting things to say. He's not just regurgitating information. He's a bright guy."
 
Allen wants to go into coaching after graduation, and that's "been the best part about getting back involved with the program," he said. "Going through what I went through, with the surgeries, kind of hindered my love for soccer a little bit at times, just because there were a lot of ups and downs. [In MLS] I had my goals, and they weren't really being met the way I wanted them to, so it was frustrating. 
 
"Being able to come back to a place I was familiar with and see the game from a different perspective, I've really enjoyed it. Being back here has really re-ignited my love for the game, which I think it great."
 
Gelnovatch said he's enjoyed seeing Allen learn "how much detail goes in behind the scenes. As a player sometimes you don't know that. He's getting a full appreciation for that, and he's smart. Even as a player, when he was here, when we would implement a certain tactic, he got it. He understood it. With most first-year guys it takes a while, but even in his first year, because he was coming from a good MLS academy, so anything that we did tactically, he really understood, whether it was offensively or defensively.
 
"So now with his time in [MLS] and some of the stuff we're doing now with this team, you can really see the coach come out in him."
 
Allen occasionally kicks the ball around with UVA players, but he's careful not to push himself too hard. "It's one of those things where I can train, but I know I'm going to be sore afterwards, so I pick and choose my moments," Allen said.
 
Bell said: "I hadn't seen him play before he was injured, but he's still pretty damn good now. He makes us look a little bit stupid [on the pitch]."
 
Allen sees himself as something of a liaison between the players and the rest of the staff.
 
"I have made myself extra available to the guys," he said, "because I know how it is when you're here. Sometimes you have a question or a thought and you don't really want to go to the main coaches, just because you're not sure if it's the right question. So I've made myself available to them. A lot of guys have reached out to me, just in terms of getting my perspective on things, asking about their own games.
 
"I've tried as much as I can to be a resource that I would have appreciated having when I was here as a player, and I think it's worked out pretty well so far."
 
Allen's impression of the 2019 Cavaliers, whose ranking climbed from No. 3 to No. 1 this week?
 
"I think it's an unbelievably talented team in the scope of college soccer," he said. "I don't think it's that common that you get not only a starting 11, but also a few guys that can come off the bench, that are at a technical level as high as our guys are. That's part of why I'm enjoying it so much, actually, just because you can see the potential in a lot of guys, and from preseason to now you can see how quickly guys are able to learn and pick up on new things.
"It's a really special group, and if we can just keep the right focus and keep guys healthy, I think the sky's really the limit for this team."