Three members of the Virginia field hockey team, Danielle Husar, Greer Gill and Lauren Hausheer, are also proud members of the U-21 junior national team. Or, more accurately, U-21 junior national teams. Husar represents her native Canada on the international stage while Gill and Hausheer both sport red, white and blue jerseys. The three teammates found themselves on opposite sides of the pitch in late February when the two teams faced off at the US Olympic Training Center in Chula Vista, Calif.
"The training camp went from Thursday through Monday and included the scrimmages against the U-21 Canadian Team," Hausheer explained. "There wasn't really much free time at this camp because there were a lot more players than they normally take on trips so they split people into two groups. Most days went as follows: wake up at seven, get to the field by eight, eat breakfast at the training grounds, team practice from nine until 10, strategy team meeting, then a training session for the group not playing until 12:30, lunch, game from 2:30 to 4:30, and then another practice from 4:30 to 5:30 for the group not playing in the game that day, I feel like we had a debrief of the game after but I don't remember, and then dinner and get back to the hotel around 7:45."
During those scrimmages, two of the former teammates in particular were going head-to-head on the field.
"Dani and I actually did match up against each other a few times, more so in the second and third games," Gill recalled. "And I think we played against each other for part of the last game. We would go at it a little bit. It was nice to see a familiar face on the other side of the pitch."
"There were times during the game where I would be marking Greer which made for great competition against each other directly," Husar agreed. "We were able to see each other before and after games briefly to talk about the games and other things which was nice."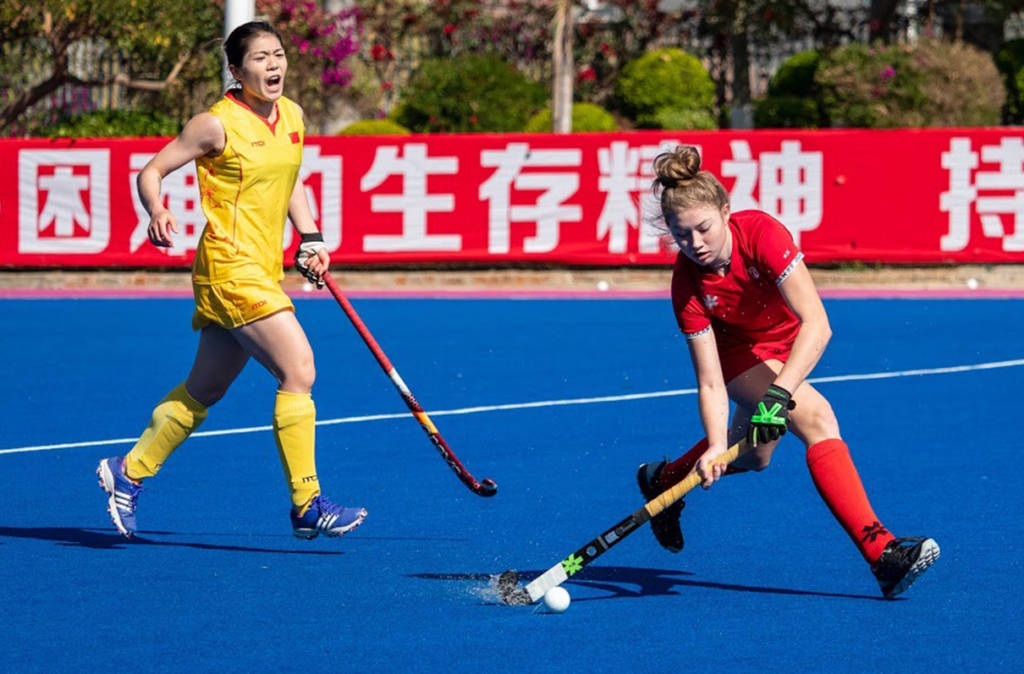 With the both teams staying off site and in different locations, the pitch was one of the few places for the Hoos to reunite. In addition to catching up on the sidelines, they also had a couple of opportunities to chat during meals, but most of the camp was spent focusing on the task at hand, using the opportunity to train and bond with their fellow members of their junior national teams.
Husar is a seasoned veteran of the Canadian NextGen program.
"I've been playing with the Canadian Junior National Program for around four years now," Husar said. "Over these years I've traveled to China, Ireland, and various places in the US for competitions as well as playing against opponents like Chile on home turf in Canada."
Gill and Hausheer are veterans of the US junior squad, having traveled to Monchengladbach, Germany last year, playing matches against Germany's U-21 Team and Great Britain's U-21 Team. Rachel Robinson, who is now a member of the US Women's Senior National Team, was also a member of that U-21 squad.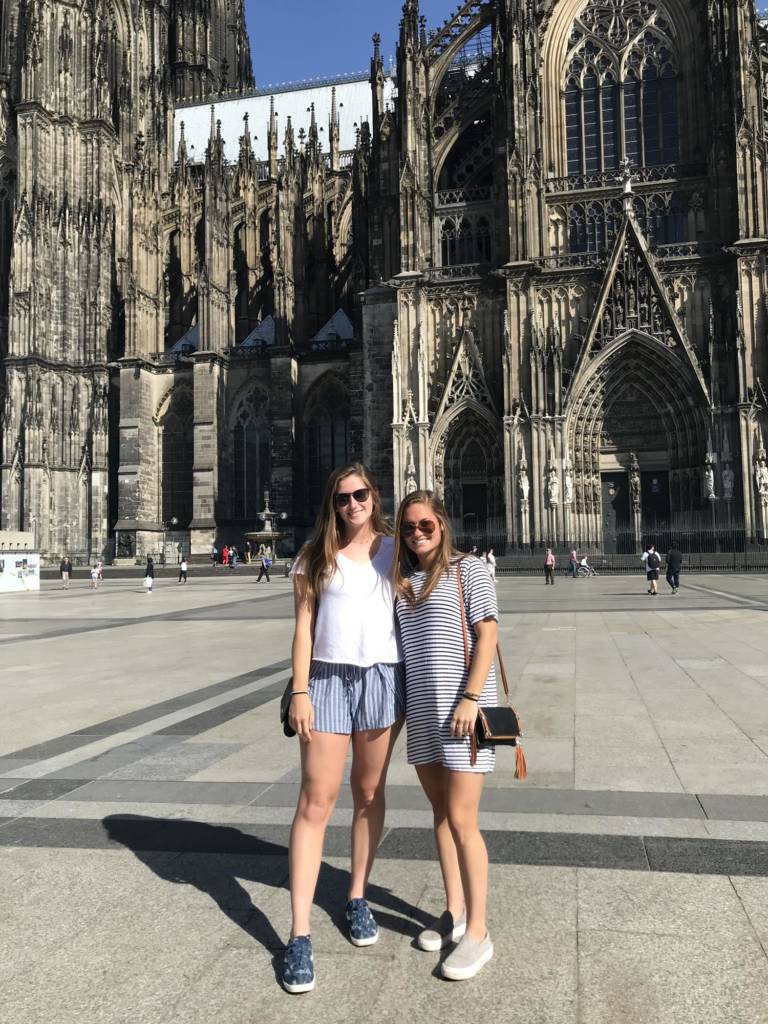 "The tour that Greer, Rachel and I took to Germany with the U-21 team last year was so much fun!" Hausheer said. "We had a training session and a game every day except the first day or two where we had training sessions, one of which was at a Netherlands club. It was super cool to play in the professional field hockey stadium they had. I have never seen a field hockey stadium that big . On our off day between scrimmages we went to visit Cologne, which was really beautiful. We walked around the town and ate lunch by the river, saw the cathedral. Some of us walked up all the steps to the top of it. There was a local market along the side of the river that we walked through and looked at things. There was also a Lindt chocolate museum/ factory we went to and bought some chocolate! One of my favorite parts of the trip was trying German food and German candy. I think my favorite thing I tried was schnitzel. It was super cool to play in the professional field hockey stadium they had. I have never seen a field hockey stadium that big."
There is one foreign trip that all three players are looking forward to, the 2021 Junior Pan American games, a competition featuring athletes from all the nations within North and South America. The Junior Pan Am's field hockey tournament, which will feature a pool of qualifying teams, was originally slated to be played in early December of 2020 in Santiago, Chile, but has since been moved back to April 12-25, 2021. The tournament will also be a U-22 competition in order to make sure that those who should have played this year but will have aged out by next still have an opportunity to represent their nations.
"With the pandemic situation we are unsure of when we be able to begin training again for the Pan Am qualifiers," Husar said. "We were originally supposed to travel to Ireland again this summer, but that trip will probably be modified based on the current situation. I'm still super excited for whatever training we will have when it resumes because this Pan Am tournament is especially important to our program that has been growing so much in the past few years. Any international competition we get to play is a great opportunity for growth and success as a team."
"Unfortunately, so many things have been canceled," Gill said. "And we really haven't gotten to be able to train very much together and they haven't gotten to get a look at who they think plays well together, so it will be an interesting few months ahead. I am really looking forward to the Pan Am Games because I think that would be an amazing experience. Not only if I were able to make the team, but just for U.S. hockey. Playing games abroad is super important. It helps to be able to grow our game by competing with the best of the best from all over the world."
"We have all been training at home but it's not really the same as being together," Hausheer added. "As a goalie I have found it different because I can't just go outside and shoot so I have had to get creative with alternative ways to train the same muscle movements and reactions."
"It's definitely harder to train when you don't have access to all the resources you would at the University of Virginia, but I think we're all finding a way to make it work," Husar said. "I have a set-up in my basement where I can hit balls and practice my stick skills and I've even convinced my mom to throw aerials with me outside so I can keep getting touches on the ball all the time."
Their training, at home by themselves, or in the case of Gill, at home in Virginia Beach with her twin sister, Halle, who plays field hockey at Georgetown, continues because they want to be their best when they return to Grounds, as the team will try to improve on its impressive run to the 2019 NCAA Semifinals. And hopefully next spring, they will be in South America, once again representing their countries.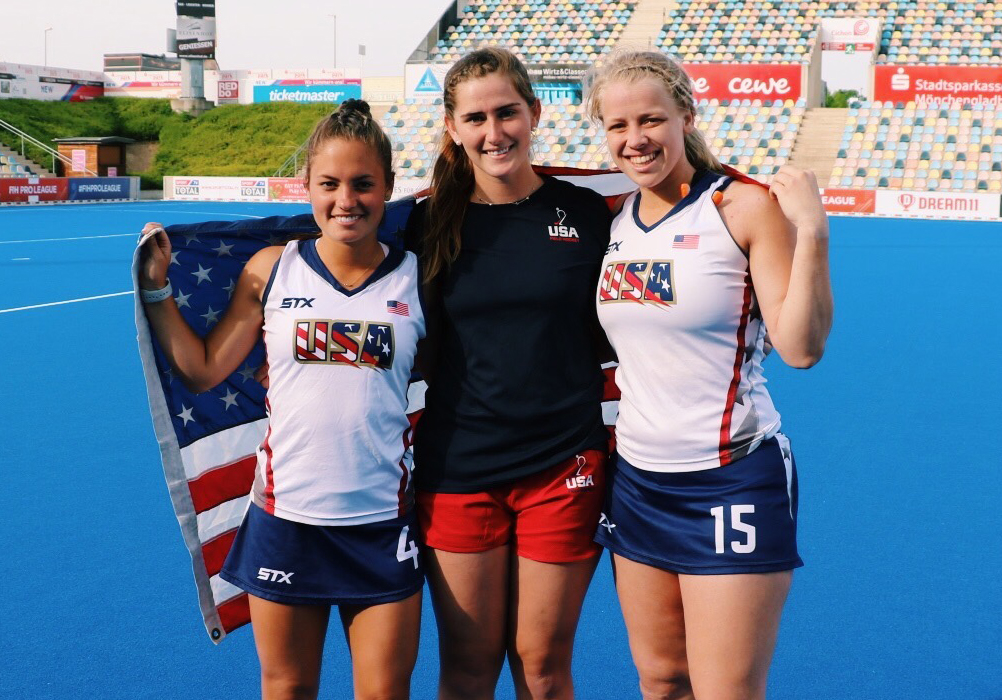 "I am extremely proud to be able to represent my country in international competitions that we play in and it feels so good to wear your flag on your chest, Husar said. "I think it adds a lot of passion and competitiveness to my game because I understand the stakes are higher and I am representing the pride I have for my home country in the way I play and perform."
"I am so proud and honored to be able to represent the US in competitions," Hausheer said. "Playing against the best players from other countries was also an amazing experience and it is really fun to compete at that level. I don't think it really hit me how cool it was until they started playing the national anthem before our first game in the stadium in Monchengladbach and then I was just like woah this is real, it's not just a 'normal' game I am actually representing our country.
"I had played with the U-21 team the summer before when we scrimmaged Chile in Pennsylvania so I am not sure why it really hit me a year later but I would say it was one of the coolest feelings I have experienced. I am so honored to be able to represent our country in this way and proud that all of my hard work and the work my coaches have put into me since I started playing has provided me with this opportunity."
"There's really no other feeling and even when I come back to UVA, every time the national anthem is played, I feel just such a sense of pride as for my country and just having that label is kind of something really special that I don't take for granted," Gill said. "I've worked all my life for that, so it's truly an incredible experience just to be able to get to that level of competition. It's, it's really, it's really a good opportunity for players to be able to grow their game and truly excel. Every time I've gone abroad, I've seen a huge difference in my play and people have said that when I've returned so it's a neat experience."