By Jeff White (jwhite@virginia.edu)
VirginiaSports.com
CHARLOTTESVILLE –– Kelsie Chaudoin still remembers a conversation she had during her fourth year at the University of Virginia, where she was a student in the architecture school and one of the rowing team's captains.
She was meeting with Phil Gates, then the life skills director for the UVA athletics department. "He said, 'Kelsie, there's glue on the streets here. You're going to be back some day,' " Chaudoin recalled Sunday, "and I was like, 'Yeah, OK, whatever.' "
She laughed. "But here I am, heading back."
A 2008 graduate of UVA, Chaudoin spent the past five seasons on the coaching staff of Stanford University's powerful women's rowing program, most recently as associate head coach. She's still on the West Coast, but this is her first week as UVA's associate head coach and recruiting coordinator.
She and her fiancé, Corey Hennegan, will move to Charlottesville early next month, along with her dog, Riptide (pictured above). They wanted to relocate sooner, but concerns about flying during the COVID-19 pandemic prompted a change of plans. And so Chaudoin will be telecommuting for the next several weeks, with head coach Kevin Sauer's blessing.
Chaudoin and Hennegan had planned to be married on Sept. 19 in California. Then came the pandemic. They've rescheduled their wedding for August 2021.
"We're hoping that it's more accessible for everybody," Chaudoin said. "We didn't want to put people in a tough position to have to decide if they'd fly out."
Chaudoin, 33, filled the spot on Sauer's staff that opened when Emily Ford resigned after the abbreviated 2019-20 season to be closer to family in Oregon. As an undergraduate, Chaudoin rowed for Sauer, and she remained close with him and his wife, Barb, after leaving Charlottesville.
"I've always looked up to Kevin," Chaudoin said. "People say it all the time, but he's a great coach because he cares so much about his athletes, not only as rowers but as people, and that's something that I've always really admired about him. I just think he's a top-notch leader, so I'm really excited to learn from him as a co-worker and to see everything behind the scenes that I wasn't able to witness as an athlete. And I've always loved Charlottesville."
Rounding out the staff are assistant coaches Erin Neppel and Caroline King, graduate assistant Anne Campbell, director of boathouse and program operations Jeff Mork, and volunteer assistant Roger Payne. A revered figure in the rowing world, Payne was the Cavaliers' boatman when Chaudoin was in college.
Chaudoin has met the other members of the staff, and "I'm just pumped to be able to work with them, too," she said.
Sauer and Chaudoin were on the United States' coaching staff at the U23 world championships last summer, and he'd followed her rise in the profession with interest.
"She's proven herself as a coach first, but then as a recruiter, too," Sauer said. "She's got great relationships with kids and with their parents. I'm looking forward to her taking that banner."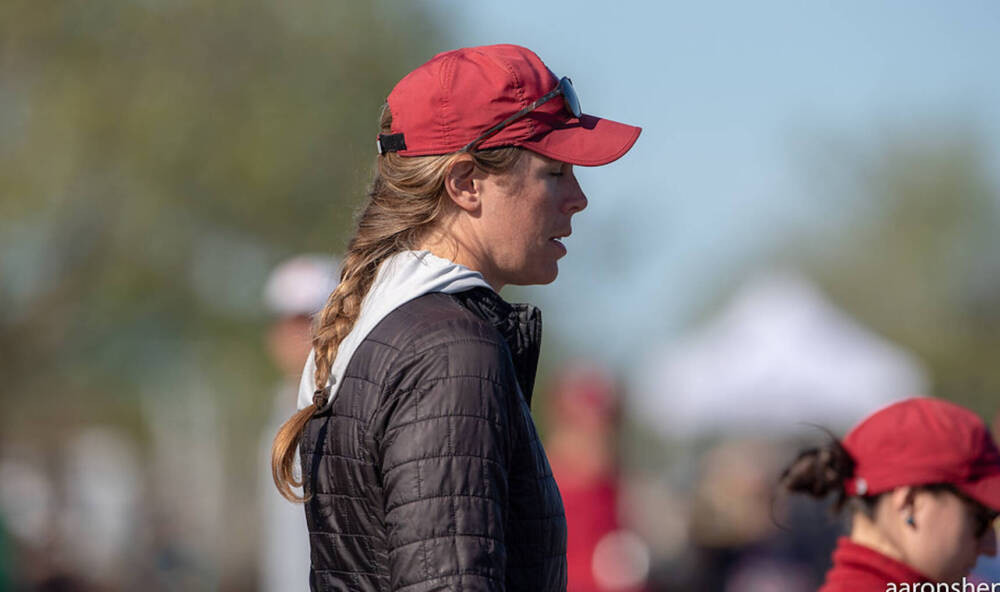 After graduating from UVA, where she minored in Spanish, Chaudoin continued her competitive career, training at the USRowing center in Princeton, New Jersey. (In 2008, she won a gold medal at the U23 world championships in the women's eight.) Back then, she didn't see coaching in her future.
"Not at all," she said. "When I graduated and I moved to Princeton, I was actually interning at architecture firms and thought that that was the path I was going to go when I retired from competitive rowing."
In 2012, she moved to the Bay Area to train with the California Rowing Club. In 2013, she started coaching novice boys in the Oakland Strokes Rowing Club, "just to earn some extra cash," Chaudoin said.
She also worked at Stanford's summer rowing camps, at which she got to know Yasmin Farooq, then head coach of the Cardinal's women's program, and Nate Rooks, one of Farooq's assistants.
By the summer of 2015, Chaudoin was ready to retire as a rower, and Rooks was preparing to leave Stanford. He encouraged Farooq to hire Chaudoin, as did Sauer.
"I just told Yaz that Kelsie's a great kid with a strong work ethic and a team-first attitude, and she'll relate with the kids really well," Sauer recalled. "When someone is talented in the rowing realm and also the interpersonal realm, you're going to have a winner, and that's played out."
Chaudoin said: "I was a very risky candidate, but [Farooq] took a chance on me. That kind of launched me into coaching at Stanford, and I just fell in love with it."
When she arrived at UVA in 2004, Chaudoin knew little about the sport. She'd been a volleyball standout at Houston High School in Germantown, Tennessee, a suburb of Memphis.
"I had opportunities to play volleyball in college," Chaudoin said, "but I chose not to, because I wanted to go to UVA so badly, and I wasn't good enough to be on their team."
Chaudoin, who's 6-foot-4, was at first-year orientation when former UVA rower Jodi Neuhauser, the team manager that year, spotted her. An introduction to Sauer followed, and Chaudoin joined the team as a walk-on. She didn't expect to last long.
"Honestly, I planned to quit after the first year, because I knew architecture school would get too intense," she said. "But Kevin helped me figure out how to make it work, so I'm very grateful to him for that."
A novice rower as a freshman, Chaudoin moved up to the second varsity eight, the team's No. 2 boat, as a sophomore. "Kevin totally took a risk on me," she said. "I had no idea what I was doing."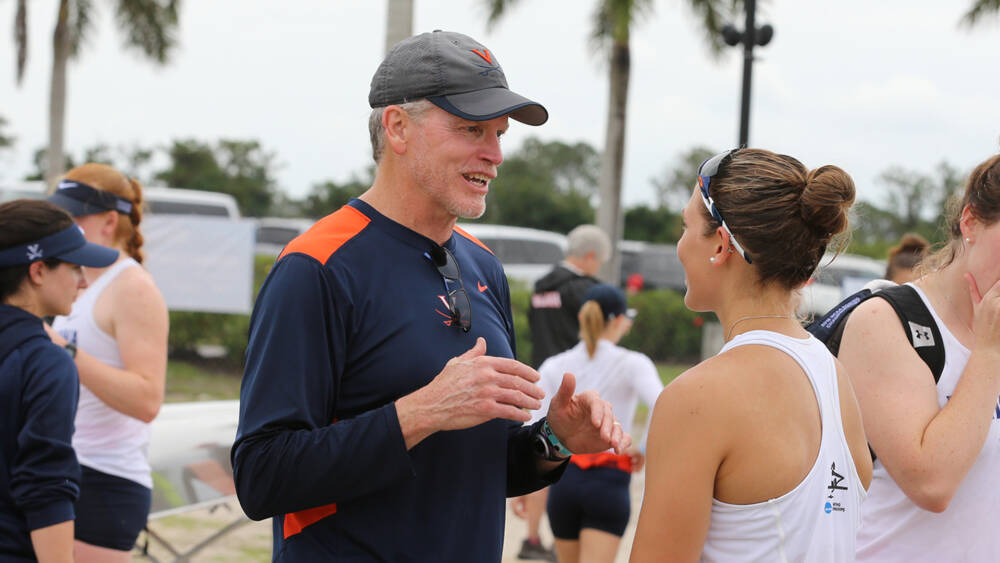 Kevin Sauer (left)
She bounced between the second varsity eight and the varsity eight, the team's top boat. as a junior. She rowed in the varsity eight as a senior. The Wahoos were crowned ACC champions in each of Chaudoin's four years in the program, and as a senior she was named an All-American and the ACC's scholar-athlete of the year for rowing.
By then, she'd become a team leader. As a newcomer in the program, though, Chaudoin rarely opened her mouth.
"Kevin and Barb like to joke that when I was a first-year, and even when I was a second-year, they don't think they ever heard me say a word," Chaudoin said. "I was a pretty quiet athlete, but the way that Kevin develops the culture there, he really teaches you to believe in yourself, not make excuses, figure out how to get things done.
"Believing in myself, and the trust that was created by the team, allowed me to feel like I could be more vocal as I got older."
Sauer said: "Eventually she opened up a little bit as she got more comfortable. She wasn't necessarily the most vocal person on the team, for sure. She led by example. She just put her head down and worked hard. But she was very good relationally. She could talk to kids one on one. They knew they could trust her. It's kind of like the old EF Hutton commercial. It was the same with Kelsie. When she did say something, people would be like, 'Oh, it must be important.' That's the kind of leader she was."
In 2007, Virginia placed second overall at the NCAA championships. In 2010, the Hoos broke through, winning the program's first NCAA team title. They'd also been second in 1999 and 2005.
"It was really exciting for the alums to see them finally get over that hump," Chaudoin said.
In 2012, the Cavaliers added a second NCAA team crown. Since then, in an increasingly competitive sport, UVA has finished third once, fifth four times, 10th once, and 11th once at NCAAs. The Hoos' pursuit of a third championship continues.
"Kevin hasn't talked to me about it, but I kind of feel like nothing has changed in the last 10 or 12 years since I've been there," Chaudoin said. "I would expect his goals are that the program gets back on the podium and wins again. I also think that UVA has all of the pieces in place to be successful, and I'm really excited to come back and work with the team."