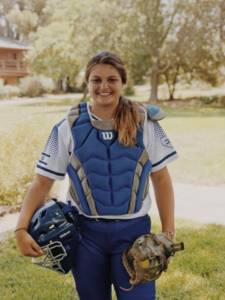 Former Virginia catcher Olivia Gott spent the 2019 summer playing internationally for Team Israel in the European Championship where she helped the club to its best-ever finish. During her four years on Grounds, Gott produced 22 home runs to rank 11th all-time at UVA and amassed 64 RBI. In this feature, Gott shares on her life post-UVA, her spring trip to visit Palmer Park and the experience of playing internationally.
Q: Give us an update, where are you and what are you doing these days?
GOTT: I am currently working from home (literally) in South Florida for a company called Oracle. I recently received a promotion from a Business Development Consultant to an Applications Sales Executive which is exciting considering the current circumstances. I never would've thought that I'd be presented with this opportunity and I am very thankful for it. Working for corporate is surely a different environment than I'm used to, however, I enjoy learning about how the world really works. I am constantly asking questions and unafraid to seek help when I need it, challenging myself and my coworkers, and communicating with prospects and customers with the end goal of generating revenue by closing as many deals as I can.
Q: What was your favorite memory at UVA?
GOTT: It's hard to pick just one, but I know I can't go wrong when I say that my all-time favorite was when our men's basketball team won a national championship. The softball team is really invested in all of our sports teams. We are big fans of all of our fellow student athletes because we are all living the same lifestyle and everyday grind, and we want it to be noticed so we make sure we support them whenever we can. If we were ever on the road and away from Grounds during major sporting events, we would be following play-by-plays on Twitter or pulling up live TV in hotel lobbies/rooms. We followed our men's basketball team and their journey until the last second in overtime. And of course, we all celebrated responsibly when they won!
Q: After a year away, reflect on your UVA softball experience. How did it prepare you for what you're doing today?
GOTT: The overall student-athlete experience automatically separates us from our peers and coworkers. We have thicker skin, the way our minds are wired are totally different, the standard we set for ourselves is naturally higher and we are noticeably more competitive. I will say, though, when I graduated from UVA, I experienced what I didn't want to believe as true even though every alumnus tells you you're going to go through it. The culture shock and identity crisis is real and something that I think needs to be talked about more while still an undergraduate student athlete. It was weird… one night I went to bed excited for game day and I woke up and I was a softball player at UVA and then that same night/next day and so on I wasn't anymore. It's a weird feeling that I thought I would be able to fathom but really, I couldn't.
When something that is so familiar to you gets stripped, life becomes temporarily dull and unfamiliar.  And in this "figuring it out" stage, it's important to value your mental health and do things for you. Put yourself first, take care of yourself, stay active, eat right, explore, put yourself out there and really decide who you want to be. It's also so important to get involved and meet people outside of your little bubble. These little bubbles that we put ourselves in are so dangerous because they shield you from the bigger picture. I challenge the current players to quickly understand that softball is not who you are but rather what you do and to make time for things that will challenge their minds and act as a getaway from academia and athletics when it gets tough. This stuff is just as important!
Q: While the season was shortened, you got to visit the new Palmer Park. What did you think?
GOTT: The stadium is a long time coming. It's sensational and undoubtedly represents what UVA stands for in athletics. I give a lot of kudos to coach Jo [Hardin]. While the players worked their butts off for this, so did coach, and to finally be able to touch it, see it, walk through it and live in it is surreal. When I visited, I told the girls they better earn that stadium every dang day… Palmer Park is 8-year-old Liv's dream and it finally came true!
Q: What was your favorite part of Palmer Park?
GOTT: I love to people watch so my favorite part is the media room on the upper level. If you walk up there, not only can you see the whole field and all of the fans (near and far), but if you look beyond center field you get a view of the mountains. You can even see the top of the Rotunda from up there too. You all can catch me there when the Hoos return to Palmer Park!
Q: As an alumna of the program, how important is the new stadium? How much of a difference does it make?
GOTT: The new stadium will attract top players to our program. I don't see how a top-notch player can step foot on Grounds and not want to be a part of a program that is growing into something very special. Palmer Park is quite literally the foundation of UVA Softball. It allows the program to be elevated in our competition's mind now because it's something the coaches, players, support staff, donors, students, families and fans get excited for. Where there is excitement, there is passion. And where there is passion, there is more of a willingness to work hard and win.
Q: From the time you first engaged with Virginia in the recruiting process to seeing the new stadium this year, how far has the program come?
GOTT: In 2014 I stood at Lambeth Field down on the grass and the coach at the time told me this was where the new stadium was going to be and that I'd be playing on it by my second year of college. My dad had me look around and up at the beautiful and historical white pillars and said, "picture yourself hitting home runs into those." I got goosebumps and was thrilled. Fast forward 5 years and a diploma and the program has just now built Palmer Park. So many people have fought for this and the program clearly has come a long way. The stadium is a complete game changer for coach Jo and her staff, her players, the university and the athletic program.  It's our wow factor and we finally have something that separates us from the pack. You hear coaches say all the time that you need a strong foundation in order to build a successful program. There's no excuses now. This is it. This is the foundation.
Q: Last summer you got to be part of Team Israel. What was that experience like, especially being part of the first national team? 
GOTT: I would encourage all girls to play internationally if they can. My family means everything to me and without them I really am nothing. So, when the opportunity presented itself in which I could truly represent my country, my religion, my heritage, my ancestry and my family, I would have been silly had I said no. I had never been to Israel before last summer and I almost backed out of my commitment to the team because I was scared and unjust for many reasons.
Upon arrival in Tel Aviv, my teammates and I met our manager and staff and soon felt safe and comfortable. We stayed on a Kibbutz that was kind of in the middle of nowhere, but it was in walking distance to our field, one of just four softball fields throughout all of Israel! We practiced every day, sometimes twice a day, and after every practice jumped in the pool to cool off and relax and refresh to get ready for the next day's work. We took trips to Yad Vashem, Masada, the Western Wall and of course, the Tel Aviv beach! When it came time to take the field for the first time, it was surreal. Before every game they play each team's national anthem and when the Israeli national anthem played I teared up a bit. Historically speaking, Team Israel has never placed in the top 10. Typically, they are ranked anywhere between 20 to 25. This past year we placed ninth which is great news for the state of Israel but unfortunately, we did not make it to the Olympic Qualifier, therefore no Olympic bid. But it is a dream of mine that I will continue to pursue for as long as my body lets me!