2020 Men's Soccer Roster | 4TheHoos Initiative | Jeff White on Twitter | UVA Men's Soccer on Twitter
By Jeff White (jwhite@virginia.edu)
VirginiaSports.com
CHARLOTTESVILLE –– In nearly a quarter-century as the head men's soccer coach at his alma mater, George Gelnovatch has seen a lot. Still, this been an offseason unlike any other for the 1987 University of Virginia graduate.
"There's been nothing close to this," Gelnovatch said after his team's training session Saturday.
For part of the summer, Gelnovatch was unsure if, because of travel restrictions related to the ongoing COVID-19 pandemic, all of his international players would be allowed into the United States. That's no longer a major concern––only Rafael Caipo, a freshman from Peru, is not in Charlottesville––but several players were only recently cleared to practice after returning to the U.S.
Another import, Joan Gibert from Barcelona, Spain, is finishing his two-week quarantine. "He starts training Tuesday," Gelnovatch said.
"All the domestic guys were able to quarantine at home, so when they came here they were able to start training with [strength and conditioning coach Peter Alston] right away," Gelnovatch said. "The international guys had to come here and go and quarantine for two weeks, and they weren't able to train with Peter. That's a big difference."
Players could run during their quarantine periods, which was better than nothing, but "it's hard by yourself, without a weight room, a strength and conditioning coach putting you through proper regimen, to get yourself ready," Gelnovatch said.
The Cavaliers, like the other teams that are back on Grounds, are following protocols designed to protect them from COVID-19.
"The latest progression is that when we're in tight quarters, when we're talking tightly in a group, they have their masks up," Gelnovatch said. "When we're doing drills and exercises in tight spaces, the masks are up. When we're in bigger spaces, 11-v-11, or you're playing on half or more of the field, we allow them to have their masks down."
This was always going to be a challenging year for the Cavaliers' coaching staff. From a team that won the ACC title and advanced to the NCAA championship game in 2019, four standouts with eligibility remaining––Daryl Dike, co-captain Joe Bell, Henry Kessler and Daniel Steedman––left to pursue professional careers. Moreover, Virginia's other co-captain last season, Robin Afunefama, was a senior.
The Wahoos had not finished replacing those players when, in mid-March, the pandemic shut down college sports.
"We were only about halfway through [recruiting for 2020]," Gelnovatch said. "What we wanted to do was make sure we had some young talent to develop, but also make sure we brought in some transfers this year––not only [traditional] transfers, but grad transfers––just so we have some experience and guys who can play.
"Then all of the sudden COVID came, so we were working Zooms––Zoom, Zoom, Zoom––watching video, talking to internationals, and watching more video, just really working hard and trying to pay attention to these little details."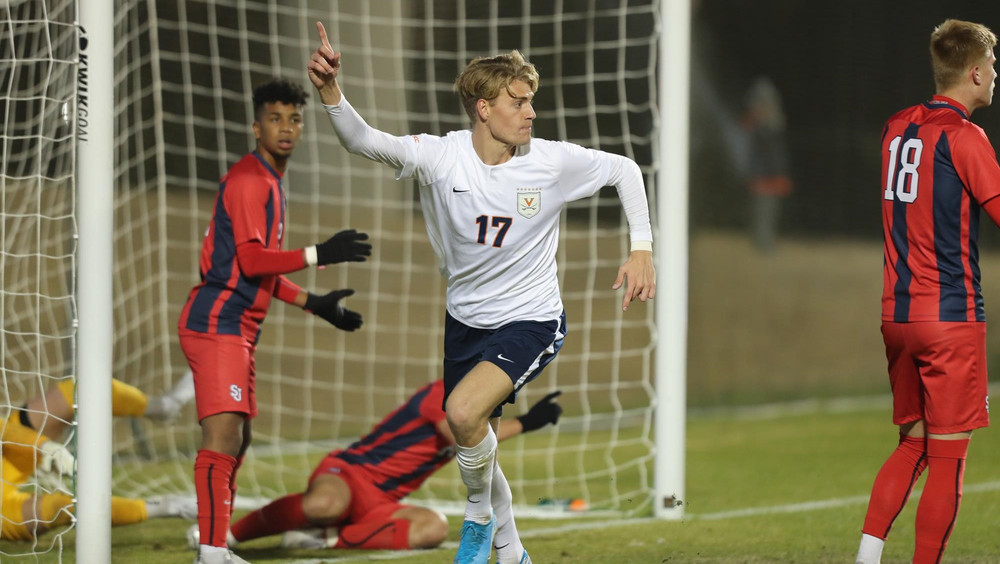 Newcomers in the program include sophomore Kevin Ogudugu, a transfer from the University of Portland; Oliver Gerbig, a transfer from Coastal Carolina; Louis Evans, a graduate transfer from Davidson University; and Gibert, a graduate student who's been playing for clubs in Spain.
All are eligible immediately, though it remains unclear how many games, if any, the Hoos will play the rest of this year. The NCAA last week announced that it would not hold championships for fall sports in 2020. Fall sports may end up being played in the spring.
"So many things could happen,' Gelnovatch said. "The big question is, since the NCAA championships are canceled, if you play 10 games, which is 50 percent of your regular schedule, or less in the fall, does that mean you can still play for a spring championship? We don't have an answer from the NCAA. That's a big, big question, because for me it's not worth it to not be involved in an NCAA championship."
Virginia has advanced to the NCAA tournament in each of its 24 seasons under Gelnovatch, with six College Cup appearances. The Hoos were NCAA champions in 2009 and 2014 and NCAA runners-up in 1997 and 2019. (Virginia lost in the NCAA semifinals in 2006 and 2013).
Amid this uncertainty, the Cavaliers continue to prepare as if their season will begin next month. The earliest Virginia would play its opener is Sept. 10, Gelnovatch said.
"We're just business as usual, right now at least anyway," he said. "One of the things that helps with all of this is just having the guys here and being able to train."
After a four-month stretch during which players and coaches were separated, "everything is just a little bit more easy to deal with now," Gelnovatch said, "and as we're back and getting in the swing of things, we've got to make sure we just stay steady. The saving grace in all this, the silver lining, is we have more time in preseason."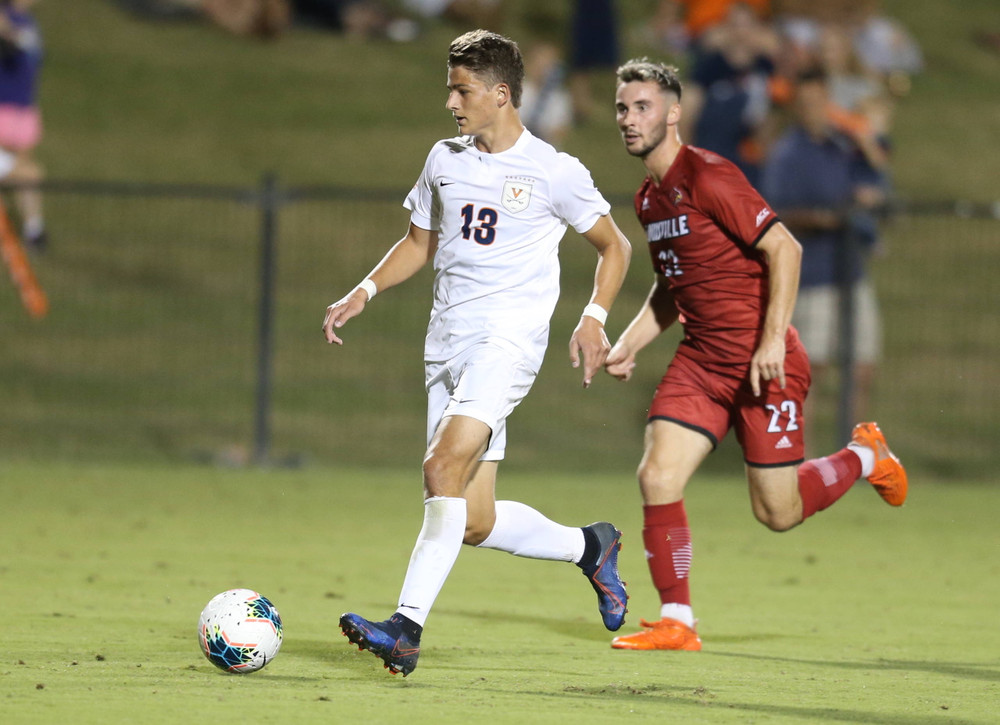 The Hoos scheduled six matches in the spring. They played two before the March shutdown, defeating JMU 1-0 and tying Virginia Tech 3-3.
Since then, Virginia has added several players who are expected to have prominent roles, including transfers Ogudugu, Gibert and Gerbig and freshmen Kaya Ignacio and Leo Afonso. Gelnovatch likes his team's potential but knows the Hoos aren't likely to gel immediately.
"For me, the more time we can get, the better," Gelnovatch said, "just to slowly bring in the guys."
Virginia's returning players include seniors Nathaniel Crofts, Irakoze Donasiyano, Colin Shutler and Spencer Patton, juniors Bret Halsey and Cabrel Happi Kamseu, sophomores Andreas Ueland, Axel Gunnarsson and Philip Horton, and redshirt freshman Reed Kessler, brother of Henry Kessler, an All-American last season. Ueland, a third-team All-ACC selection in 2019, and Crofts, the team's top returning scorer (six goals), are co-captains this year.
"I wish we had more time in the spring to see a little bit more, but I think we've got some good ingredients," Gelnovatch said.
The Cavaliers lost their top two goal-scorers from 2019, Dike (10) and Bell (seven), and may have to rely on their defense, traditionally a strength under Gelnovatch, in the coming season. In practice this month, Virginia has been using a 3-4-3 formation, with Ueland, Kessler and Gerbig in the backline.
"It's a little bit sophisticated," Gelnovatch said, "but if you do it right, it's really tough to deal with."