During the COVID-19 pandemic, people have taken up a variety of hobbies and indulged in new indoor activities to fill their time. Virginia field hockey players Makayla Gallen and Amber Ezechiels decided to use their time in isolation to make a difference by volunteering to foster four kittens. They talk about the experience and how someone can sign up to give the furballs a fur-ever home in this Q&A.
Q: Tell us about the kittens.
Gallen: My kitten is named Parkour. It was originally Parker, but after seeing him interact with everyone we started calling him Parkour. Parkour has a very big personality and he loves the attention. He hates being away from everybody. He really likes to play a lot.  It's been fun to having him here and everybody wanting to always play with him here. He's not a big cuddler, but that's okay.
Ezechiels: Mine are named Queso, Quesadilla and Taco. They all love attention. They all love to play with each other and with us. Queso is the one that like sleeps all day. Taco is the one that plays and is very busy all day and Quesadilla like right in the middle of those two, energy-wise. My responsibilities for them, because they're only four weeks old, I have to give them eyedrops every morning and every night. They're also very hungry so they want food all the time, so I spend a lot of time feeding them.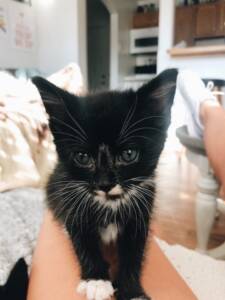 Q: Why did you decide to foster kittens?
Gallen: It was something of an impulsive decision. I signed up to be a foster parent about a year ago, as I was looking for a puppy, dog, cat, kitten or whatever. Once I got back toGrounds a couple of weeks ago, I started getting emails about doing it. I told Amber about it. So Amber signed up, and it really spiraled from there.
Q: What is the process involved to become a foster parent?
Ezechiels: To become a foster parent, you have to fill out an application. There are a lot of questions on there like how many kids do you want or like how long do you want them to make sure they find a perfect fit.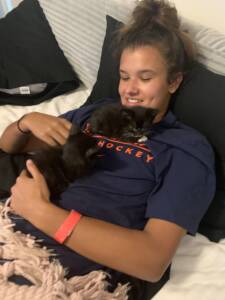 Q: When did you find out you would be getting them?
Gallen: Last Tuesday, we got an email from Charlottesville Albemarle ASPCA saying that they were in need of foster parents for a group of kittens and a lot of older cats. When we got the email, I reached out to Amber and I said let's just go and see what they still have left and what's available to foster. We drove there and in 15 minutes, we had our kittens!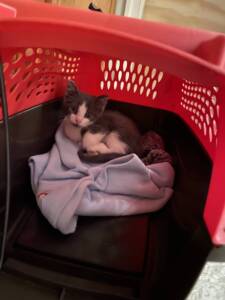 Q: How old were they when you got them? What was their history before they showed up in your apartment?
Ezechiels: My kittens were four weeks old when we got them, so we will have them for like a month- ish. They were stray kittens and that someone found and brought them to the ASPCA.
Gallen: I got my kitten when he was seven weeks old. I'm keeping him for two weeks since it's my first time fostering a kitten. I decided to stay on the smaller end also I've never had a kitten before so it's my first time. Before I got him, he was found in someone's backyard, and they brought him into the ASPCA. He'd only been in the shelter for about three days before I got him.
Who all is involved in the fostering project?
Gallen: Our whole apartment has been involved. Annie [McDonough], Amber and I all went to the ASPCA that day to pick up the kittens, but everyone helps take care of them, including Jax [Wilkins], Peyton [Tollaksen], Adele [Iacobucci] and Annie. We are all taking care of the kittens and making sure we're giving them all the attention that they need.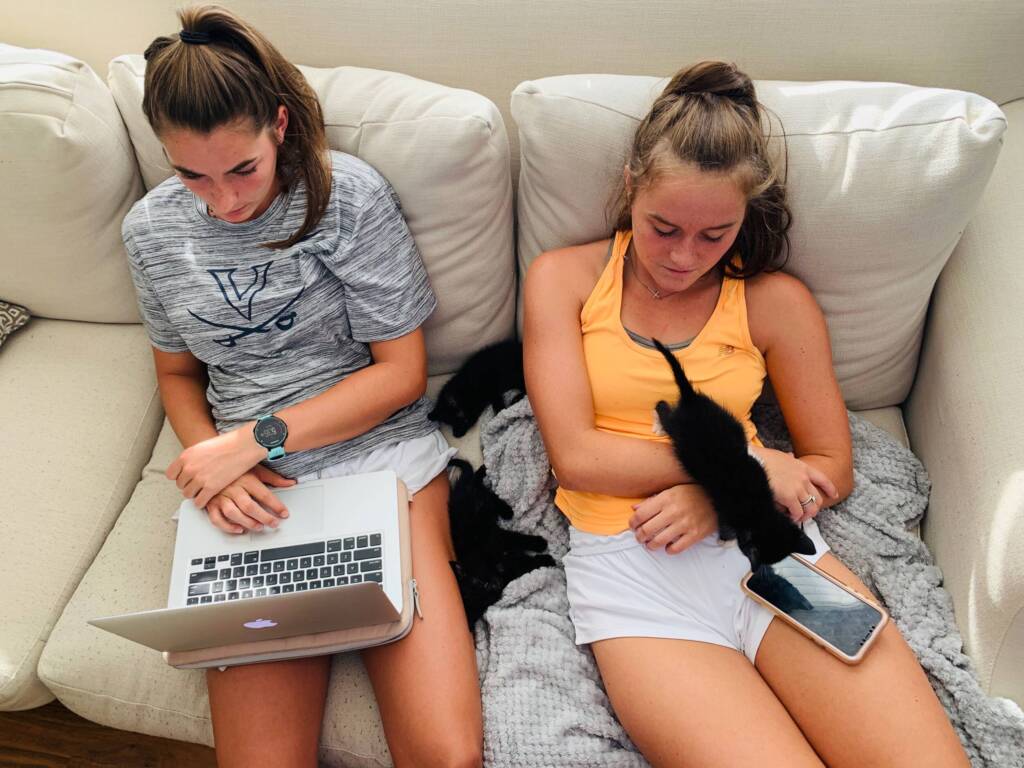 What is the best thing about taking care of the kittens? The worst?
Gallen: I think the best thing about taking care of the kittens has been just always having something to do. Parkour always gives us a good laugh of just how his personality is and how he interacts with people. He's always finding something else to get into and he's really funny. The worst thing would probably be, how much he wants to play all the time, especially during preseason, I'm so tired.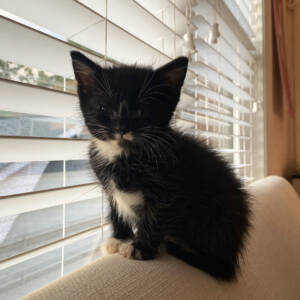 Speaking of workouts, how has preseason camp been so far?
Gallen: Workouts have been going really well. We're really starting to connect as a whole team. We have a lot of really good first years coming in so they're really driving the intensity of practice right from the start.
Q: What is the process if someone wants to adopt one of the kittens and give them a fur-ever home?
Gallen: Parkour will be ready for adoption this week actually so if anybody is interested in him. I would love to see him get into his fur-ever home. He really is a great kitten and I think he'll do great in a home and with a family. He's grown so much in the one week that he's been here. He really has come out of his shell so I'm excited to see what happens for him next.
Ezechiels: My kittens will be available for adoption in like three to four weeks. So if you're looking for a cat that really wants to cuddle or like play with you these are your guys.
For more information about adopting Parkour, Queso, Quesadilla, Taco or other cats and kittens, contact the Charlottesville Albemarle SPCA (434-973-5959).
EDITOR'S NOTE: During this time of non-competition, UVA athletics will be posting frequently on VirginiaSports.com to keep you up to date with the happenings, experiences and thoughts of our student-athletes, coaches, staff and alumni. We encourage Wahoo fans to share these links on your social media accounts for others to enjoy. We also suggest you follow the University's website – news.virginia.edu – for more stories and information. #GoHoos