2020 Volleyball Schedule | Fact Book | 4TheHoos Initiative | Jeff White on Twitter | UVA Volleyball on Twitter | Subscribe to Jeff White's Articles
By Jeff White (jwhite@virginia.edu)
VirginiaSports.com
CHARLOTTESVILLE –– By the time University of Virginia volleyball coach Aaron Smith met with his team Wednesday at Memorial Gymnasium, most of his players had already seen the ACC preseason poll.
In voting among the league's coaches, UVA was picked to finish 13th, ahead of only Wake Forest (No. 14) and Virginia Tech (No. 15).
From a team that tied for 11th in the 15-team ACC in 2019, a strong core returns, and the Cavaliers added a promising first-year class this summer. His players weren't thrilled about their preseason ranking, but Smith urged them to use it as motivation.
"I told them, 'You're not the 13th-best team in this conference––you're way better than that––but we have to go out and prove it,' " Smith said.
In 2019, Smith's third season as head coach, the Wahoos finished 5-13 in conference play and 13-18 overall. Injuries were a major storyline for UVA, which by mid-November had lost four players for the season. Still, the Hoos won four of their final seven matches, closed the season with a 3-0 victory over Virginia Tech in Blacksburg, and entered 2020 with optimism about the program's future.
That hasn't abated. "I'm excited, for sure," Smith said.
The COVID-19 pandemic has made this a preseason unlike any other for UVA's fall sports, including volleyball. A year ago, the Cavaliers opened the season on Aug. 30, and 30 more matches followed. They're scheduled to play nine matches this fall.
"A lot of [ACC coaches] are very optimistic that we're going to have a spring season," Smith said. "If we don't, we don't, but right now everybody's kind of hoping that comes to fruition. I think the plan right now is to have these eight matches count toward a spring ACC schedule and hopefully be able to re-organize the schedule to get some competitive balance to play the other teams."
UVA will face only five opponents: The Citadel, Sept. 18 at Mem Gym; Duke, Oct. 2 and 4 at Mem Gym; North Carolina, Oct. 9 and 11 in Chapel Hill; Virginia Tech, Oct. 16 and 18 in Blacksburg; and NC State, Oct. 23 and 24 at Mem Gym. Neither of the two road trips will involve an overnight stay.
For each of the two road series, the Hoos will "play Friday evening, come home, and then go back on Sunday and play in the late afternoon," Smith said.
Chapel Hill is about 190 miles from Charlottesville, and making two roundtrips in one weekend is "not the norm," Smith said, "but it eliminates exposure [to COVID-19 at] hotels. It's safe, it's going to save money in the budget, and it just makes sense in this unique time."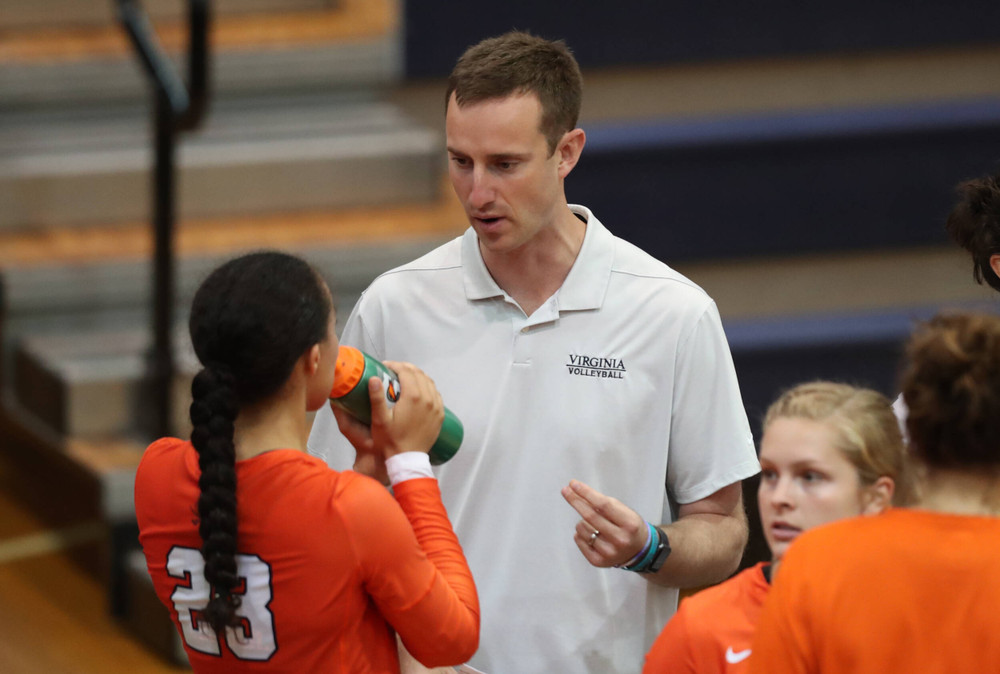 Once UVA switched to online classes in mid-March, the team's returning players dispersed. The Cavaliers didn't reconvene on Grounds until July 20. After being tested for COVID-19, they began voluntary workouts. Preseason practice started Aug. 8.
"They came in really prepared," Smith said. "Even though they were out of the gym for almost five months, they found ways to stay in shape and be prepared for the season."
A typical preseason usually lasts about 20 days, Smith said. This one is lasting significantly longer.
"We're getting a little bit antsy now," Smith said, "just to play somebody, to have that competition. And we've been through three or four different schedules [this summer]. At one point we had a match scheduled with Navy on Sept. 12, and the team was just so excited to play that. And then 10 days, two weeks ago, we found out were not going to be able to play that match."
His players were disappointed, Smith said, but the extra practice time "has allowed us to play with some different lineups and work on more individual skills than what we typically are able to. Usually we jump straight into two to three days of some individual skills, teaching them the systems, how we want to train it, and then it's right into team stuff and getting ready for that first match. Now we've been able to break things down a little bit more, play with some different lineups, move some people around in some regard to see what the best fit is going to be."
The Hoos sustained a major blow in their third match last year, losing 6-3 outside hitter Grace Turner to a season-ending knee injury. Turner, a standout as a freshman in 2018, is steadily returning to form this preseason.
"She hasn't really been that tentative," Smith said. "She's been pretty confident in her leg. She's not where she was in terms of her strength and her jumping ability, but mentally she's way further along than I expected. Every day you can see the progress, and she has such a good arm and good vision as an attacker that she's still super effective, and I'm really happy with where she is.
"The best thing about Grace is just her confidence and the mental side of the game. She's had some instances in some Blue-Orange scrimmages where she won't like a call by the referee, or by me, and I'll give the other team the point, and she'll literally look at her setter and be like, 'Set me the ball. Give me the ball.' And she'll tell the other team, 'I'm going to get set here. You can't stop me.' That kind of mentality is pretty cool to see. That fire she has really rubs off."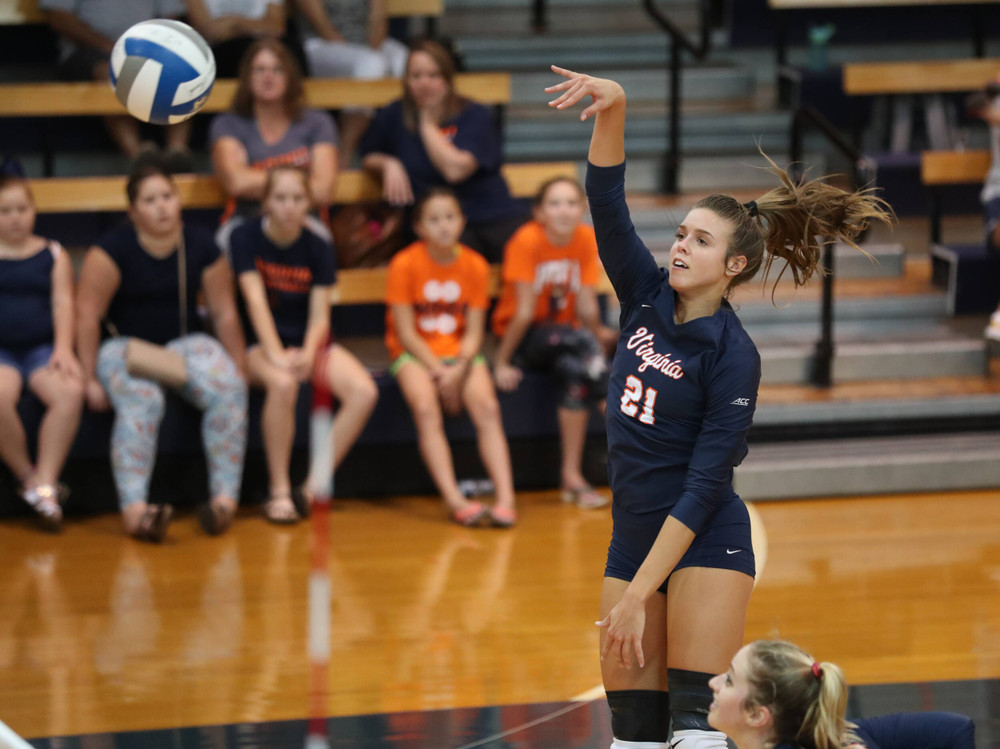 The Cavaliers have four seniors: Alex Spencer, Christine Jarman, Megan Wilson and Sarah Billiard. The third-years in the program are Milla Ciprian, Kristen Leland and Turner, who's a redshirt sophomore in terms of eligibility.
Ciprian, a 6-2 middle blocker, has shined during the preseason.
"Milla's killing it," Smith said, "She's putting up numbers in practice I didn't even think she was able to do. We sat down last week and I asked her, 'What's the difference?' She said, 'I knew we had these two first-year middles coming in, and I know the competition is going to be tough.' She wants to earn her spot, she wants to make the team better, and she did it."
Several players had prominent roles as freshmen in 2019, including outside hitter Jayna Francis, Mattison Matthews and Maddie Boylston. "It's going to be really beneficial," Smith said of the experience that class gained last season.
Five freshmen joined the program this summer: Czhen Beneby, Mary Shaffer, Laila Rogers, Madison Morey and Hannah Prendergast.
Shaffer, whose mother was a standout volleyball player at Duke, impressed early in preseason, but she's sidelined for the fall with a shoulder injury. Smith said the coaching staff is still learning about Shaffer's classmates.
"I don't think we need any of them to play a significant role, which is nice, because the last couple years we've had a lot of first-years in the mix, in key positions," Smith said. "We don't need them to, but Madison Morey has been phenomenal as a libero. She came in after playing for a nationally known club and has been exposed to really high-level volleyball, and it's like she's been playing college for two years. She's confident, she's skilled and just really good at that position. I think she's going to be a great libero for the program."
A 6-4 middle blocker, Beneby is the tallest Cavalier. "Her wingspan is probably longer than mine," said Smith, who's 6-6 and played at Penn State. "We knew she was going to be a little raw, but she's picking things up a lot quicker than we expected. I think she could help us this year. We'll see, because we've got some nice depth at that position."
Also impressive in preseason has been Rogers, a 5-11 middle blocker who's been working at right-side hitter as well. "Laila has a really fast arm," Smith said. "She hits the ball as hard as anybody on the team. Her skill set is better probably in the middle, but you can tell her potential as a right-side is really good. I think all three of those kids"––Morey, Beneby and Rogers––"could really find their way into the lineup if they keep improving."
With such an extended preseason, the Cavaliers have been able to proceed more deliberately, "and I feel like we're a little bit more mindful of the workload we're putting on the players," Smith said. "Not that I feel like in the past we've done too much, but just in how we're preparing them physically. These last six weeks, knowing that we haven't been able to compete, there's been weeks or days that we've been able to go really hard, days when we've been able to pull back. We have been very mindful of the workload and avoiding injuries.
"For the most part we're healthy right now. We've got a few things here and there that we're managing, but nothing crazy. I'm more excited about this roster than last year's. Last year at this time I felt really good, but we have a lot of experience with our fourth-years down through our second-years, and this first-year group is super outgoing. They're not the typical first-years who just sit back and let everybody else tell them what to do. They're bringing a really good vibe to the gym. We've got a lot of competition in practice, and it's making everybody else better."