Box Score | Facebook Photo Gallery | Schedule/Results | Volleyball Fact Book | 4TheHoos Initiative | Jeff White on Twitter | UVA Volleyball on Twitter | Subscribe to Jeff White's Articles
By Jeff White (jwhite@virginia.edu)
VirginiaSports.com
CHARLOTTESVILLE –– When the opportunity arose at the 11th hour to add The Citadel to his team's fall schedule, University of Virginia volleyball coach Aaron Smith didn't hesitate to do so. Virginia's Oct. 2 match with ACC rival Duke was still more than two weeks away, and Smith knew his players were tiring of practicing and scrimmaging each other.
"They've been training for about eight weeks, and to see another opponent was really great for them mentally," Smith said Friday night after the Cavaliers opened the season with a 3-0 victory over the Bulldogs at Memorial Gymnasium.
It was important, Smith added, for the Wahoos "just to get out there and compete in front of some fans––not a lot, but some fans––and it was great to get this one out of the way and prepare a little more for Duke."
With the COVID-19 pandemic ongoing, it was clear Friday night at Mem Gym that this was not a typical match. The smattering of spectators consisted of family members and guests of the players, and the Cavaliers wore neck gaiters, as they have since the start of preseason practice in August.
"The first week was a big adjustment," senior Sarah Billiard said. "It definitely impaired some of the breathing for a little while, but now I don't even notice that it's there.  It just feels like a piece of cloth on my face. It feels normal now."
With several starters unavailable for the opener, including Grace Turner and Milla Ciprian, Virginia needed not only leadership from its fourth-year class, but increased production. Seniors Alex Spencer, Christine Jarman, Megan Wilson and Billiard delivered.
Spencer totaled 12 digs and six kills. Jarman had seven kills and led the team with a .429 hitting percentage. Billiard had a team-high nine kills, and Wilson led the Hoos with 17 assists. Spencer and Jarman each played out of position in the first volleyball match between these schools.
"Christine Jarman had to step in in the middle, and she did a phenomenal job," Billiard said. "So I'm super impressed by all the people that stepped up into roles that they're not used to. They really showed up, and it shows how versatile we are and we how we can handle adversity and take it head on."
The 5-foot-11 Spencer has been dealing with a minor injury and "really didn't even train that much this week," Smith said. "At 2 o'clock [Friday afternoon], I didn't even think she was going to play tonight."
Spencer has been practicing primarily at libero, but the Cavaliers needed help at outside hitter against The Citadel, and so she returned to the position she played early in her college career. "To see her gut through three sets and handle the ball and take some swings and play an outside hitter position … was cool to see," Smith said, "but to do it on these terms was even better."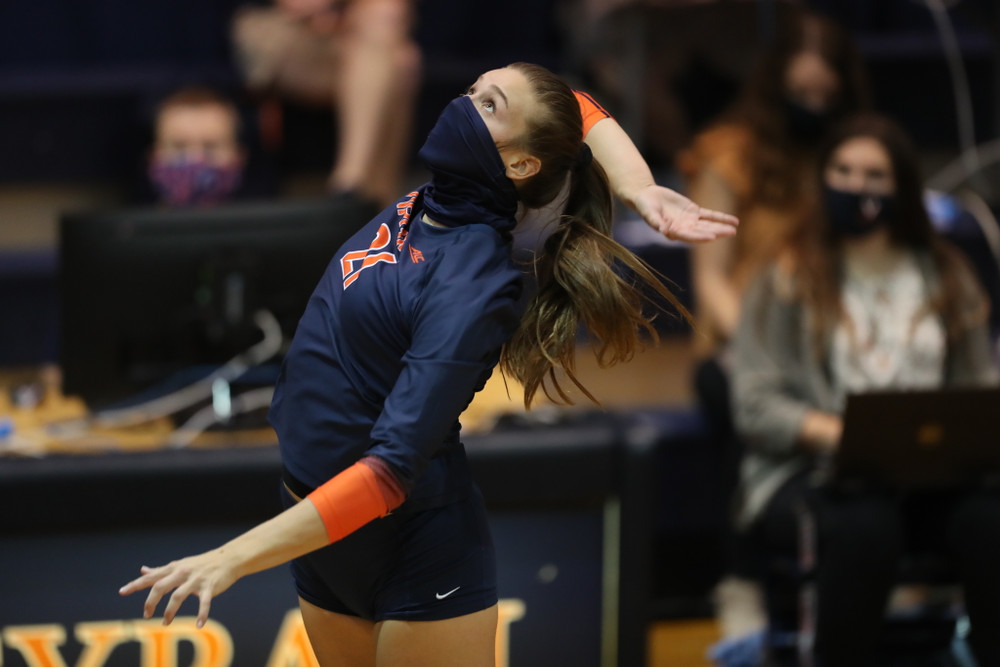 Sophomores also made significant contributions. Mattison Matthews had a match-high five blocks, Jayna Francis had 11 digs, and Simone Domonique had a career-best six kills.
And then there was first-year Madison Morey, who sparkled at libero. In her UVA debut, the 5-foot-7 Morey had 20 digs.
"Coming off the court tonight, I had three or four fans come up to me and tell me, 'Man, your libero is awesome,' " Smith said. "To hear those compliments is nice, but I think she and I both know that this is only the beginning, and that she's going to be way better moving forward. I'm definitely excited about the career she has ahead of her, because she's a very, very special player. Very motivated. Great work ethic, and I'm excited to see what she's going to do in the next few years."
The Hoos started slowly. They trailed 11-4 in the first set before finding their rhythm. The Citadel, playing its third match of the season, "just looked a lot more comfortable and confident out of the gates," Smith said.
Virginia didn't panic. "We took a timeout," Billiard said, "and Coach Smitty just said to us, 'Let's go, it's time to turn it on,' and that's what we did.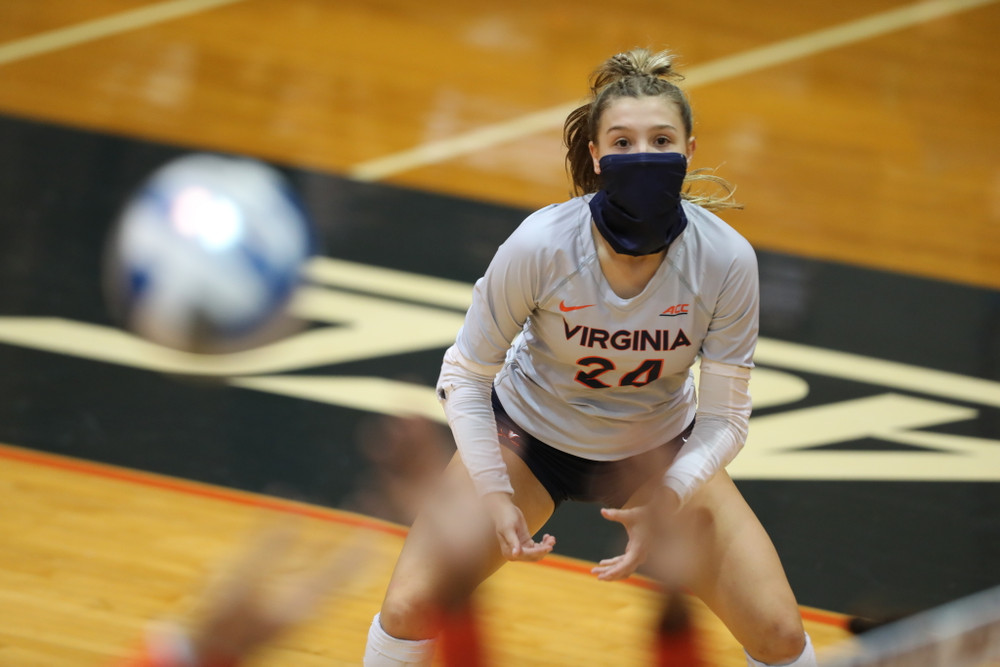 The Cavaliers' cheering section included members of the UVA men's basketball and football teams. Charles Snowden, Terrell Jana, Chris Glaser and Co. were especially vocal in the stands, starting a "Let's go, Hoos!" chant at one point in the third set. After the match they joined arms to sing the Good Old Song.
"It was super special," Billiard said of the crowd support. "I think it gave us a boost. It's exciting to have people there. It definitely makes a difference."
UVA will play eight more matches this fall, all against ACC opponents, and might have a spring season, too. The short-handed Cavaliers were far from dominant against The Citadel (0-3), but they'll look to build on their opening-night performance as they prepare to host Duke on Oct. 2.
"Our approach this season is to take advantage of every day in the gym practice-wise, and certainly every opportunity we have to play a match is an opportunity we do not take lightly," Smith said.
To receive Jeff White's articles by email, click here and subscribe.