UVA Men's Lacrosse Roster | 2020 Statistics | UVA Men's Lacrosse on Twitter | Jeff White on Twitter | 4TheHoos Initiative | Fans First Ticket Program
By Jeff White (jwhite@virginia.edu)
VirginiaSports.com
CHARLOTTESVILLE –– The University of Virginia has a storied history in men's lacrosse, and Connor Shellenberger wasn't the first player to enter the program as one of the nation's highest-ranked recruits.
In recent years, Ryan Conrad, Dox Aitken and Matt Moore have also held that distinction, which can be both a blessing and a burden. Shellenberger's uneven first semester as a Cavalier was not unprecedented last year.
"I hearken back to Dox Aitken's first fall, and then the next year Matt Moore's first fall. Neither of them blew us away," UVA head coach Lars Tiffany said.
"I can recall asking Dox during his second year, when Matt was going through his first-year fall, 'Can you talk to Matt and tell him you went through the same thing? Tell him not to fret, to keep putting in the hours, to keep training with purpose. Tell him from your own experience, Dox.' And I remember having the same thought with Connor last fall."
Shellenberger, a graduate of nearby St. Anne's-Belfield School, was Inside Lacrosse's choice as the No. 1 recruit in the Class of 2019. A 6-1, 185-pound attackman, he has size, speed, a powerful shot, and a relentless work ethic. And now, in his second fall at UVA, he's becoming the college player everyone expected.
"I don't know how to explain it. It's just so much different," Shellenberger said on a Zoom call. "I don't know if this completely makes sense, but [last fall] I felt like I was trying to prove something to my teammates that didn't need to be proven. Now I'm just comfortable, I'm one of the guys, and we can just go out there and play lacrosse. I don't feel like I have these expectations I have to meet within the team or from my teammates. It's night and day compared to last fall."
UVA offensive coordinator Sean Kirwan said Shellenberger, who wears jersey No. 1, has "really hit the ground running this year. Again, I think all of that is a testament to him and his work ethic. He wasn't going to allow himself to have the same type of fall. He just wasn't going to do it."
"The one thing we've always known about Connor is, there's no one that will work harder than him." -- UVA offensive coordinator Sean Kirwan
In part because of his inconsistent play in the fall of 2019, Shellenberger decided to redshirt last season. Coming off a season in which they won the program's sixth NCAA title, the Wahoos were loaded with talented offensive players, and the coaches could afford to let Shellenberger focus on honing his skills.
"We needed to let him go through his process," Kirwan said. "We've seen it with other guys, whether they've been highly touted or not. Some guys come in and they're ready to go, and some guys need some time to do that. And he was just one of those that needed a little time to get settled."
When the Hoos resumed practicing in January, a change was evident in Shellenberger, who'd sought the counsel of such veterans as Aitken, Moore and Michael Kraus.
"I was talking to some of the older guys over winter break before we came back for the spring, and they were like, 'I don't know how to describe it, but something just clicks right when you come back, and you make this leap,' " Shellenberger recalled. "It was weird. I couldn't put a finger on it, but I felt what they meant, and something seemed to just click in the spring as we kept going."
Shellenberger was so impressive in practice, Kirwan said, that the coaches started to question the wisdom of redshirting him.
"Connor and I spent a ton of time together, especially on game day," Kirwan said. "He was the one holding my tablet, picking things out for me from a scheme standpoint, and I think it really helped him grow. But, man, it was getting hard keeping him by my side and not on the field."
In mid-March, concerns about the COVID-19 pandemic shut down college sports, and the point became moot. Then the NCAA granted an extra year of eligibility to all student-athletes in spring sports, and Shellenberger realized he could have played last season and "had five or six free games. There was definitely that thought process, but there was no way to know."
His family lives east of Charlottesville in Zion Crossroads, and Shellenberger was able to lift weights at home during the spring and summer. Finding a place to shoot was more challenging, but fortunately for Shellenberger, he had access to a warehouse near the Charlottesville Albemarle Airport, and he trained there with Nate Rullman, an assistant coach at St. Anne's-Belfield.
"We'd probably get out there at 9, 10 o'clock at night and finish up at 11:30," Shellenberger said. "It kind of stunk, because it was 40 minutes away [from Zion Crossroads], but it gave me something to do and gave me an opportunity to have a stick in my hand and keep getting better."
The Hoos, who were 4-2 when their season was halted last spring, have been practicing this fall. They've rarely had a full complement of players, though, because of injuries and absences related to COVID-19. That's meant more reps for the Cavaliers who have been able to practice, including Shellenberger and Charlie Bertrand, a graduate transfer from Merrimack College.
"You're always looking for silver linings in all these situations, but I tell you, this is a very true and great one," Kirwan said. "I really have enjoyed spending that extra time with this small group, guys like Connor and Charlie. Getting Charlie accustomed to everything that we do has been really nice, and it's been good for me, too, getting my ducks in a row."
From Shellenberger, Kirwan has seen a continuation of the progress made last semester.
"The one thing we've always known about Connor is, there's no one that will work harder than him," Kirwan said. "He's done a really good job just taking things day by day. He's as coachable as it gets. He's as hard-working a kid as I've ever been around."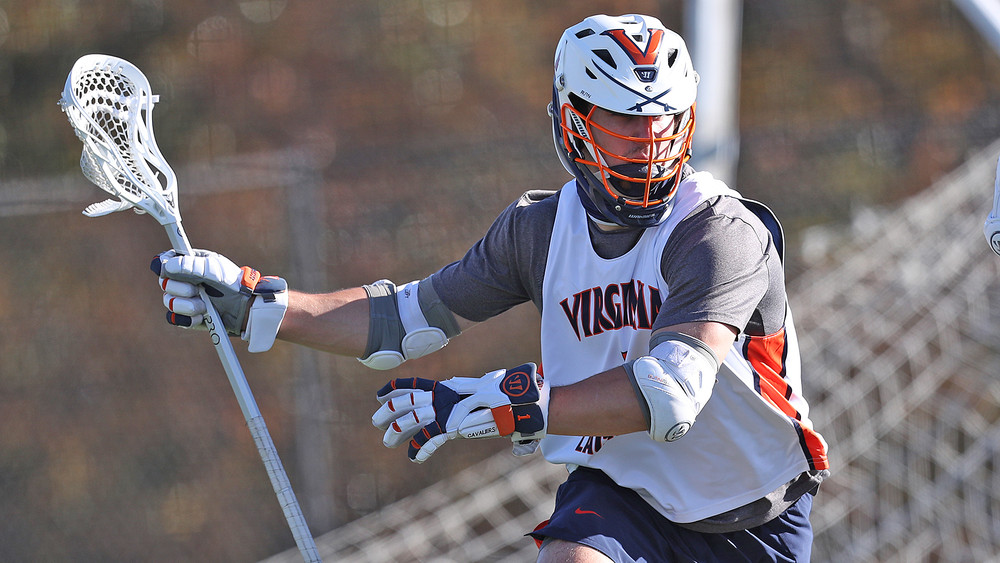 Shellenberger said the fall has "definitely been different, with COVID and all the guidelines we have to follow, but I think at the end of the day everyone's just excited about playing lacrosse again. You had that five or six months where we were all just sitting at home locked up and couldn't really do anything. So taking whatever we can get and being out there with your best friends and playing is enough for all of us, I think."
His legendary high school career—Shellenberger spent one year at Bullis in Maryland and three years at STAB––generated considerable buzz in the lacrosse world, and that can be difficult for a player to deal with, Tiffany noted.
"It's a team sport," Tiffany said, "and then you combine the pressure of being so highly touted, whether you're ranked No. 1 or No. 3 in the nation as a prospect in your recruiting class, there's a lot to that, and it's hard to ignore. I think Connor has done a fantastic job of ignoring it and being who he is, which is this incredibly, incredibly intensive [student of the game].
"I joked with him a couple days ago as we finished up our practice on Halloween morning, I walked around the circle asking men what they were going to dress up as, and Connor said, 'I'm still not sure.' And so I yelled out loud, so everyone could hear me, 'Connor is going to go as No. 1 for UVA lacrosse, and if you want to find him, he'll be out shooting.'
Tiffany laughed. "I may not have been exaggerating. That guy is always shooting."
Shellenberger, who played attack in high school, has also practiced in the midfield, and he could see time at both positions.
"For me it's just making sure that we're putting our six best [offensive players] out there as much as we can," Kirwan said. "If it falls into place where he's a middie, then he'll run out of the box. But Connor will do what Connor does. We're going to let him play to his strengths and be comfortable."
Schedules for the spring have yet to be announced, so when Shellenberger will make his UVA debut at Klöckner Stadium remains uncertain. He can't wait to play where he spent many hours as a fan as a boy.
"I was that kid rooting for UVA in Klöckner growing up," Shellenberger said. "I think it'll be cool for [local kids] be able to see that someone from Charlottesville is out there."
To receive Jeff White's articles by email, click here and subscribe.