UVA Game Notes | Fact Book | UVA Men's Soccer on Twitter | Jeff White on Twitter | 4TheHoos Initiative | Fans First Ticket Program
By Jeff White (jwhite@virginia.edu)
VirginiaSports.com
CHARLOTTESVILLE –– In the 71st minute, the referee called a hand ball in the box on Syracuse, resulting in a penalty kick for Virginia in this ACC men's soccer match at Klöckner Stadium.
Andreas Ueland pounced.
"He grabbed the ball, walked up there and said, 'I'll take care of this,' " UVA head coach George Gelnovatch recalled this week.
"I just felt like it was my turn to step up, and luckily it went in," said Ueland, whose goal proved decisive in the Cavaliers' 1-0 victory over the Orange last Friday night.
A sophomore center back from Norway, the 6-4, 185-pound Ueland anchors a team that looks significantly different from the one that reached last year's College Cup final. Gone are such standouts as Daryl Dike, Joe Bell, Henry Kessler and Robin Afumefana, and the Wahoos' 2020 roster includes many newcomers.
"This team is young," Gelnovatch said, "and sometimes they don't know how to react when we got scored on or things get tough, because they're a bunch of young guys on the field. And Andreas was a winner on Friday."
A freshman All-American in 2019, when he played every minute of every game for a team that finished 21-2-1, Ueland is thought to be the first sophomore selected as a team captain in Gelnovatch's 25 seasons as head coach at his alma mater.
"I can't remember another one," Gelnovatch said.
Senior forward Nathaniel Crofts, who's been hurt most of the season, and Ueland are the Cavaliers' captains. They were among the few returning veterans from 2019. But Ueland was an obvious choice for other reasons, too, Gelnovatch said. "He's just a leader. He's vocal, and guys respect him, just everything about him."
Ueland said: "In my opinion, I'm not doing much different this semester than what I was doing last semester and the semester before that. But of course we lost a lot of big leaders on our team, like Robin and Henry and Joe. I felt like it was a time for me to step up and become a better, stronger leader for the team."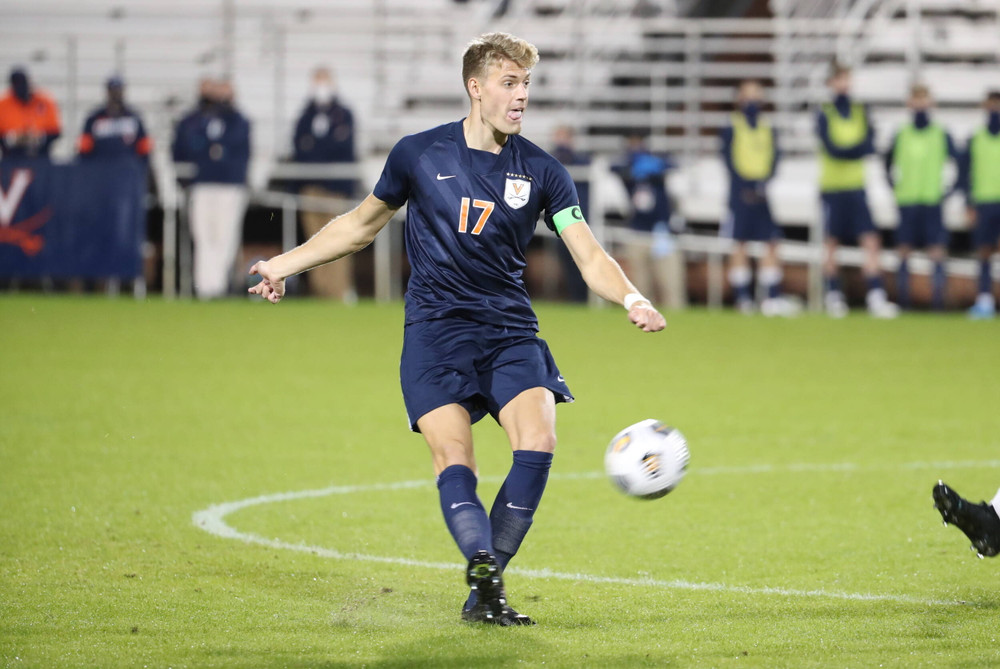 Virginia, which has qualified for the ACC tournament, closes its fall regular-season schedule Friday afternoon. At 4 o'clock, in an ACC game to be broadcast on regional sports networks, UVA (2-2-1, 2-2-1) hosts Virginia Tech (2-1-2, 2-1-2) at Klöckner Stadium. This is a rematch of the rivals' Oct. 14 match in Blacksburg, where they played to a 1-1 draw.
Growing up in Bryne, Norway, Ueland established himself as one of the country's most promising young players. He represented Norway at the U-17, U-18 and U-20 levels and could have pursued a professional career coming out of high school.
"But I value academics a lot," Ueland said, "and I've always wanted to get a good degree, and in Norway and other countries in Europe, it's really hard to combine soccer and academics. So that's why I felt like college [in the United States] was a good way to do both of them."
He didn't know anything about UVA before he started researching schools, but Ueland was familiar with the U.S. His mother, a University of Minnesota alumna, is American, and he has relatives in Northern Virginia and in Arizona. (Ueland's father is Norwegian.)
As a boy, Ueland would visit the U.S. at least once a year, and he has dual citizenship. He took a gap year after graduating from high school and spent that time "figuring out what I wanted to do," Ueland said. "So I was talking to college consultants and figuring out which was the best college for me. I also came on a visit [to UVA], so I got a feeling for everything."
Before they became teammates at Virginia, Ueland and Bell spent some time together in Norway during the summer of 2019. Bell was there to train with Viking FK, which is based in Stavanger, a short drive from Bryne.
"It was a very weird coincidence, actually," Bell said this week. "Just before my flight to [Norway] I was told about Andreas and his plans of coming to UVA, so we actually sat down for a coffee in Stavanger, and I was able to learn more about him and the club whilst giving him some insights into UVA."
Bell now plays professionally for Viking, a fierce rival of Bryne, the club for which Ueland played in his hometown.
Asked about Viking, Ueland laughed. "I have watched them a lot, yes, but it's not a team that I like at all," he said.
He enjoyed his first year at UVA much more. "It was insane," Ueland said. "It was so much fun. I knew college would be fun, but academics was going well, the social life, everything was just perfect. That experience was amazing, and the soccer was incredible. We won basically every game, and I thought we also played really well. The soccer we were playing was really nice."
Losing to Georgetown in a penalty-kickout shoot in the College Cup final was disappointing, Ueland said, but his first college season was "still a great experience."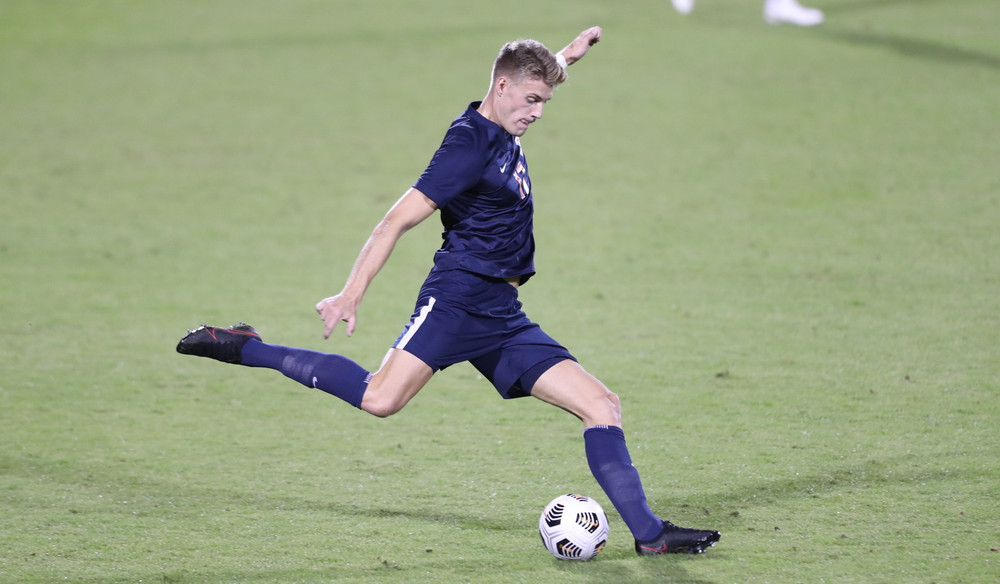 This season has been more of a grind, not only because the Hoos lost so many so many key players, but because of the COVID-19 pandemic.
Ueland headed home to Norway after UVA switched to online classes in March, but he has a U.S. passport and had no trouble re-entering the country this summer. For the Cavaliers' other foreign players, though, the process was more arduous, and even when most of the team was together again on Grounds, there was uncertainty.
"We didn't know if we were going to have a season," Ueland said. "We didn't know what conferences were going to play and which were not. But we've all been working hard. We've been privileged. Luckily, we've been able to practice every single day and play games, but we have a lot of new guys, so it's going to take some time, of course. That's what happens after you go that far in a tournament and play that well. You're going to lose players. Luckily, we've brought in a lot of good new [players]. Give them a little bit more time, and I think we can be really good again."
Ueland plans to apply to UVA's prestigious McIntire School of Commerce, and if accepted he hopes to start there in 2021-22. Pro soccer is in his future, but "I'm not going to be a guy to jump on the first offer I'm going to get," said Ueland, who'll head home to Norway once the semester ends.
"I'm going to be patient and make sure that it's the right decision. Like I said, I came to college to combine [soccer] with the academics, but my goal of course is to play pro once I'm done with college. So whether that is next year or two years, I don't know. That depends on the offer. I'm going to be patient and make sure I make the right decision."
To receive Jeff White's articles by email, click here and subscribe.