By Jeff White (jwhite@virginia.edu)
VirginiaSports.com
CHARLOTTESVILLE –– His résumé includes only one year of professional soccer, which followed two seasons at the University of Virginia, and he won't turn 21 until June.
No matter. In late November, forward Daryl Dike was called up to the U.S. Men's National Team. A minor injury kept him from playing in the U.S.'s 6-0 win over El Salvador on Dec. 9, but Dike's first cap figures to come this year.
"It speaks extremely highly of Daryl and what he's accomplished in Major League Soccer," UVA head coach George Gelnovatch said of Dike, whom Orlando City selected with the fifth pick of last year's MLS SuperDraft.
On Tuesday, Dike was one of three former Cavaliers named to the U-23 national team, along with Henry Kessler and Aboubacar Keita. The U-23s will train in Bradenton, Fla., alongside 12 players from the USMNT through Jan. 24. Several members of the U-23 squad will then be promoted to the full USMNT for a match at the end of the month.
Dike (pronounced Dee-Kay) first attracted notice as a professional at last summer's MLS Is Back tournament in Orlando. One of his teammates, veteran forward Dom Dwyer, missed most of the tournament with an injury, and Orlando City head coach Oscar Pareja "has a history of taking a chance on younger players," Gelnovatch said.
"You put those things together, and it's opportunity for Daryl. And then Daryl has to do the rest. It's one thing to be given that opportunity, but it's another to seize it like he did. Man, he grabbed it by the scruff of the neck, that opportunity. He was scoring goals, creating chances, assisting. He was doing it all. So I think that whole dynamic really set the stage for him."
Orlando City was runner-up in the tournament, and Dike's strong play continued when MLS teams resumed playing in their own venues. He finished the year with eight goals–––second-most on the team––and four assists and helped Orlando City advance to the MLS playoffs for the first time. He was named MLS Player of the Month in August and was a finalist for the league's Young Player of the Year award.
Playing during the COVID-19 pandemic made for an unusual experience, Dike said, but he no complaints about his first year as a pro.
"Obviously, I'd rather the coronavirus had not been there and we could have playing in stadiums with the stands full, playing and traveling all different teams and stuff like that," Dike said. "But at the same time, I enjoyed it. I loved it so much.
"It's everybody's dream when they're younger to go and play professionally, and so I was blessed enough to play in such a good city for a good team in Orlando. It was phenomenal. And then also the team did very well, and that was kind of a big plus."
Dike's brother, Bright, is a former Notre Dame star who was the 12th pick of the 2010 MLS SuperDraft. Bright played professionally in MLS and in Europe and has been a mentor throughout his brother's soccer career.
Even so, Dike said, he was unsure what to expect as an MLS rookie. "I didn't know how productive I would be. My main goal in terms of the beginning of the year was to just make sure I was improving on my game, whether I was playing or I was not, because I know a lot of rookies may not get as many chances or as many minutes.
"But luckily I was blessed to have a good team and good coaching staff that trusted me and pushed me to get better. It was just a great year in total."
Other former UVA players in MLS last season included Kessler, who played for the New England Revolution, and Keita and Derrick Etienne Jr., who were teammates on the league champion Columbus Crew.
Etienne played for the Cavaliers in 2015 and Keita in 2018. Dike and Kessler, who played together at Virginia in 2018 and '19, found themselves on opposite sides Nov. 29 in an Eastern Conference semifinal. New England prevailed 3-1.
"Henry and I, we're good friends, we're good buddies, and we're big competitors," Dike said, "so going into the game we knew it was going to be a big battle."
Dike laughed. "We knew going into the game we were going to hit each other a few times, but it was great. I loved it. And of course after the game we shook hands and traded jerseys."
At 6-2, 220 pounds, Dike is an imposing figure on the pitch, and his uncommon blend of power, size and speed helped the Wahoos reach the College Cup final in 2019. In testing at UVA, Dike's top recorded speed was 21.87 mph, which is fast for anyone, Gelnovatch said, but "especially for a guy his size."
As a sophomore in 2019, Dike finished with a team-high 28 points (10 goals, eight assists), drew fouls that led directly to seven other UVA goals, and was named a third-team All-American. Still, Gelnovatch said, he wasn't sure how Dike's skill set initially would "translate into MLS. I saw first-hand how it translated in the ACC, but I wasn't quite sure how that was going to translate into Major League Soccer."
Those concerns proved to be unfounded. Dike remains a force physically, but "what also has really developed is his touch, his passing, his intelligence with his movements and runs," Gelnovatch said. "If you're big, strong, powerful, nimble, that's great, but you've also got to be a soccer player. You've got to be able to pass the ball, you've got to be able to finish, you've got to be able to make good decisions when you do have the ball and good decisions with your runs."
Dike has shown the ability to do all of that. The biggest adjustment to MLS, he said, was "the mental side of the game. Obviously, looking at me, people say I'm more of a physical player, I'm a bigger player. When you come to the professional level, I think you have to learn how to use your brain a little bit more, whether it be creating space or learning how to manage the game.
"In terms of using your brain, the speed of play is one of the main big jumps. You have to get used to the speed of play to keep up with the game, because obviously all the players around you are phenomenal."
Dike, who grew up in Edmond, Okla., headed home for the holidays last month. His flight from Orlando, where it was about 75 degrees, was delayed because of snow in Oklahoma. Not surprisingly, he's taken quickly to the Sunshine State.
"I love Florida," Dike said on a Zoom call from Edmond. "I'm not going to lie: During the summer it gets pretty hot and pretty humid as well, but I enjoyed it. The weather is phenomenal. Usually around this time [in Oklahoma], you don't even want to go outside in some places because it's so cold, but I could still be walking around in shorts and a T-shirt if I were in Orlando, and I loved that."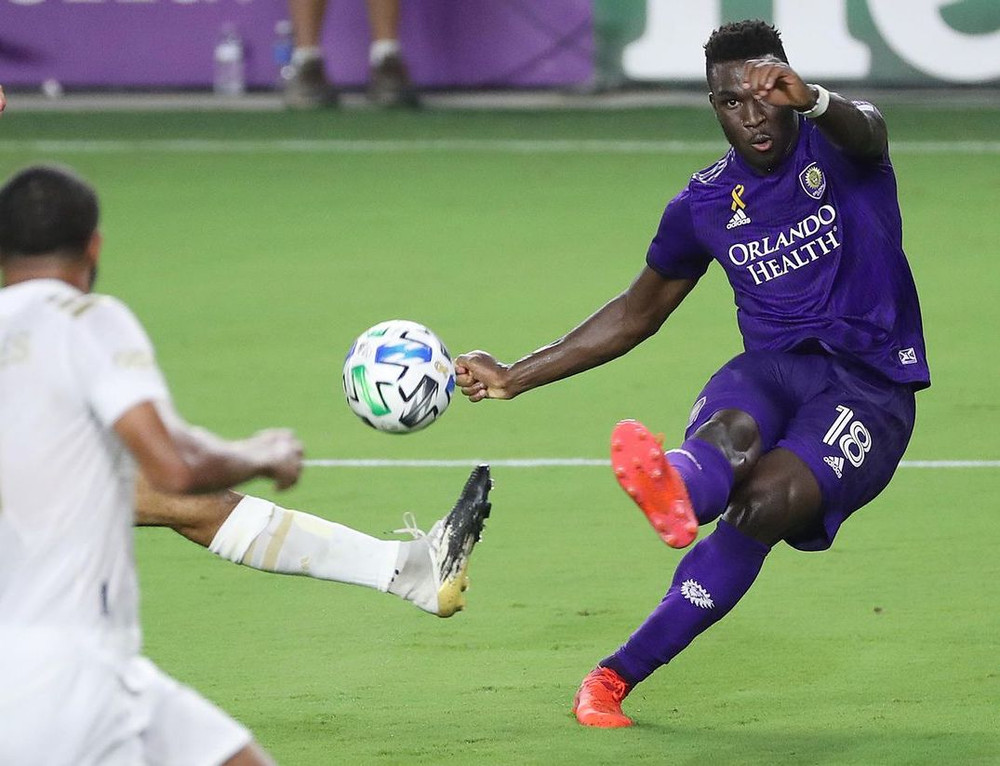 He lives in Kissimmee, Fla., near Orlando City's training facility. Exploria Stadium, where the club plays its home games, is in downtown Orlando. "It's sweet," Dike said of the stadium. "I love it so much."
With the pandemic ongoing, attendance was limited at Exploria Stadium, but the enthusiasm of Orlando City supporters shined through anyway.
"Even though we would be at limited capacity, you would still think, 'Wow, this stadium feels full,' " Dike said. "The fans around the stadium are always super loud, and they're very positive fans as well. I think that's something that's really great. As a player, it pushes you to do better when you have fans like that on your side that are always cheering for you."
Dike, whose parents are from Nigeria, is the youngest of five children. All of his siblings have college degrees: Bright from Notre Dame, his sisters Kimberly and Brittny from Oklahoma, and his sister Courtney from Oklahoma State.
Had he remained at UVA, Dike planned to apply to the McIntire School of Commerce. He's now working toward a bachelor's degree as an online student at Southern New Hampshire University.
"Education is still a big focus of mine," Dike said.
So, of course, is soccer, and his potential in the sport is immense. He's drawn interest from European clubs, and the USMNT is following his progress closely.
Dike said he was ecstatic to get his first call-up from the USMNT, "because from a young age, you always want to play for a national team. You always want to compete against other countries and play in these big competitions. So it was a big honor to get invited and be given the opportunity to train and play with those players and for that coaching staff. I improved so much as a player in just a short period of time, and it was definitely good for me to go and see and get a good feel and meet all the good players and the coaches as well."
He spent only three semesters on Grounds after arriving in the summer of 2018, but Dike looks back fondly on his time at the University.
"In terms of academics, obviously it's a phenomenal school," Dike said. "I met lots of teachers and lots of other students through that, and I learned so much in the short span I was there. And then in terms of soccer, I learned so much from George and all the other coaches. From the other players I learned so much, too."
From the 2019 team that was a penalty kick shootout from the program's eighth NCAA title, Dike, Kessler, Joe Bell and Daniel Steedman are now playing professionally. Dike said he continues to apply lessons learned under Gelnovatch and his assistants, including associate head coach Matt Chulis.
"They're something you carry with you to the professional level," Dike said. "You're already a step ahead of the game, because the coaching staff and the environment have already kind of prepared you for those kinds of moments."
To receive Jeff White's articles by email, click here and subscribe.