By Jeff White (jwhite@virginia.edu)
VirginiaSports.com
As shot after shot fell, the Virginia Cavaliers' lead ballooned Saturday night: from 10 to 20 to 25 to 30 to 35 to, with 8:00 remaining, 39 points against the shell-shocked Clemson Tigers.
This nationally televised matchup of ranked ACC teams turned out to be a mismatch. No. 18 UVA overwhelmed No. 12 Clemson 85-50 at Littlejohn Coliseum for its 11th straight win in the series. Later that night, No. 16 Louisville lost at Miami, leaving UVA (9-2, 5-0) alone atop the ACC standings.
Tony Bennett can be hard to please, but the Wahoos' 12th-year head coach found little to fault in his team's play against the Tigers (9-2, 3-2).
"I thought it was a good effort, obviously, all the way around," Bennett said, "and some really good individual performances."
Clemson scored the final eight points of the first half to trim the Wahoos' lead to 16, which "is certainly not insurmountable in today's game," Bennett said. The Tigers then scored the first basket of the second half, making it 33-19, and the home fans in the crowd of 1,876 began to believe a comeback was brewing.
They soon learned otherwise. The Hoos ran off 10 straight points to regain full control. "We didn't take our foot off the gas," Bennett said.
"They smashed us," Clemson head coach Brad Brownell said.
On a night when the Cavaliers shot a torrid 55.6 percent from 3-point range, they hit their first nine attempts from beyond the arc in the second half.
"Being a part of any type of run like that, it's very fun to play in," UVA forward Sam Hauser said, "and when things are going your way like that, it's very contagious. I think guys coming off the bench, even guys on the floor at the time, once they saw other people making shots it gave them more confidence to shoot and take good shots. I think overall it was just a great offensive performance by us."
For the third time in four games, five Cavaliers scored in double figures. In this one, the five included senior swingman Tomas Woldetensae, whom Bennett didn't use Wednesday night in an 80-68 win over Notre Dame.
Given an opportunity against Clemson, Woldetensae hit 4 of 6 shots from 3-point range. He finished with 14 points, six more than his previous season high.
"Tom came in and gave us a lift with his shooting," Bennett said, "which was great to see."
Hauser, a 6-8 redshirt senior, also scored 14 points and pulled down a game-high eight rebounds. Junior forward Trey Murphy III contributed 13 points, and Jay Huff and Kihei Clark added 12 apiece for the Cavaliers, who were credited with assists on 22 of their 34 field goals. The 7-1 Huff, a redshirt senior finished with a career-high five assists, with two leading to backdoor layups for Clark, a 5-9 junior.
For the game, the Hoos shot a season-high 60.7 percent from the floor. Hauser was 4 for 5 and Murphy 3 for 3 from long range.
"They always say shooting covers over a multitude of mistakes," Bennett said, "and tonight our offense probably looked even better than it was because the shots we're going in … Four or five guys [in double figures] puts pressure on the defense."
Reece Beekman fell a basket short of joining Woldetensae, Hauser, Murphy, Huff and Clark in double figures, but that didn't diminish the all-around brilliance of his play. The 6-3 freshman totaled eight points, a game-high six assists, five rebounds, two steals and only one turnover in 29 minutes.
Clemson came in leading the ACC in scoring defense, a distinction that usually belongs to UVA. The Tigers heated up late in the game, after the outcome had long since been settled, but still shot only 40.4 percent from the floor against Virginia's Pack Line defense.
"For the most part we kept them in front of us and used our length," Bennett said. "And then when you combine the defense with that kind of shooting, then it came together nicely."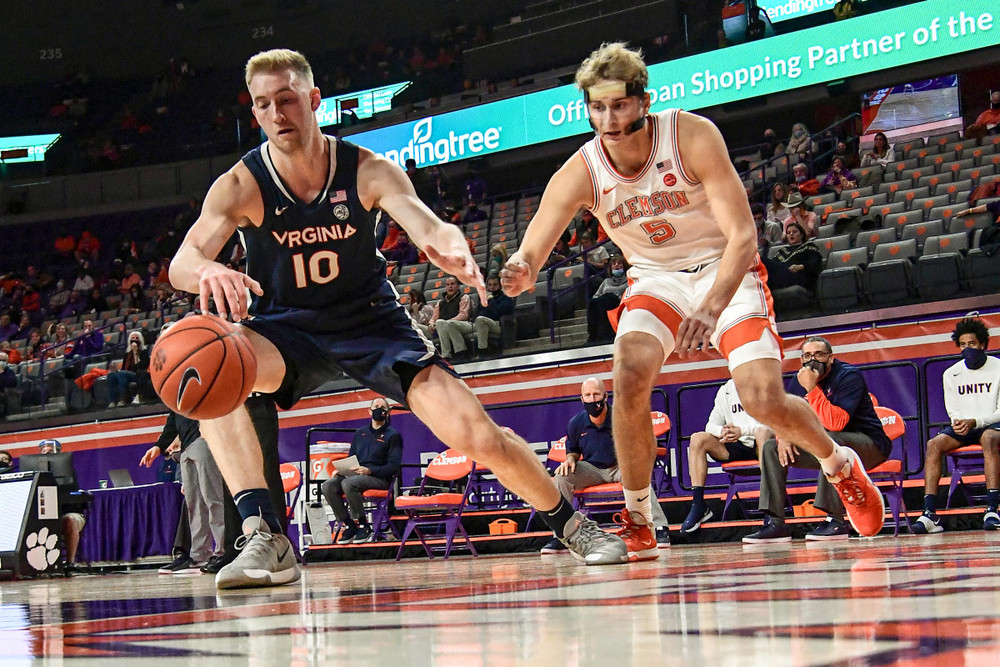 The Cavaliers, 5-0 in the ACC for the first time since 2017-18, have come a long way in the past three weeks. They haven't lost since Dec. 26, when top-ranked Gonzaga humbled them 98-75 in Fort Worth, Texas.
"We responded in the right way," Bennett said. "We're learning about our team, we're growing, we're becoming steadier."
Hauser said: "Obviously, taking a hard punch to the face from Gonzaga, it's hard to get up from that, but you learn, you live, you move on, and I think we've taken some great strides."
For the Tigers, coming off a period in which COVID-19 issues had forced them to pause, this was their first game since Jan. 5. Not surprisingly, Clemson looked out of sync at times, but the Cavaliers' intensity never waned.
"We were preparing for a really good team," Hauser said, "and Coach challenged us in practice the last couple of days, because Clemson is a very good basketball team. We took that challenge very seriously and we came out on top tonight."
Given the parity in college hoops, Bennett puts little stock in rankings, "but our guys knew they had to be right and ready against this team, and they responded to the challenge that was put before them," he said. "I said [to the players], 'Tap into this. You don't make too much of it, but you touched real quality. Now pursue it with all you've got.' "
WELCOME CHANGE: With the pandemic ongoing, attendance restrictions at college sporting events vary from state to state. For the Cavaliers, playing in front of nearly 2,000 fans, as they did at Littlejohn Coliseum, was a fun reminder of seasons past.
"There was life in the arena," Bennett said. "You could feel it."
Woldetensae said: "That was incredible. It felt like we were back to [normal], and even if we were not at home, just having the energy from the stands, people that are cheering against you, just motivates you to keep going, which is something that I like. It's just amazing to see people in the stands as well."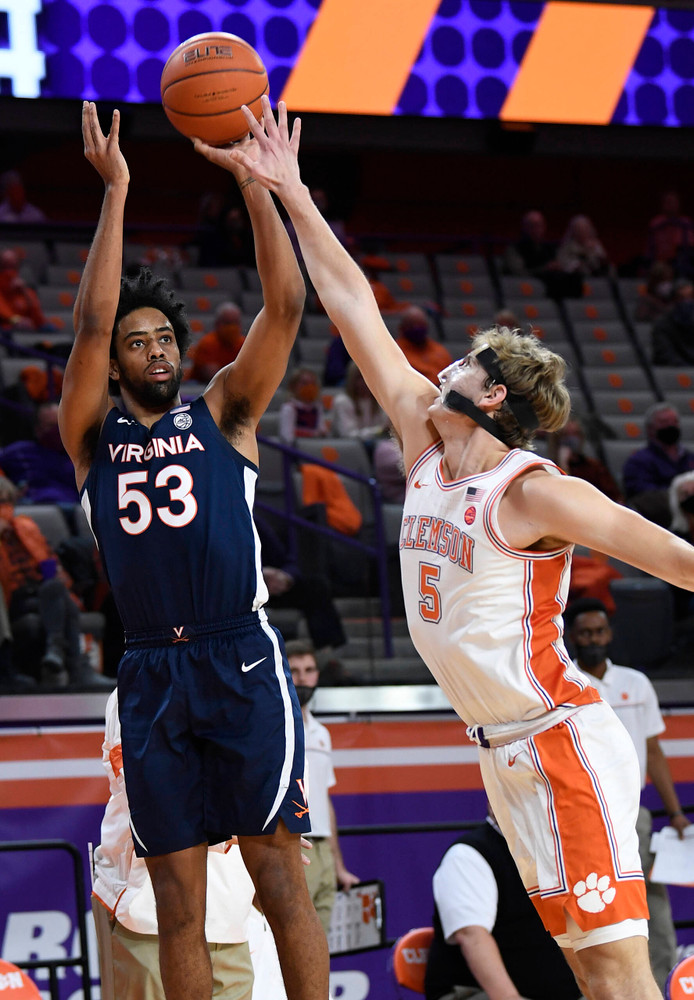 SOUND BITES: For the Cavaliers, their first road win of the season was also their first away from home over a top-15 opponent since Feb. 11, 2019, when they defeated No. 8 North Carolina in Chapel Hill. Among the postgame comments Saturday night:
* Hauser, a transfer from Marquette, on his season-high four treys: "I've been in a little bit of a slump from behind the arc, but I trust my mechanics, trust my technique, I just keep working every day and I know eventually they're gonna start falling. Hopefully this is a trend now, that they start falling a little more."
* Woldetensae on his performance: "I hope it's a breakthrough. Let's put it that way."
* Woldetensae on being part of such a convincing victory: "It's unbelievable. It's fun, it's engaging, everybody's cheering up from the bench. Energy just flows out of your body. It's just a happy moment, especially now with COVID. It's enjoyable."
* Hauser, who's from Stevens Point, Wis., on his beloved Green Bay Packers' playoff win over the Rams: "Go Pack go."
* Hauser on Woldetensae: "Tom's a worker. He stays in the gym. He's always working on his craft, so I knew his time was coming. He just had to stick with it, and you're gonna see a lot more of him this year."
* Woldetensae on the Cavaliers' turnaround: "We went into the Gonzaga game with not the same hunger we had today. We weren't hungry to beat them and to prove that we're good as we are. And so I believe that sometimes you've got to lose to understand who you are and to win other games."
HOMESTAND: The Cavaliers' next three games are at John Paul Jones Arena, starting Wednesday night. At 7 o'clock, in a game to air on ACC Network, UVA hosts NC State.
The Wolfpack had lost eight straight to the Hoos before ending that streak last January. NC State edged Virginia 53-51 at JPJ.
The Pack currently is paused. State, in its fourth season under head coach Kevin Keatts, was scheduled to play the Georgia Tech Yellow Jackets on Saturday but had to postpone the game because of COVID-19 issues in its program.
To receive Jeff White's articles by email, click here and subscribe.