By Jeff White (jwhite@virginia.edu)
VirginiaSports.com
CHARLOTTESVILLE –– Fifth-year seniors Sam Hauser and Jay Huff accounted for 63 percent of Virginia's scoring Saturday night, and without their heroics Georgia Tech almost certainly would have walked out of John Paul Jones Arena with a signature victory.
The smallest Cavalier, however, made what might have been the biggest shot of this ACC game. With 69 seconds left, 5-9 junior Kihei Clark, who was 0 for 8 from the floor, hit a short stepback jumper to put Virginia ahead 64-62. Those turned out to be the game's final points.
"Kihei struggled at times," UVA head coach Tony Bennett said, "but, boy, did he make a tough, tough shot."
Clutch plays are nothing new for Clark, of course. He was a key contributor on the team that won the NCAA title in 2018-19––Clark had the most memorable assist in program history against Purdue in the Elite Eight––and his last-second 3-pointer lifted UVA to victory over Virginia Tech in Blacksburg last season.
"He's got ice in his veins, and I trust him more than anybody in a lot of ways," Huff said. "He makes big plays for us, and he always has."
Huff and Hauser made their share too Saturday night as the 13th-ranked Wahoos (10-2, 6-0) ended the Yellow Jackets' five-game winning streak. Between them, they scored 15 of Virginia's final 19 points.
"Sam and Jay down the stretch really kind of took over the game," said Bennett, who also praised the perimeter defense of Clark, sophomore Casey Morsell and freshman Reece Beekman.
Hauser, a 6-8 forward who spent his first three years at Marquette, finished with 22 points, his high as a Cavalier. The 7-1 Huff matched his career high with 18 points and blocked five shots.
"I was pleased with Jay on the defensive end as much as anything," Bennett said.
Huff now has 130 career blocks, which ties him with Travis Watson for fifth place on UVA's all-time list. His final rejection Saturday night came on the possession that followed Clark's basket. With 40 seconds left, Huff kept his long arms extended vertically and redirected a shot by 6-9 Moses Wright, and Morsell tracked the rebound for the Cavaliers.
The Jackets (7-4, 3-2) had one last chance to force overtime––or win in regulation––but Michael Devoe's 3-point attempt was off the mark at the buzzer.
Huff no longer leaves his feet as much as he did early in his college career. He credits lessons instilled in him by Jason Williford, the Hoos' associate head coach.
"I think for the most part, when I play defense in the post, I just hear Coach Williford's voice in the back of my head yelling, 'Stay down! Stay down!' " Huff said, smiling. "I think that's definitely a big part of it, but it's also just something that I've been working on. We've played a lot of one-on-one in the post … I wish I would have improved on it sooner, because I used to jump a lot more, but it is what it is."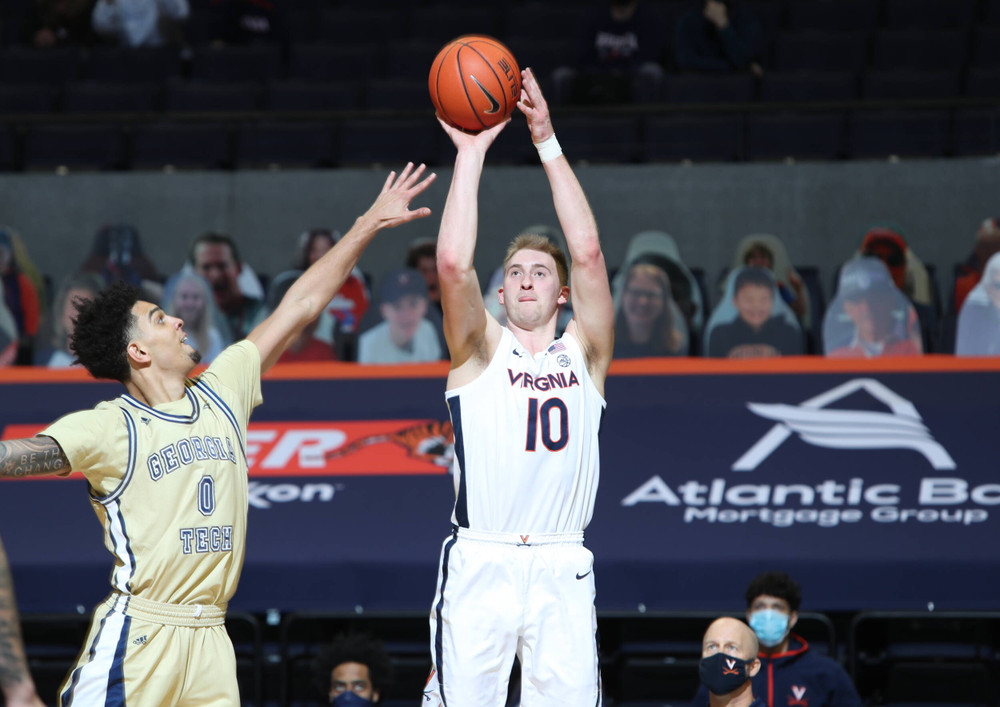 The Cavaliers trailed for nearly three-quarters of this game. Georgia Tech led by nine with a minute left in the first half and by 11 early in the second half.
Few opponents have as much success against UVA's Pack Line defense as the Jackets did Saturday night. Led by guard Jose Alvarado (20 points) and forward Jordan Usher (19 points), Georgia Tech shot 45.3 percent overall and 60 percent from beyond the arc. Alvarado also had eight assists and played stellar defense, coming up with a game-high six steals.
"This is the quickest team we've played, one through five," Bennett said.
Ramped-up intensity on defense helped the Hoos battle back, but that alone wasn't responsible for their comeback. With 9:40 left, Hauser took an inbounds pass from Clark and buried a 3-pointer from the left corner to cut the Jackets' lead to six. On Virginia's next possession, Clark passed to Hauser for a catch-and-shoot trey that made it a three-point game with 8:57 left.
"I thought in the second half Hauser hit some big shots," Georgia Tech head coach Josh Pastner said.
After the Jackets answered with a basket, the Cavaliers responded with a 9-0 run that included a Hauser jumper off a slick baseline move and his fourth 3-pointer.
"Sam makes some shots that just astound me," Huff said. "The one where he kind of went up and under and shot a little bit of like a floater off the baseline, I don't even know what it was, but it was pretty ridiculous. The guy can score."
With about 2:40 left, Clark, alone under the basket, missed a layup that would have stretched Virginia's lead to six, and a Devoe trey made it a one-point game with 2:32 to play. Then it was Huff's turn.
On an out-of-bounds play designed to free Hauser for a jumper, the Jackets blanketed him. So, with three seconds on the shot block, Clark inbounded the ball instead to Huff, who sank a face-up jumper to make it 62-59 with 2:01 to play.
"That was significant," Bennett said. "I know it was just a little midrange shot, but we needed that."
Huff scored eight points on dunks and six from outside the arc Saturday night. His midrange game is rarely highlighted.
"I practice it, but it's also definitely not my specialty," Huff said.
A 3-pointer by Wright that barely beat the end of the shot clock made it 62-62 with 1:29 left, but the Cavaliers didn't panic. Clark came through in the clutch, as he has so many times in his three seasons at Virginia, and the defense did the rest.
"Sam just kept emphasizing, 'We gotta get stops, we gotta get stops,' " Huff said. "That is what it is here, and I think that as fifth-year seniors that's just something that we have to kind of set the tone with."
UVA won each of its first five ACC games by at least nine points and was coming off an 85-50 victory over then-No. 12 Clemson. There's value, Huff said, in being able to pull out close games, too.
"I think it gets these guys ready," he said. "Me, personally I've been in probably a million two-point games with one minute left in my five years here … but for some of the first-years, that's something that they gotta get used to. So I think we just learn from it. There were definitely mistakes that were made, but it also just helps to grow you as a player, being involved in those type of games."
ROLLER-COASTER RIDE: Clark finished 1 for 10 from the floor, but he also had a season-high eight assists. He had three turnovers in the first half but none after intermission.
"I hold my guys, especially guys like him who's an upperclassman, who's played a lot, to a high standard," Bennett said, "and there's a soundness and assuredness that's needed, and we can't have our lead guard get us in those spots … He responded in the second half."
Asked about the game-winning basket, Hauser said, "Kihei's a competitor, and you can see that. Him staying aggressive and taking a big shot like that shows his character. He just wants to win, and he's going to do whatever it takes, and we trust him in that situation. He obviously had to shake off a lot of things, and I thought he did well, and he just stuck to the game plan and obviously made a huge shot down the stretch. We love Kihei. He's our little energy bug, and he showed it tonight."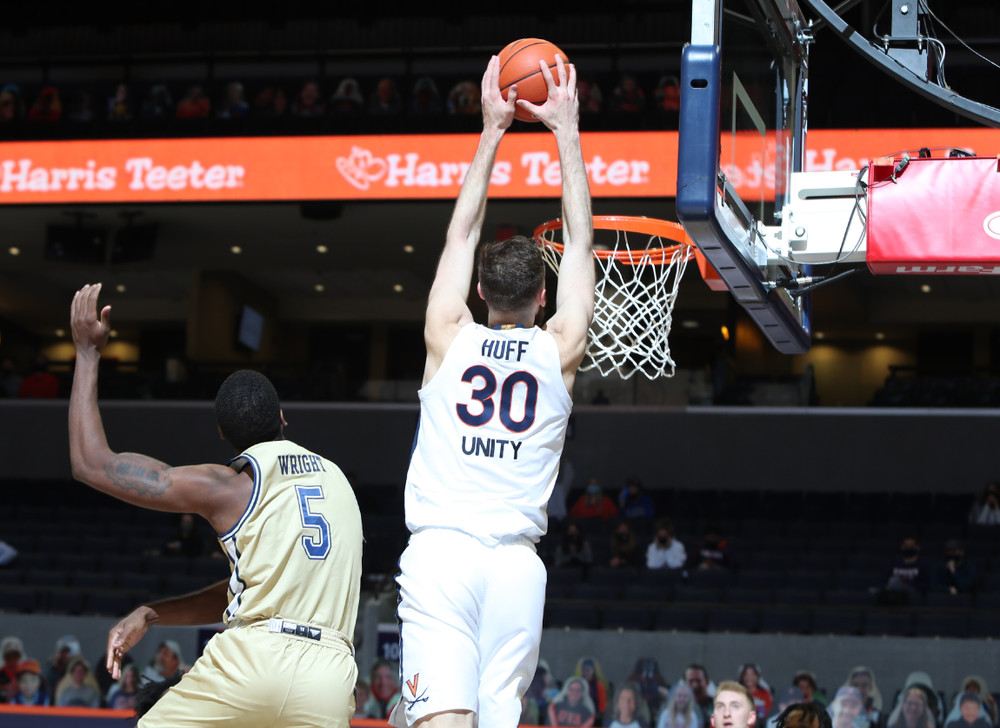 SOUND BITES: The victory was the Cavaliers' seventh straight in this series. Among the postgame comments:
* Bennett: "We dug ourselves a hole, partly because of them, partly because of us, but to respond was a good sign. But you need [to play] 40 minutes of basketball, we always say, or the majority [of the game], and we can't be spotting those kinds of leads."
* Bennett on Clark: "He's a winner."
* Bennett on Hauser, who's 8 for 10 from 3-point range in his past two games: "Just a complete, heady player, and we needed it all tonight, for sure."
* Hauser on the Cavaliers' late surge: "You can't just wait around in a game like that, especially when you're down. You've got to flip the switch and turn it on, and I felt like me and Jay got more aggressive. Whether we were making the shot or someone else [was], our aggressiveness opened up a lot of things, I felt like."
* Georgia Tech head coach Josh Pastner: "All you can ask is for an opportunity to win the game, and we had some opportunities. Virginia hit some tough shots in the second half. Gotta give them credit, but I'm really proud of our guys. They fought, they competed, they battled."
QUICK TURNAROUND: In a 7 p.m. game to air on ESPN, UVA (10-2, 6-0) hosts Syracuse (9-4, 3-3) at JPJ on Monday.
The Orange also played Saturday, routing No. 16 Virginia Tech 78-60 in a matinee at the Carrier Dome.
Virginia had won four straight over the Orange before dropping the teams' most recent meeting, last January at JPJ. The Cavaliers lead the series 8-6.
To receive Jeff White's articles by email, click here and subscribe.