By Jeff White (jwhite@virginia.edu)
VirginiaSports.com
CHARLOTTESVILLE –– Not only is Owayne Owens one of the ACC's top triple-jumpers, he's an ambitious student who's applying to a master's program in the University of Virginia's Frank Batten School of Leadership and Public Policy.
Owens, who's in his third year at UVA, asked assistant coach Mario Wilson to write his letter of recommendation. Wilson, who works with the Cavaliers' jumpers and decathletes, was happy to help.
"I almost wrote too much, I think," Wilson said, laughing. "I couldn't stop writing about him."
Wilson has been coaching at UVA for nearly nine years, during which time NCAA champions Filip Mihaljevic and Jordan Scott, among other student-athletes, have had a profound impact on the program. Owens has not accomplished what Mihaljevic and Scott did athletically at UVA, but "right now he is the bona fide leader of our team, and it's much greater than his performance," Wilson said.
"His performance is just the cherry on top. He's been a part of our leadership group, which is basically our captains, from the beginning, and he's very engaged. Everybody loves him. There is not a person on the team––male, female, distance, throws––that doesn't know who he is or appreciate him. He's smiling, always happy, and he just really appreciates everything about being here."
Owens is from Montego Bay, Jamaica, where he shared a house with his parents, his four sisters and a brother. Wilson has roots in that Caribbean nation, too. When complications arose with Owens' student visa as he prepared to leave for the United States in July 2018, Wilson had to fly to Jamaica to help him resolve the issue. Finally, after an arduous trip from Finland, where he competed in the World Junior Championships, Owens arrived on Grounds about nine hours before the start of his first summer school class.
Two years ahead of him at the University was Scott, who's from Portmore, Jamaica, about 100 miles from Montego Bay on the other side of the island. When he'd enrolled at UVA, Scott was the only student-athlete from Jamaica in the track & field program, and he wanted to make Owens' transition to life in the U.S. easier than his had been.
"There were people who helped me," Scott recalled, "but I feel like having somebody who was from Jamaica who had already dealt with the culture shock, the difference in culture, going about day-to-day situations, would have been helpful.
"I was able to be that for Owayne. We bonded as a result of that, and that bond grew into a friendship that honestly will last a lifetime."
At the ACC indoor track & field championships last February, Scott placed first in the triple jump and Owens was second. A couple of weeks later, on the eve of the NCAA indoor championships, where Scott was to have defended the title he won in 2019, the COVID-19 pandemic shut down college sports.
At the end of the 2019-20 school year, after graduating from UVA, Scott transferred to the University of Southern California, where he's preparing for his final season of outdoor track & field. But even though 2,500 miles separate Scott and Owens, they remain close.
"If any little thing happens, I still text him to say, 'What are your thoughts on this,' or 'What you think about this?' " Owens said. "We send each other jumping videos and we talk about things that we can work on. So he's still pretty much here."
At UVA, Scott took his schoolwork as seriously as his jumping, setting an example Owens has followed. "To see how he balances both, I definitely admired that, and I try to adopt that as well," said Owens, who's twice been named to the ACC's academic honor roll.
Wilson said Owens is "very prideful, and he's just big on making the most of an opportunity and not letting people down who are in support of him."
Owens, who carries a major in sociology and a minor in social entrepreneurship, hopes to start the two-year Batten School master's program in 2021-22.
Batten's J-term offerings this month included a course Owens took titled Corporate Social Responsibility: Reimagining Business as Usual. It heightened Owens' interest in the Batten School, through which he's been involved as one of the student-athletes in its Leadership Academy.
"Being part of [Batten] and seeing how it operates, I'm like, 'This is what I want to do. I want to help. I want to make change,' " Owens said. "I've always had this passion to help people, and not just within my small community but globally. I'm studying sociology, and the more I know about the American society and the areas to be improved, the more I want to help. If I can study the policy, study the principles, and learn how to navigate them and learn how to adjust them to benefit the greater society, then that's definitely a plus for me."
Owens graduated from Cornwall College, a small all-boys high school in Montego Bay. While at Cornwall, he competed three times at the storied Penn Relays in Philadelphia, where he won the high school boys' triple jump in 2018. Those glimpses of the U.S. didn't prepare him for what awaited him in Charlottesville.
In Montego Bay, his family "had a very small household, so we didn't have any choice but to interact with each other every single day, for most of the day," Owens said. "So coming here and not having that close, compact environment with my family, it took some time to get used to waking up and not having your four sisters there to annoy you, or your brother there."
His Jamaican accent was considerably more pronounced then than it is now, Owens said, and many people he encountered on Grounds initially struggled to understand him. In addition to the language barrier, he said, there "are a lot of things that are just different than at home, and I had to pay attention. I had a lot of questions, and having Jordan made that process easier, because he had gone through it and he was like, 'OK, this is how this is, and these are the things that you can do and the things that you cannot do, and this is where you can find a sense of community.' "
As an athlete, Owens' biggest challenge has been staying healthy. He arrived at UVA with a lingering knee injury that eventually required surgery. A pulled hamstring sidelined him later.
"I feel like something that played into it is the weather," Owens said, "because in Jamaica you run around for a minute and you're warm, you're ready to go. It takes a little bit longer here to get warm and get going, and so if you're not mindful of that it's easy to pull a muscle or get cramps."
Last summer Owens had an operation to repair a sports hernia. "So it's been a struggle to be 100-percent healthy," he said, "but I'm trying my best to have a long-lasting season this time around."
The Cavaliers' track & field and cross country programs are in their second year under the direction of Vin Lananna. Owens  competes in the 60-meter dash and the long jump, but the triple jump is by far his best event, Wilson said. On Jan. 15, in his first meet of the indoor season, the Virginia Tech Invitational, Owens won the triple jump with a career-best mark of 16.35 meters (53 feet, 7.75 inches.) The third-longest indoor jump in program history, it earned him recognition as the ACC men's co-field performer of the week.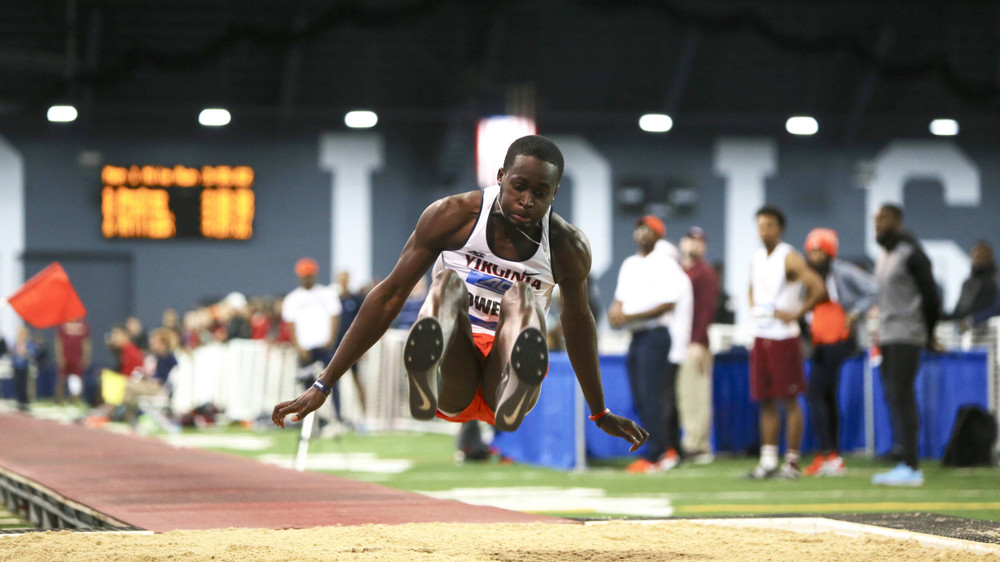 Owens, who stands around 6-1, won't compete in the triple jump again until next month, Wilson said, "and we're probably not to going to do a lot of competitions [ahead of the ACC meet]. We kind of took a similar approach with Jordan. With him, it wasn't so much from an injury standpoint. It was just because we were always thinking he was going to be competing in the summer at some major championship somewhere, so we were trying to pace him. With Owayne, it's probably more managing his health."
His performance in Blacksburg showed that Owens "doesn't get out of shape," Wilson said. "He's never going to mistreat his body. He's not going to slip. It's just a matter of once he turns up that dial, his risk factor goes up. He's talented, obviously, but he's just had the misfortune of having a body that hasn't been very durable."
If he can stay healthy, Owens said, "I feel like the sky's the limit. Jordan paved the way for me, and I'm just following his footsteps. I'm working hard and trying to stay consistent, so I just need to be healthy. I'm really in a good position right now to have a phenomenal season."
Scott will be cheering him on from the West Coast.
"Last year he really had a breakthrough year, and I was happy I was there to witness it all," Scott said, "and he started out this year with a bang. I'm looking forward to seeing how he progresses in the indoor season."
For various reasons, including the pandemic, Owens hasn't been back to Jamaica since the summer after his first year at UVA.
"Hopefully after all this is over, I'll finally get to go home and experience some of that great weather we have down there," he said, smiling.
If it's sometimes colder in Virginia than he would prefer, Owens can handle a little discomfort. He's loved his time at the University and is no hurry to leave.
"I honestly didn't know what it was going to be like, but I can say now it's more than anything that I would have expected," Owens said. "I've met some really great people here and I've been involved in some really cool things, and as successful as track & field has been, my academic life and my social life is just as important. Just being a part of this Charlottesville community, it's an environment of smart people who are just caring and welcoming."
To receive Jeff White's articles by email, click here and subscribe.