By Jeff White (jwhite@virginia.edu)
VirginiaSports.com
CHARLOTTESVILLE –– Throughout high school, Celeste Valinho played two sports, and she could have pursued either one in college.
Valinho chose golf, and for that the team at Virginia, where she's in her second year, is thankful. But it wasn't an easy decision for Valinho, who attended Providence School in her hometown of Jacksonville, Fla.
"I played soccer my whole life," she said on a Zoom call this week. "I was on a travel team, I played for my high school, I just loved it. It's just so different than golf. It's more upbeat, and you have a team dynamic. It's just different, but I'm so happy I played both."
As a golfer, Valinho spent less time on the junior circuit than many of her peers because of her commitment to Jacksonville Armada FC, her travel soccer team. "I was trying to balance both," she said. "During the school year I was kind of focusing on soccer, and then over the summer I'd play a lot of golf."
Her father encouraged her to play both an individual sport and a team sport growing up. That would give her a more well-rounded athletic experience, he believed, and teach her lessons she could apply in both sports.
In soccer, Valinho was a center midfielder, a position at which "you kind of control the field," she said, "so I feel like that taught me a lot of leadership skills."
Valinho isn't the only golfer on the UVA women's team who played more than one sport in high school. Others include Jennifer Cleary and Riley Smyth. In this era of specialization, that's uncommon, "but on this squad we love the multi-sport athletes," head coach Ria Scott said, "because it shows that these student-athletes know how to work in a team setting, and that's something that's missing in the junior golf circuit.
"A lot of these players growing up, they just train by themselves on the driving range or at the practice facility, solo or with a parent. But I think you get a real advantage when you have so-called individual sport players who have played in team settings before, and they really understand what it is to put the team first."
Valinho is a good example.
"You can tell when you look at her: She's an athlete, and she just works really hard," Scott said. "I think she underplays how good she is at certain things, at golf or at school, because she does work hard, and the hard work is what helps build her confidence and develop her skill. She may not have had as many hours at a young age as some of these other junior golfers have had, but that's probably why we see her still so passionate about it today."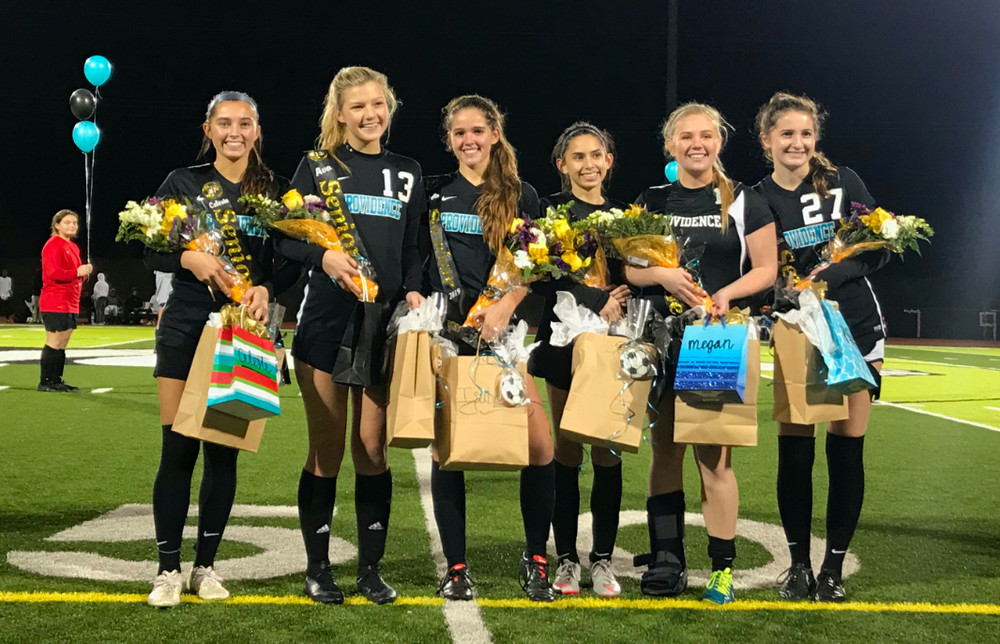 Valinho was among the best stories to come out of last week's UCF Challenge, the Wahoos' first tournament of the season. With a 54-hole total of 214, she tied teammate Beth Lillie for third among the individual leaders and helped UVA erase an 11-stroke deficit and win the tournament at Eagle Creek Golf Club in Orlando, Fla.
Lilie, a senior, had rounds of 75, 68 and 71. Valinho shot 69-73-72 as Virginia (859) held off ACC rival Wake Forest by a single stroke.
"That was really fun," Scott said.
In the final round, Valinho played in a threesome with Wake's Rachel Kuehn and Houston's Karen Fredgaard. Valinho was unhappy with her play on the front nine and didn't realize the Hoos were mounting a stirring comeback. But she made an eagle on the par-5 13th hole and then closed her round with a birdie on the par-5 18th, after which her teammates rushed up to her.
"Everyone was like, 'We're in first!' " Valinho said. "I had no idea."
She had a cheering section in Orlando, which is about 140 miles south of Jacksonville. With the COVID-19 pandemic ongoing, her family members had to keep their distance from Valinho, and "they wore masks the whole time," she said. "But it's so nice that they could come. Some of the tournaments aren't even allowing spectators."
The Cavaliers, who are ranked No. 4 nationally, will be back in Valinho's home state this weekend for the Moon Golf Invitational, which starts Sunday in Viera, about 160 miles south of Jacksonville. The final round of the UCF Challenge was played in cool, windy conditions, and the Hoos are hoping to get weather more characteristic of the Sunshine State this time.
"But even if we don't, we're ready," Scott said.
When she was deciding on which college to attend, Valinho narrowed her choices to Virginia and South Carolina. She also had scholarship offers from schools in Florida, she said, "but I just didn't think I wanted to stay too close to home."
UVA's academic reputation proved pivotal in Valinho's decision, and she arrived in Charlottesville in the summer of 2019. As many freshmen do, she struggled with consistency in her first season of college golf.
"Celeste was in and out of the lineup last year," Scott said. "She was often qualifying for that fifth spot or played as an individual quite a bit."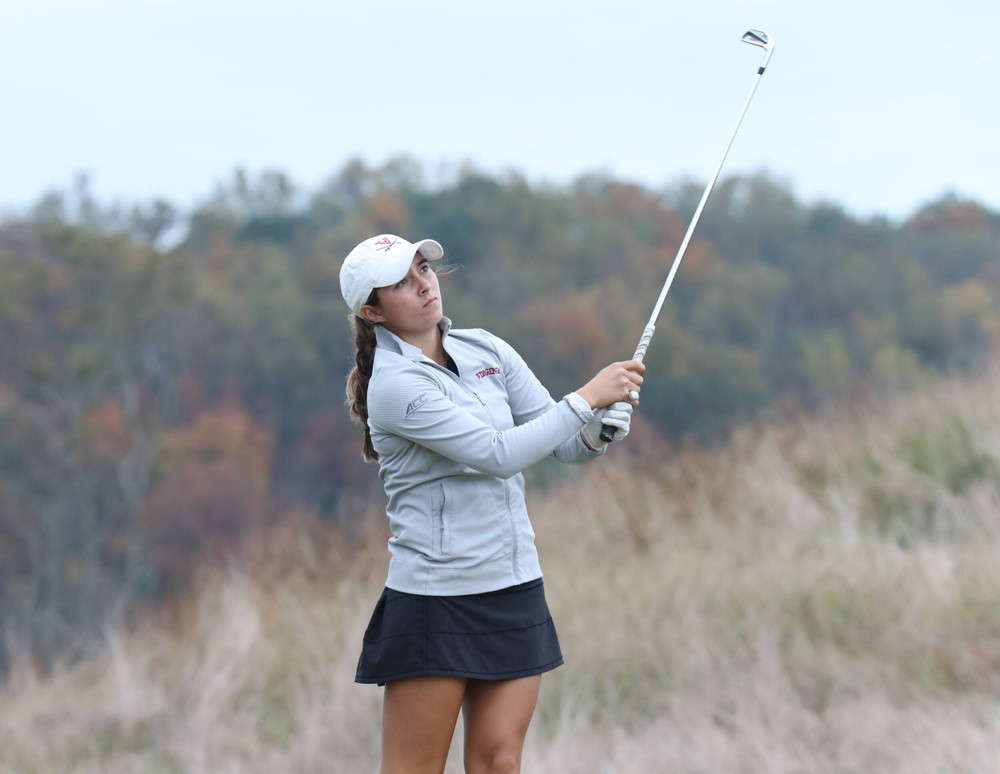 Valinho, who's living with field hockey player Danielle Husar for the second straight year, has made significant progress since the pandemic ended the Cavaliers' 2019-20 season prematurely last March.
"She has always been a great ball-striker.," Scott said. "Her ball-striking statistics, to be honest, haven't changed very much. But a couple things that have changed are her mental game, her body language and outlook, as well as her short game. I know it's been a short season, but thus far she leads the team in up-and-down percentage, which is scrambling. We have these leaderboards outside our office, and it's pretty neat to see her name at the top of that list."
Equally impressive are the strides she's made mentally. Valinho wears a cap on the course, and her teammates and coaches used to joke that she'd flip it up almost off her head "so that she could let out the steam from her frustration," Scott said. "That's when we knew Celeste was really being challenged out there."
Valinho said: "Everyone knew that if I walked past them and my cap was up, they'd be like, 'Celeste is probably playing bad.' "
No longer. When she flips up her cap now, Valinho said, it's because she's getting a headache. "I'll do it and Coach will be like, 'Oh, no, are you going back to this?' And I'll be like, 'No, I'm just hot.' "
Scott said: "It's been a neat progression, and in this sport, when you're not playing in the same group as your teammates, it's really powerful to have teammates that have strong body language that you can see from afar. Because that's all that you have. When you're one group in front or one group behind or a fairway over, and you see that your teammate has it under control, I feel like that provides more confidence to those players."
As always, the Cavaliers' goals is to win championships. Along the way, Valinho said, they want to continue strengthening their team culture.
"No matter what we do, no matter how we play, we have each other's backs," said Valinho, who added that the importance of a strong culture can't be overstated.
"I think people just forget about that, because they think talent can just take you all the way there," she said. "But I feel like in our first tournament in Florida, our team culture was great, and that made a huge difference. We all just really fed off of each other, and that obviously paid off."
To receive Jeff White's articles by email, click here and subscribe.