By Jeff White (jwhite@virginia.edu)
VirginiaSports.com
CHARLOTTESVILLE –– More than 11 months have passed since the University of Virginia softball team has played something other than an intrasquad scrimmage. Weather and COVID-19 protocols permitting, that will change this weekend.
The Cavaliers are scheduled to open their fifth season under head coach Joanna Hardin at the Red and Black Showcase in Athens, Ga. UVA will play a doubleheader Saturday, facing host Georgia first and then South Alabama, and then another one Sunday against the same opponents.
This marks the 25th season for Georgia's program, which has made 18 appearances in the NCAA tournament.
"It's going to be really challenging for us," Hardin said, "but in a good way. We need that."
South Alabama finished the abbreviated 2020 season with an 8-17 record. The Jaguars were 18-31 in 2019. "They've struggled the last couple of years," Hardin said, "but they're in a similar position to us in that they didn't lose much at all from last year."
The Wahoos were 10-12 when COVID-19 concerns shut down college sports last March. Of UVA's starting position players in 2020, two were juniors, one was a redshirt sophomore, four were sophomores, and two were freshmen.
To that core of returning players, Virginia added five freshmen and a transfer, Gabby Baylog, a utility player from Coastal Carolina who's immediately eligible.
"This is the most depth we've ever had," Hardin said. "We've been fortunate to have four and five different defenses, four and five different lineups that we've been able to play, in case this person goes down with an injury, in case these people [are sidelined by] contact tracing, in case this house of roommates were to go down. So we have a lot of pieces. We're finally starting to build the depth that we've been looking for, and fortunately we have that in a year where things could be very erratic. It's very unpredictable."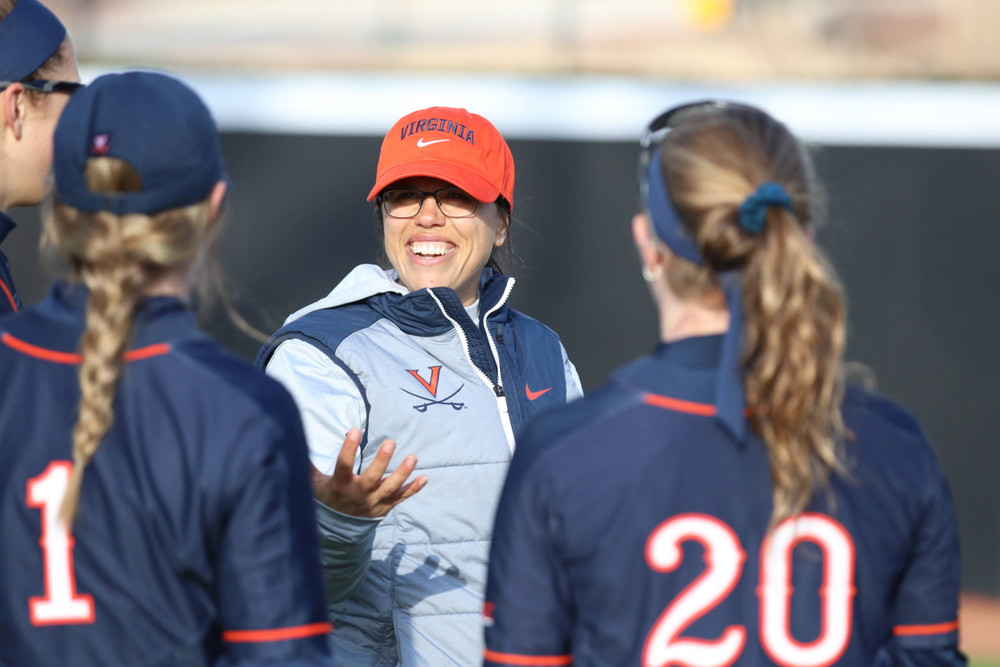 Little about this school year has been normal. In a typical fall, the Hoos would have played eight games against other college teams. With the pandemic ongoing, UVA instead played 10 intrasquad games.
"This is the longest that our team has gone without true competition against an opponent," Hardin said.
With protocols still in place, her team has "totally different challenges to navigate," Hardin said. "Honestly, we're just really grateful to get on the field and get to go play."
At a team meeting early this week, UVA's coaches addressed the uncertainty with their players.
"We wanted to be really real about the emotions and the feelings and what to expect this weekend," Hardin said, "and we told them, 'We expect you to be nervous. We expect you to be excited. You're gonna have butterflies.' We told the hitters, 'You might swing at a pitch 10 feet over your head just because you're excited, and that's OK. There's a little bit of fear, there's a little bit of anxiety, there's a lot of emotion in all of us.' And so we just acknowledged that up front."
Hardin likes her team's potential but admits the coaches won't "know what areas we really need to grow in until we can go out against someone else. Are we on the right track? Are we doing the right things? Are we not? And if we're not, where do we need to adapt and adjust, because we have had nothing to compare it to except ourselves."
She referenced an observation UVA head football coach Bronco Mendenhall has made. "Playing against yourself can be deceptive sometimes," Hardin said, "because you get a false sense of security."
The pitcher is as pivotal in softball as the quarterback is in football. This should easily be the strongest and deepest staff Hardin has had at Virginia, and that depth figures to be useful. To minimize travel during the pandemic, ACC series will consist of four games this season, not three.
"It's going to be crazy," Hardin said.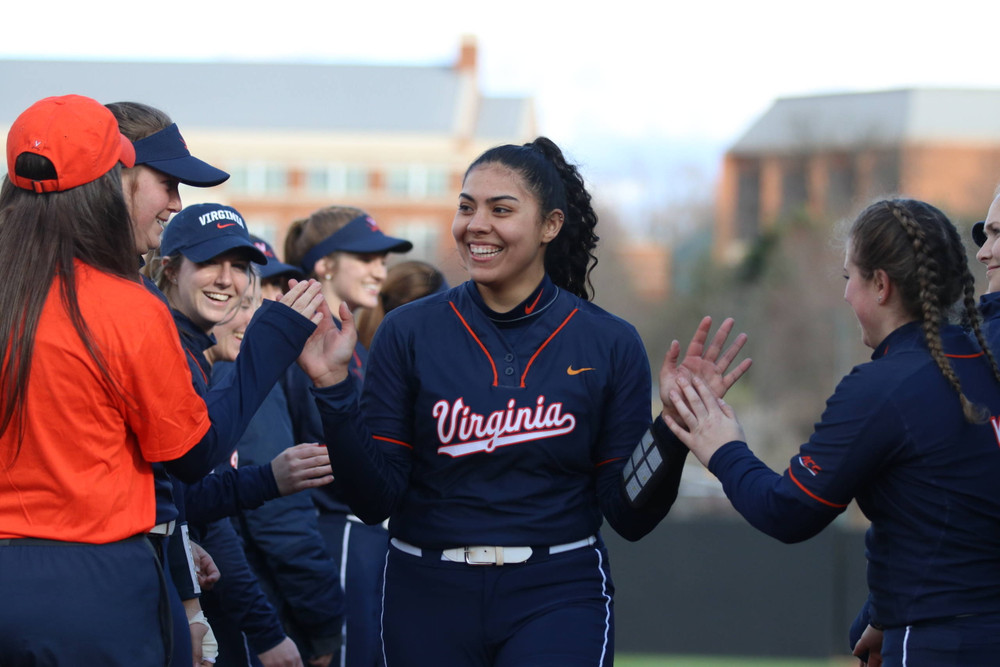 The Cavaliers returned their top three pitchers from 2020––junior Aly Rayle and sophomores Molly Grube and Mackenzie Wooten––and added two talented freshmen in Mikayla Houge and Madison Harris. Other options in the circle are sophomore Morgan Murphy, who redshirted last season, and junior Clare Zureich.
UVA's projected starters are Rayle, Houge and Grube, Hardin said. Houge, who's from Collins, Iowa, graded out highest among Virginia's pitchers in the fall.
Wooten will be used in multiple roles out of the bullpen, Hardin said. Harris, who stands 6-foot-1, is the team's No. 1 closer and will also be used in middle relief. She starred at Brookville High in Lynchburg.
"There's a couple [pitchers] that we don't we don't want to throw back to back, because they're too similar in style," Hardin said, "but Maddie complements everybody really, really well. She could throw behind anybody on our staff."
Zureich could be used "in key situations as a lefty specialist," Hardin said, "and then Morgan Murphy, she could do anything. She's kind of a utility [pitcher] in that sense."
Houge and Harris won't be the only first-years to play this season. Leah Boggs and Abby Weaver have impressed Hardin, too.
"I could see Leah getting behind the plate and contributing in the outfield," Hardin said. "She's a ballplayer. She plays the game really hard. She plays very aggressively. She loves the game. She loves to be up at the field. She's so passionate about it that it's going to be tough to keep her off the field in a lot of ways. So I expect her to get time and contribute and give Donna some relief behind the plate."
As a sophomore in 2020, Donna Friedman led the Hoos with a .324 batting average.
Weaver, a graduate of Cave Spring High in Roanoke, is "a very viable backup in multiple places, and so as we get fatigued and those doubleheader days get really tough, I could see her working in as a backup and getting time, for sure," Hardin said.
UVA is looking forward to a full season at Palmer Park, which opened last year on the corner of Massie and Copeley roads. The stadium is named for former UVA pitcher Lisa Palmer and her mother, Fran. The Cavaliers played six games at Palmer Park before their 2020 season was halted.
They're scheduled to play there 22 times this season, starting with a Feb. 27 date against JMU. That game is part of the two-day Cavalier Classic. In their ACC home opener, the Hoos will face Clemson on March 5.
To receive Jeff White's articles by email, click here and subscribe.